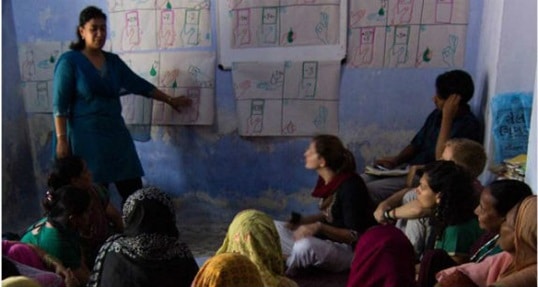 Winning the regional round of the Hult Prize competition in March was a huge accomplishment for Hult San Francisco's team. But it was just the first step. After a brief celebratory period following the competition – and lots of excitement across all Hult campuses – the team got to work setting their winning idea, an active food savings plan called Pulse, into motion. They've created a Goalfrog campaign to introduce Pulse, explain how it will work, and start fundraising.
Team member and MBA student Saul Minkoff answers some questions about the project, the group's next steps, and what it's like to take part in this global competition.
After winning the regional competition, what is the immediate next step you had to take?
Aside from sleeping for about a week after a hectic run up to the regionals, we had to figure out if we were all going to the Hult incubator (which we are), change any rotation plans we had for Module D, and get the process started to rotate to Boston in Module E. We also started to discuss what we could do in the months leading up to finals at the Clinton Global Initiative (CGI) Annual Meeting in New York that could give us the best possibility of winning the competition, as well as deciding as a team what we would all do in a win/lose situation. We all have the passion and desire to launch the business regardless of the $1 million prize, and we are taking the necessary steps to do that now.
What made you want to start the Goalfrog campaign, and how do you hope it will work specifically for Pulse?
In our meetings, we decided that by the time we presented at CGI we wanted to have an investable business ready, and not just a concept that needed to be turned into a business. We set goals of having conducted a pilot project in our first country, as well as having the mobile platform built, which we need to raise about $30,000 for. Goalfrog is a recently launched start-up that has a section geared specifically towards project funding, which was perfect because it is exactly what we need. We thought about Kickstarter or Indiegogo, but those sites are crowded and don't cater specifically to what we're doing. In the spirit of start-ups, we wanted to give a new and innovative idea a shot. The platform is great, and the founders gave us some really sound advice, so it was a no-brainer.
This campaign will be open basically for the month of May – what will you be doing during that time?
We're all reaching out to our networks, both personal and professional, in hopes that the project raises their interest enough to make a small contribution. We're also reaching out to press, and asking Hult faculty to spread it around their networks. We strongly feel too that it would be a great branding opportunity for Hult to see us secure the funding and thereby giving us the best shot at overall success. We're relatively new to all this, so it will be a steep learning curve, but the guys at Goalfrog are also helping us get the word around.
Where will you be conducting your research next month? Who are you planning to interview?
We're working on proposals to secure partnerships with two organizations that have presence on the ground in India. Those organizations will conduct preliminary research on our behalf in two to three cities. We're planning on interviewing women in urban slums to find out a little more about their daily struggles, their needs, and if the Pulse program could be of value to them. We plan to re-work our model based on those responses, only then build a beta version of the SMS platform.
When do you go to Boston for the Accelerator?
July 2 through August 15. We will all be back for graduation!
Do you know anything about the other finalists?
Yes, the McGill team from Montreal is planning on growing mass amounts of crickets (which are high in protein) and has created home kits for turning them into flour, and other ingredients. The team from the University of Cape Town in South Africa has the "reel gardening project" which as we understand it has to do with urban farming. The other teams are ESADE from Barcelona, and the Asian Institute of Technology. There will be a sixth team joining us in the finals; however we will only know who they are once the online competition ends mid-May.
How have you been able to maintain the momentum you got from winning?
Coffee and keeping each other accountable. We had a little dip in energy levels for a week or so, but we've been keeping busy by meeting big companies in SF who have offered us a ton of advice, NGO's, and start-ups. Niketa [Malhotra, fellow team member and MSE student] was even invited to speak at an event at NYU Wagner a few weeks ago, where she made a ton of important contacts and came back super excited. If we ever experience a dip in energy, it is soon back to normal after meeting with the likes of McKinsey or Greenstart, or a dinner with [team mentor] Mike Grandinetti… tough to not have any energy around that guy!
How often do you all meet as a team? How are you all continuing to get along?
We don't always meet as a full team, as we realized we would be more efficient with the "divide and conquer" method. We do meet daily (and constantly) through Whatsapp (instant messenger) or by telling the others to check out the latest addition to our ever-growing Dropbox folder. After spending so much time together we somehow still all get along and love hanging out… as soon as there's even a hint of tension you can be sure that someone will make a stupid joke or imitate the other's accent, and all is forgotten. We have to remind ourselves that we've accomplished a ton in the last few months and to really savour the moment. We're five students from Hult who will be presenting at CGI to some of the world's leaders…unbelievable. How could we not be happy?!
How do you feel about everything coming up this summer, and what will happen with classes?
One word: Excited. Everyone has told us how amazing Boston is, so it's cool to be able to go there and experience it with your friends, and your team. The MBAs still have to do electives, but the MSEs are having the incubator count as their action project, so they're happy. Overall we expect an intense six weeks, but it's a period that will be crucial to the development of Pulse. We know that this is not only an experience of a lifetime, but also the opportunity to work on something that we are passionate about.
Kickstart your career right next door to Silicon Valley by studying at Hult's San Francisco business school. To find out more, take a look at our blog A story about why I chose Hult San Francisco. Download a brochure or get in touch today to find out how Hult can help you to learn about the business world, the future, and yourself.
Related posts