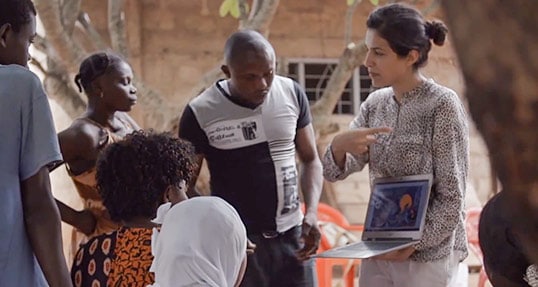 By Joanne Lawrence, Global Professor of Corporate Responsibility and Social Innovation, Hult International Business School
News headlines in recent years have included stories of businesses behaving badly at an alarming rate. Once highly respected institutions have been caught in scandals that have cost them billions of dollars in fines, lost reputation, and lost trust. Aside from the institutions' own financial losses, however, the greater concern has been the cost to society. The financial crisis of 2008 has had reverberations around the world, reverberations which continue today, more than five years later.
These crises have underscored the world's interconnectivity and interdependence. The fact that business is all-pervasive (is there any part of your life that business doesn't touch in some way every day?) has once again generated discussions around its role in society. Is business's only social responsibility, as famed economist Milton Friedman said more than four decades ago, "to increase profits"?
In the end, the more astute leaders know that how much profit their companies make depends upon how well they serve society, i.e. their customers, employees, and local communities. Once companies fail to meet those needs, and lose trust, they are out of business. You need only to look at the last decade to see how many firms have disappeared because they lost the confidence of their constituents.
How business can meet society's challenges
In the past, business has tackled such fundamental societal issues as food spoilage, disease, transportation, and communications with inventions that have improved living standards for millions of people. Along the way, they have also met society's demands for the raising of safety standards, the protection of human rights, and reductions in air and water pollution.
After the excesses of recent years, it seems we are once again returning to that narrative: a narrative in which business can play a critical role in changing people's lives forever, particularly those who have been marginalized and excluded by poverty. The world's population is set to grow to nine billion people by 2050—more than half of whom will live in cities. This population growth coupled with the increasing effects of climate change and the growing income disparity between rich and poor means that society's needs are basic: how will we provide enough food, fresh water, clean energy, healthcare, and jobs for all these people?
Where decades of aid has so far failed to eliminate poverty and left most of the world's billions of people out of the economy, business, working in collaboration with governments and NGOs, has the potential to create a more inclusive economy and reduce poverty through a market-based approach to development even as it fulfills its own economic, profit-generating role.
Along with societal challenges, globalization also offers huge market opportunities. Recent research shows that emerging markets could account for USD30 trillion by 2025[1] —realizing their potential is going to require a different way of working and a new way of thinking. The world's truly visionary business leaders see their aspirations converging with those of governments, NGOs, and society at large.
Realizing the promise through new models
To achieve the social, environmental, and financial potential of these markets, C.K. Prahalad in his book Bottom of the Pyramid wrote: "We need new ways of creating economic value" and advocated designing "wealth-generating eco-systems."[2] Porter and Kramer on the other hand have called for "Creating Shared Value."[3] Each approach seeks ways to benefit each component of the value chain, i.e. the means are as critical as the results. Three new models have emerged: the social entrepreneur, public-private partnerships, and the multinational 'intrapreneur.'
Social entrepreneurs are driven by passion and a desire to make real change. For example, the two founders of Waste Concern in Bangladesh wanted to get rid of the 4,000 tons of trash that was dumped daily in Dhaka. With the tagline "Waste is a Resource," they collect the waste, change the 85% that is organic into fertilizer, hire local women to put it into sacks, then sell it through a joint venture to farmers—a true eco-system that is self-sustaining and a model that has been adopted in other countries.
Public-private partnerships (PPPs) are growing exponentially, using their complementarities and networks to solve problems. For example, governments in Africa are working with private companies to help provide safe drinking water and energy for their citizens. Companies like IKEA have partnered with UNICEF to enable children to go to school in India while helping to improve family incomes. Some companies are working across industries to create partnerships around a common goal, such as recycling waste in Chile.
Multinational corporations (MNCs) are using their enormous resources, skills, and ability to develop new ideas that can be scaled. They often start by creating 'intrapreneurial' groups— places within the company where managers are tasked with developing and designing the innovative products that will meet the unique needs of emerging markets.
Companies such as Unilever, with its Sustainable Living Plan, Nestlé's Creating Shared Value framework, or GE's healthymagination and ecomagination initiatives, are building entire business strategies around social and environmental issues, seeing them as opportunities to be realized rather than risks to be managed. They are embedding this perspective into their company cultures, introducing comprehensive management and incentive systems around core sustainability-focused values that drive employee behavior. They go even further, working with institutions like the UN Global Compact to encourage other MNCs to do the same.
As companies take this approach, they are generating very tangible results for themselves: growth in revenues from entering new markets and creating new customers, such as Unilever, which reported 55% of revenues from emerging markets in 2012, and introducing promising new products that have potential across the developing world, such as GE's portable USD500 electrocardiogram (EKG) developed for India.
Companies are increasing returns from the operational efficiencies realized from saving energy and reducing emissions, as well as securing quality supply chains, for example, by helping rural farmers as Nestlé has done, or seeing an increase in productivity from motivated employees. In our Internet-driven world, companies are also preserving valuable brand names and reputations, reputations that attract loyal consumers, talented employees, discerning investors, trustworthy suppliers, and welcoming communities—all the ingredients for ongoing success.
The world needs transformative leaders
This updated narrative, business as transformative rather than exploitative, is going to require visionary, courageous leaders, with special competencies: what I call the "5 Cs to creating enduring change":
Cross Cultural Aptitude: Understanding cultures and how it affects product design, development, and delivery will be important, but in this Internet age, even more important may be the ability to distinguish and balance what is tradition with what might be considered a violation of universal rights.
Collaboration: To make PPPs work, former adversaries will need to learn how to partner, working with mutual respect for each other's strengths and complementarities in pursuit of a shared goal.
Communication: The ability to listen and engage as well as inform and persuade will be fundamental to building trust and maintaining relationships with critical stakeholders.
Creativity: Solving these complex problems will require new ways of approaching solutions, considering ideas and practices from across different sectors, and integrating different perspectives. It takes vision and imagination to drive innovation and create true breakthroughs.
Critical and Holistic Thinking: It will be important to challenge assumptions by analyzing the disparate pieces to be sure the questions being raised are the right ones. Just as critical will be the ability to see the subsequent answers as part of a much larger puzzle, assessing their potential impact on all the other pieces before acting.
The world's growing interdependence means that society's problems are all our problems. We are using phones made in China, wearing clothes sewn in Bangladesh, and drinking coffee grown in El Salvador. Increasingly, we are working for companies – large or small – who depend on a global marketplace for their growth. Business, in its role as serving society, has the power and the potential to create both economic value and lasting, positive social change. It will take leaders with a different vision: courageous leaders who see the world as a whole, rather than parts, driven by what is possible, working together to create a new, more inclusive economy where everyone benefits and can realize their potential. What's your vision? How can you become a transformative leader?
Related:
Global Webinar: 'What top global business leaders are focusing on', Joanne Lawrence, Global Professor of Corporate Responsibility/Social Innovation, Hult International Business School
Listen to CEO of Unilever, Paul Polman's, visionary speech on 'Driving sustainable growth', given at the Hult London campus
References
Atmonson, Yuval; Peter Child; Richard Dobbs; and Laxman Narasimhan (Aug 2012) Winning the $30 Trillion Decathlon: Going for Gold in Emerging Markets (McKinsey Quarterly). Retrieved from: www.mckinsey.com/ features/30_trillion_decathalon
Bartlett, C.A. and P.W. Beamish (2008) "The future of the transnational: an evolv- ing global role." in C.A. Bartlett, S.Ghoshal & P.W. Beamish (eds) Transnational Management: Texts, cases and reading in cross-border management (5th ed., pp. 727-741 ) (Burr Ridge, IL, McGraw-Hill/Irwin)
Porter, Michael and Mark Kramer (Jan-Feb 2011) Creating Shared Value (Harvard Business Review)
Prahalad, C.K., (2005) The Fortune at the Bottom of The Pyramid: Eradicating Poverty Through Profits (Upper Saddle River, Pearson Education)
JOANNE LAWRENCE
Global Professor of Corporate Responsibility/Social Innovation
MBA, Stern Graduate School of Business, New York University
Joanne Lawrence is Global Professor, Corporate Responsibility/ Social Innovation at Hult International Business School and an academic advisor to the UN Global Compact. Prior to Hult, she was a guest lecturer and adjunct professor at INSEAD. With extensive international corporate and consulting experience, she has worked with multinational companies and global organizations such as BP, IBM, and the World Bank as well as smaller, socially-focused enterprises and start-ups, such as Tom's of Maine and Economic Development Imports. Joanne has also written and contributed to several publications including co-editing Globally Responsible Leadership: Managing According to the UN Global Compact Principles, which was published in 2012.
---
[1] Atmonson, Yuval; Peter Child; Richard Dobbs; and Laxman Narasimhan (Aug 2012) Winning the $30 Trillion Decathlon: Going for Gold in Emerging Markets (McKinsey Quarterly). Retrieved from: www.mckinsey.com/features/30_trillion_decathalon
[2] Prahalad, C.K., (2005) The Fortune at the Bottom of The Pyramid: Eradicating Poverty Through Profits (Upper Saddle River, Pearson Education)
[3] Porter, Michael and Mark Kramer (Jan-Feb 2011) Creating Shared Value (Harvard Business Review)
Accelerate your financial career and boost your earning potential with a Masters in Finance from Hult. To learn more, take a look at our blog What can you do with a Master degree in Finance? or get into wider business with a Masters in International Business instead. Download a brochure or get in touch today to find out how Hult can help you to explore everything about the business world, the future, and yourself.
Related posts