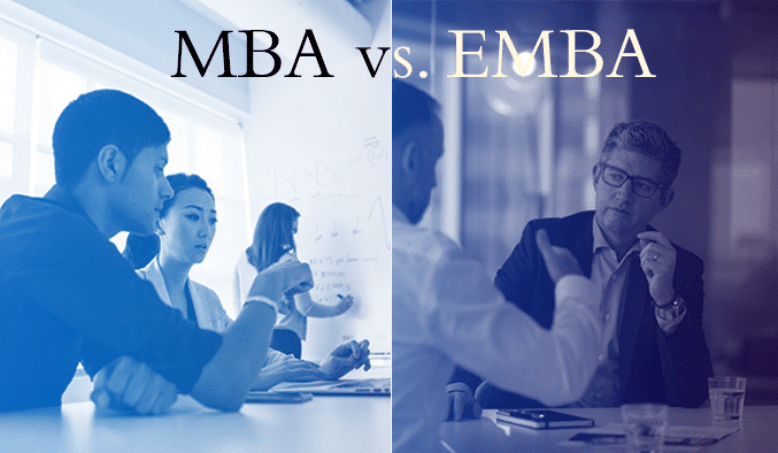 An Executive MBA is sometimes mistaken for being a superior version of its better-known counterpart—the MBA.
In reality, they're actually very similar in terms of content, prestige, and value to employers. But the two programs are delivered in different formats, require different levels of commitment, and serve different career aspirations.
Comparing course length and schedule
An MBA, short for Master of Business Administration, is a general management degree.
There are one and two-year programs, but both tend to be full-time and require you to be on campus. At Hult, our Global One-Year MBA is completed over 12 months, with the option of studying on up to three of our global campuses.
EMBA, short for Executive Master of Business Administration, is also a general management qualification.
However, EMBA programs are typically done part-time, taking between two and four years to complete. The Global Executive EMBA at Hult is designed to be flexible, with some students completing the course in as little as 18 months.
This full-time versus part-time study schedule is often thought to be the defining difference between an MBA and an EMBA. However, there are many other differences to consider.
Course structure and student lifestyle
Because of the full-time nature of MBA programs, they require a big commitment in terms of a change in lifestyle. You will need to take a career break for the duration of the program and, if you're attending a global business school like Hult, you may need to relocate to a different country. A full-time MBA is an immersive graduate experience that requires total commitment.
EMBAs are not only part-time, they are usually designed to enable people to continue working as they study. How classes are scheduled varies from school to school, and the program that suits you best will depend on your work patterns and career goals.
At Hult, our EMBA is delivered over one four-day weekend per month. To help you maintain your work/life/study balance, there are also opportunities to complete some modules online, or pause your studies should you need to.
"It amazed me how much we learned over a four-day weekend, not only from the theory but also the Hult approach to leadership. This really set the standard for the rest of the EMBA program."

Dr. Toby Shepherd –  Head of EMEA Regional Medical Affairs, Pfizer Consumer Health – EMBA Class of 2018
With an MBA, many students choose to relocate to wherever their school of choice is. But EMBA students are usually in full-time employment, so they are often more restricted when it comes to the location of the school.
Our EMBA students tend to attend the campus closest to home, which they can easily travel to once a month. However, having the option of attending multiple campuses around the world is often a big benefit for Hult EMBA students who frequently travel abroad for work, or want to gain on-the-ground international experience.
The flexibility of the EMBA route can mean considerably less impact on your regular lifestyle—although balancing work, personal life, and studies does come with its own challenges.
Differences in age and professional experience
One simple difference between an MBA and Executive MBA program is the profile of the students. EMBA students tend to be slightly older, with more years of senior-level professional experience on their resumes.
Here's a breakdown of the average age and experience of Hult MBA and EMBA candidates: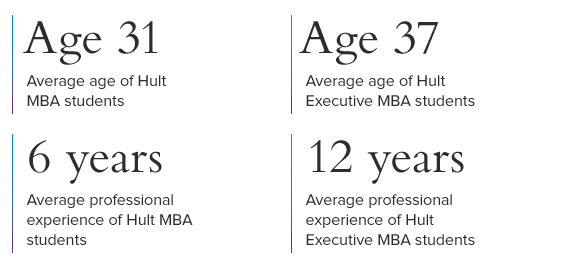 This difference in seniority plays a big part in how students engage with the course content and can steer classroom discussion. It's important to consider where you fit best when choosing a degree program, as your peers will become an invaluable part of your professional network.
"Networking is key in today's global business world, and the program has allowed me to expand my network and gain new, valuable business contacts. This has opened many doors, and will open many more in the future."

Alessandro Banzer Liechtensteiner – CEO, Xiting – EMBA Class of 2017
Admissions requirements
As EMBAs are geared towards working professionals with more extensive experience, EMBA admissions teams look for a varied professional background and managerial experience. It's assumed that applicants will already have a certain level of business knowledge picked up over their career, so there is not so much emphasis placed on entrance exams.
For most full-time MBA programs, only three years of work experience is required. However, a GMAT (or equivalent) score will usually be part of the MBA admissions criteria.
Curriculum differences
MBA and Executive MBA programs generally cover the same core content and aim to develop or advance similar skills.
At Hult, MBA and EMBA students engage with the same fundamental topics in their core courses. Both programs also offer the option of specializing by taking electives in a particular business area, such as marketing, finance, entrepreneurship, project management, or business analytics.
On our MBA program, students have the opportunity to apply the theory learned in class through practical projects, like the Hult Business Challenge. Our EMBA students take part in challenge learning too. But they also have the opportunity to apply their learning straight away in the workplace—meaning lessons learned have immediate professional value.
Career goals
Often, MBA students are looking to make some kind of change in their career—be it a change of location, industry, or function. Therefore, their focus is firmly on gaining employment upon graduation. At Hult, we are also seeing more and more MBA grads pursuing a career in entrepreneurship and starting their own businesses. In fact, 8% of our most recent graduating class launched their own business after Hult.
The motivations for Executive MBA students are more varied. Some are actively looking to change career or secure a new job, while others are looking to progress at the company they're at. Some might be looking to keep their skills current, while others are simply embracing an opportunity for professional and personal development.
It's important that the school you choose offers the right career development opportunities to support your goals. If you're interested in learning more about the career outcomes for recent Hult grads, you can download our latest Global Careers Report.
"The most significant impact of the program for someone at my level is that the EMBA has made me 'current' in my knowledge. It has also widened my perspective."

Tina Oberoi – Chief Operating Officer, Retail Lals Group (GCC) – EMBA Class of 2017
Fees, financing, and return on investment
The fees for both programs are usually fairly similar, depending on the school and the location of the program. The difference often lies in the options students have for funding their degree.
MBAs are usually self-funded, although there are a wide variety of scholarships and financial aid packages available through private companies and the business schools themselves. When it comes to course fees, full-time MBA students must also factor in living expenses and the cost of accommodation, taking into account that they won't be earning a salary for the length of the program.
Fortunately, successful MBA grads usually see a fast return on their investment, as their new academic credentials put them in good stead for more senior roles.
Executive MBAs, on the other hand, can often be funded—either partially or entirely—by their employer. That's because employers benefit from the skills and knowledge gained, and many are happy to contribute to the professional development of their staff.
Having said that, there is an increasing trend towards EMBA candidates self-funding their degree, with scholarships and financial aid also being available for these programs.
Employer-sponsored students are generally required to commit a few years to the company upon graduation, so be sure you're aware of the conditions if this is the route you take. Whether employer-funded or self-funded, EMBA students will also be earning a full-time salary while studying, so studying for an EMBA can be somewhat less daunting financially.
Hult EMBA grads can also benefit from serious ROI, with recent alumni reporting a salary boost of almost 50%.

---
Ready to learn more about Hult's innovative and flexible Global Executive MBA program?
Decided now is the time to invest in yourself and your career? Submit your application today.
---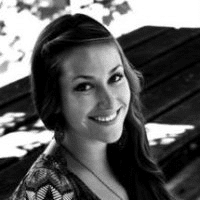 Katie Reynolds
Written by Hult contributing blogger Katie Reynolds who is a freelance writer based in London. Originally from Michigan in the U.S., she relocated to the U.K. in 2010 to pursue a master's degree at Hertford College, Oxford. Today, she writes on topics including business, higher education, healthcare, and culture.
Related posts