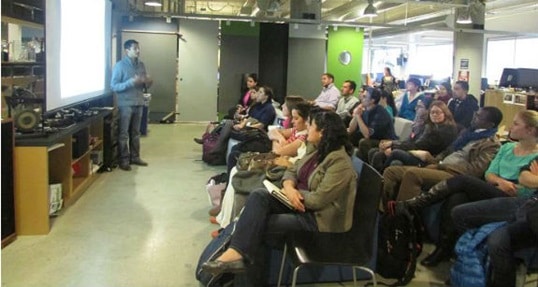 Microfinance was the unofficial theme at Hult last week as students learned the ins and outs of notable charitable finance organizations, both on and off campus.
The week began with a campus speaker event with Rupert Scofield, CEO of FINCA, who stopped by Hult while visiting San Francisco from his hometown of Washington, D.C. Scofield shared the story of FINCA, how he was inspired to do good and give back from his days in the Peace Corps working with farmers in Guatemala. He says he was never driven by money, but rather by helping others do well for themselves, which is how he eventually, after several attempts at jobs in industries that didn't work for him, joined pal John Hatch at FINCA, the company that pioneered village banking.
After his speech at Hult, FINCA CEO Rupert Scofield chats with students.
Scofield, who noted that "top" schools like Hult are already offering social entrepreneurship degrees, shared some advice for students who hope to follow in a path similar to his. First, start helping others by volunteering. Second, live on the level of those you want to help, to learn specifically what they need and what will help them. And finally, remember that it's never too late to start on your own path as an entrepreneur.
A few days later, a group of about 30 students ventured to downtown San Francisco for a company visit to Kiva, an online lending company that supports entrepreneurs in developing countries. In an open office space among Kiva employees, president Premal Shah spoke about his road to Kiva. After experiencing what he called "big company angst" at a couple of jobs, Shah decided to go into microfinance and attempt to "make it as simple as possible to do something good."
Shah asked the Hult crowd of mostly Master of Social Entrepreneurship students for ideas on engaging potential lenders, and they offered several well-received suggestions, including featuring videos of loan recipients putting their money to work.
Both microfinance events were hosted by Hult San Francisco's Corporate Relations department, which brings speakers to campus on a weekly basis and offers several company visits throughout the year. The microfinance events spoke directly to Hult's MSE students, many of whom aspire to go into this relatively new field.
Photos: Rebecca Joyce
Explore the complexities and challenges of the marketing world with Hult's Masters in International Marketing. To learn more, take a look at our blog 5 tips On How To Get A Head Start In Today's Marketing Industry, or get into broader business with a Masters in International Business instead. Download a brochure or get in touch today to find out how Hult can help you to explore everything about the business world, the future, and yourself.
Related posts