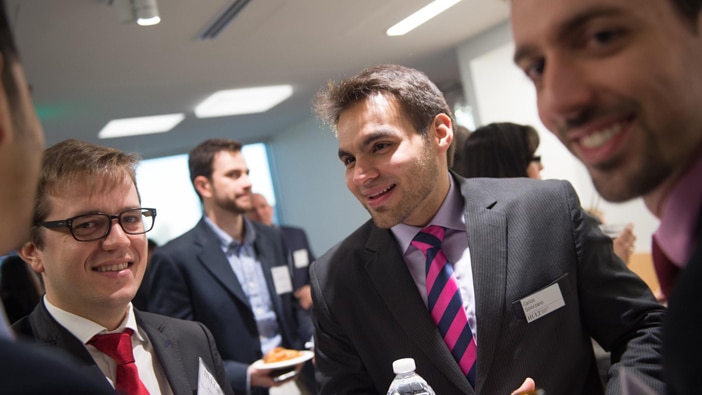 This article was originally published on BostInno.com 'Corporates on Campus: ALPFA Event'.
In a joint event the Hult Finance Club and Hult Boston chapter of ALPFA (Association of Latino Professionals for America) organized a panel discussion about navigating the international job search.
Nationwide, ALPFA boasts 23,000 members representing over 40 professional and 135 student chapters.  The vision of the organization is to be the premier business organization for expanding opportunities for Latino leadership in the global market. The event brought together a panel of five professionals who spoke on their experiences in pursing a career in the United States.
Speakers included, Seth Buks, Investment Consultant Regional Vice President at Columbia Management, Walter Maya, Tax Senior Manager for Ernst & Young, Sophia Moon, Partner and Creative Director at Jaggermoon Creative Group LLC, Pranav Metha, Senior Vice President Product and Business Planning for Harvard Pilgrim Health Care, and  Jessyca Feliciano, Human Resources Generalist for Liberty Mutual Insurance, moderated the panel.
"The session provided practical career coaching for the students and allowed ample time for networking. The breadth of student experience was impressive," said Pranav Metha.
Navigating obstacles in the job market is difficult for anyone, but job searching while completing a one-year MBA or Masters degree bring a different set of challenges.
"Networking is key to success in the United States. The only way to find a job is to network," said MBA alumnus Mayur Chimurkar. "Of course, you need to have the skills to pass the interview, as the networking will only make sure that your resume lands in front of the recruiting manager."
With the support of campus staff and faculty, clubs have been able to host a number of intimate events where students are getting exclusive opportunities to network with regional executives. "Seeing professionals from different industries talk with such passion and warmth is really appreciated," Chimurkar said.
"These sessions are a great opportunity not only for the students to learn from a group of professionals but also for us to learn from the students. I for one can't believe the level of conversation, sophistication, and intellect that these students take in their approach to the professional job market," said Seth Buks. "It gives me great pride and satisfaction in knowing that I may have shaped at least a small idea in the minds of future leaders of our global economy."
Kickstart your career in this education and innovation hotspot by studying at Hult's Boston business school. To find out more, take a look at our blog Life in Boston: Introducing Hult House. Download a brochure or get in touch today to find out how Hult can help you to learn about the business world, the future, and yourself.
Related posts