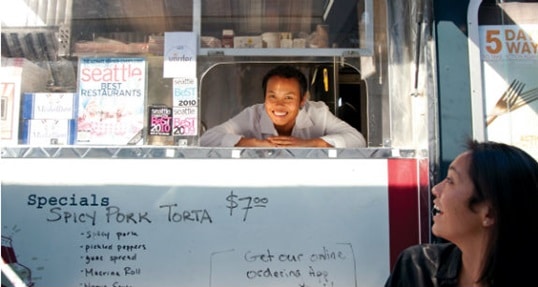 We caught up with some key members of our Hult Alumni Association to explore how they started their own ventures in the Food and Beverage industry and how they managed to maintain their run of success in this famously fast-moving industry. Discover Cynthia Kaplan's (MBA Class of 1992) natural dog food company, Lucky Dog; Bryan Delaney's (MBA Class of 1993) New York beer bars; and Roz Edison's (MBA Class of 1998) Marination food trucks and stations. It's enough to make your mouth water with entrepreneurial appetite!
Cynthia Kaplan, MBA Class of 1992, Founder of Lucky Dog, and Hult Alumnus of the Year
Lucky Dog was set up through a series of fortunate circumstances. I truly believe in networking – not just for the sake of getting something out of it for yourself. It's also about offering something to somebody, meeting people, and making connections. You never know where these connections may take you. I met both my current business partner and chef through networking and would not be where I am today without having networked. We're living in an age where everything is interlinked. I would say alums should really pursue their dreams and take advantage of their alumni network.
My time at Hult exposed me to different global perspectives.  It was the whole multicultural experience that I really enjoyed and benefited from and still do. My advice to alums after their time at Hult would be to follow your dreams and your passion. Work in an industry where you know you're going to gain experience. If you want to become an entrepreneur, save more money than you think you will need because it's always going to be more expensive than you anticipated.
Bryan Delaney, MBA Class of 1993, Owner of some of New York's exciting beer bars: Blind Tiger, The Gate, Birdsall House, and Gleason's Peekskill
One of the real positives of the bar and restaurant business is that it gives you a chance to bring joy and a sense of community to your customers. However, a common mistake often made about this industry is that it is all fun. We feel that our love of cooking tuna casserole should easily translate into a successful restaurant that will run as smoothly as our comfy home kitchen. This is one of the reasons the failure rate in the industry is so high. It's a lot of work just like any other business, and requires skills, expertise, and passion.
The secret to my success has been to create a local connection that attracts repeat customer and has staying power – becoming a 'fixture' in the neighborhood that is above trends and fads. Most important, however, is the attention given to the hiring and training of excellent staff. They can make or break your place despite how good your food is or how nice your place looks. I continually train staff and build loyalty. Hult provided me with skills that enabled me to turn a vision into a real career that I am still enjoying today.
Roz Edison, MBA Class of 1998, Owner of Marination food trucks and stations
Marination Station and Marination Ma Kai were the result of extraordinary luck. Once the truck operation was up and running we knew that it would be desirable to have a place with a few seats, that would operate longer than three hours per day, and that might even out some of the seasonability of the truck business. We heard about a retail space in a neighborhood we wanted to be in, via a friend. We would not have stood a chance with the building owner if we hadn't been lucky enough to have a colleague in common.
The highs and lows of my entrepreneurial journey have come from customers. The highs are all the customers who write us nice notes, send us pictures of their kids eating tacos, and tell us how they miss us when they move or travel. All of those interactions have been so fun and flattering. The lows come when customers remind us that we have not delivered the perfect product or service that we want to. We deal with the lows with humility, internal reviews of our processes/ products, and usually a couple of gift cards.
Hult taught me business fundamentals and more importantly exposed me to the myriad of business considerations involved. It has taught me to ask questions and use the answers to ask more questions or make a decision.
For the full story on how they are cooking up an entrepreneurial storm and to find out more about what lessons can be learned, read the latest edition of our alumni magazine here.
Hult offers a range of highly skills-focused and employability-driven business school programs including a range of MBA options and a comprehensive one year Masters in International Business. To find out more, take a  look at our blog Entrepreneurial Ideas Come To Life At Hult. Download a brochure or get in touch today to find out how Hult can help you to learn about the business world, the future, and yourself.
Related posts