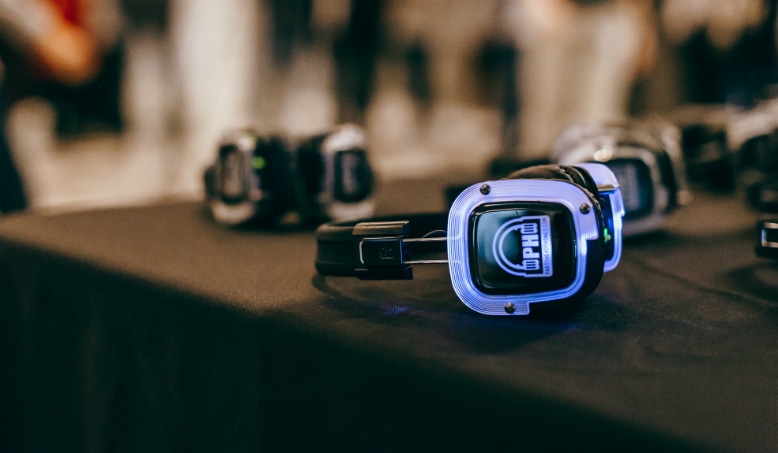 Disruptive innovation has become a business buzzword. It means to challenge the status quo, encouraging ambitious minds to think outside the box and be inspired by today's biggest breakthroughs for a better future. In April, Hult International Business School celebrated this concept with a Day of Disruption, hosted on campuses around the world.
Ranging from inspiring talks on innovative business ideas to hands-on Hackathons, the Day of Disruption was a great way for Hult students to engage with thinkers and organizations developing groundbreaking solutions.
Let me guide you around the globe through these exciting days—from Dubai to Boston, London, and San Francisco.
Hult Dubai – April 10, 2018
The Day of Disruption in Dubai was held in classrooms on campus during the evening. Dr. Konstantinos Tsanis, a Middle East and Africa (MENA) Financial Markets Specialist, provided a talk on disruption through the Blockchain industry and Initial Coin Offerings (ICOs).
Focusing on the growth of one of the largest tech companies in the world, Dr. Tsanis provided insights on the diffusion of new technologies as well as the formation of FinTech startups and small-to-medium enterprises (SMEs) across MENA. Developing FinTech solutions was something Dr. Tsanis was keen to encourage.
Aside from the main talk, there was also a session from Adecco Insight. Students in Dubai were given advice regarding their job search in the region, including what to expect and what to prepare for. They were also made aware of the opportunity to join a program called CEO for one month.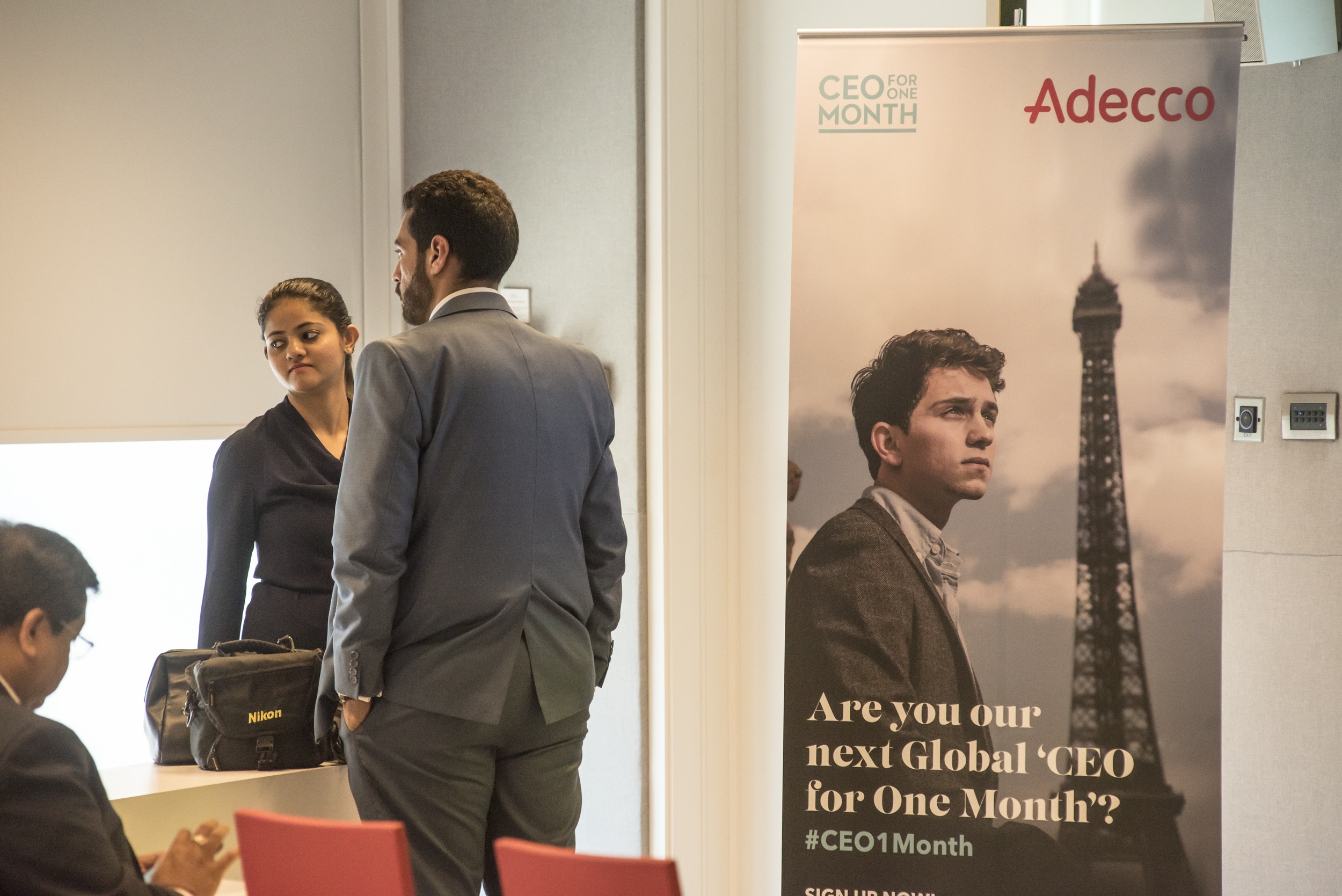 Hult Boston – April 10, 2018
The Day of Disruption in Boston presented several opportunities for students to immerse themselves in the world of innovation. Activities included a silent disco, draw-a-thon, hack-the-mind puzzles, food trucks, and virtual reality demos.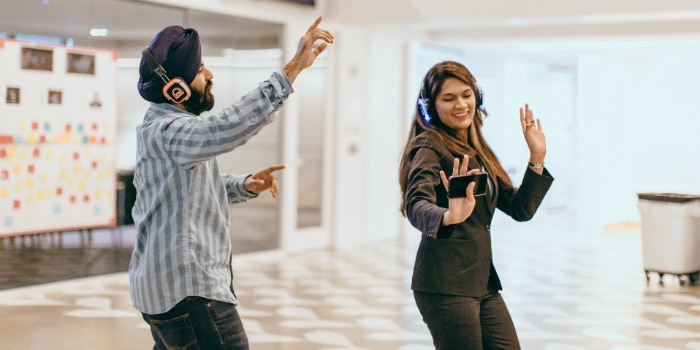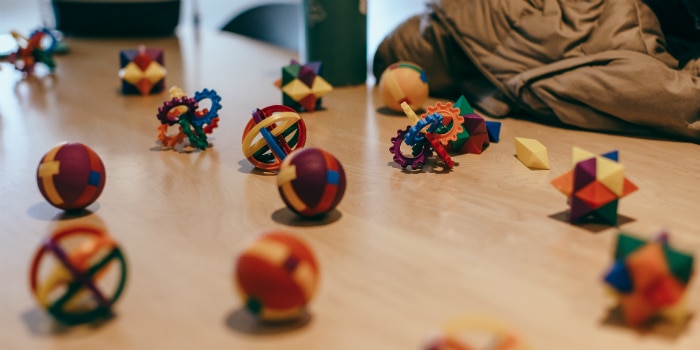 There were also talks from Bobbie Carlton (Founder of Carlton PR and Marketing) on innovation and product launching, David Crosbie (CTO and UPenn Professor) on funding businesses with cryptocurrencies, and John Sviokla (Principal at PwC) on thriving with new capital.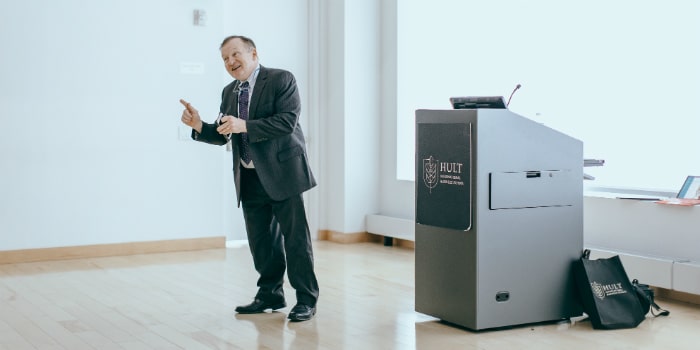 For the second year in a row, under Professor Mike Grandinetti's leadership, a Hackathon was also organized as part of the Day of Disruption. This year, it was a Hack for Humanity, and over 100 students, 30 mentors, and four non-profit partners participated.
The Hack for Humanity was categorized into four challenge tracks, each corresponding to a pioneering non-profit organization:
1. Rosie's Place
The first ever homeless shelter for women in the U.S., Rosie's Place provides a safe and dignified environment to help poor and homeless mothers.
Hackathon winners: Angelica Ferrao (MIB), Franziska Schlemmer (MIB), Sanjit Advani (MIB), Ayelet Norkin (MBA), and Titilola Shawana (MBA)
By distributing first-aid kits to students through their schools, the winning team hopes to raise awareness with people—mothers and children alike—about the work of Rosie's Place.
2. Rethink Relief
Rethink Relief seeks to optimize relief efforts with innovative technologies and products that fill the gap between initial response to a disaster or conflict and the resettlement and recovery that follows.
Hackathon winners: Nitin Sethi, Renata Grande, Saul Robinson, Duje Suric, Gaurab Subba, and Kenzo Vezina—all from the MBA program
The winning team offered a two-fold strategy to help Rethink Relief in empowering its constituents, involving design workshops and consultations, and focusing on providing skills to refugees to create products to sell in the urban markets.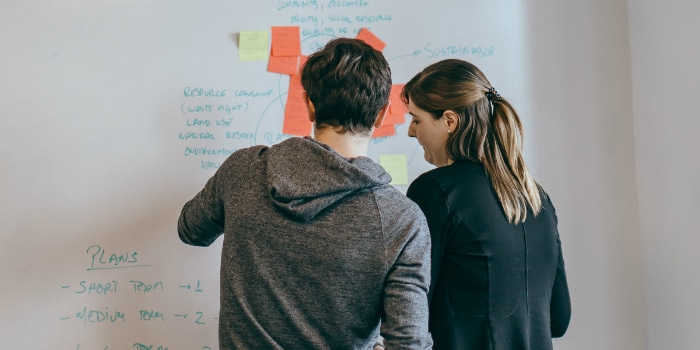 3. Green Hope School
Green Hope School seeks to fight poverty through education, providing pre-primary English language education to children in rural villages in Tanzania.
Hackathon winners: Anna Lundberg (MIM), Anne-Cathérine Verellen (MIM), Bernardo Pennacchio (MIB), Elise Teves (MIM), Melissa Behrens (MIM), and Vidhi Vekariya (MIM)
"Our focus was to maximize the use of the resources that Green Hope has in order to develop a self-sustainable growth strategy," said Melissa. The team made use of multiple business frameworks taught in class, paired with a design-thinking approach to align the team vision with Green Hope's current initiatives and mission.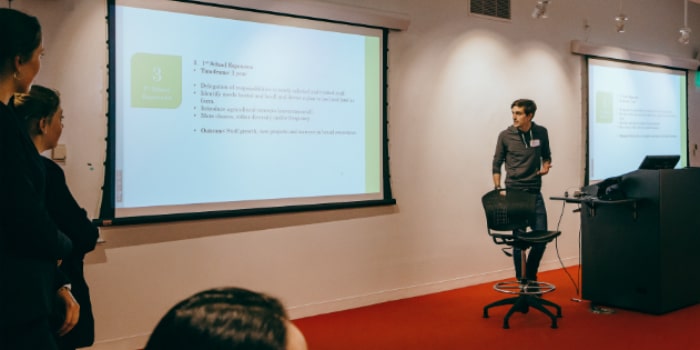 4. RecycleHealth
RecycleHealth is an NGO that refurbishes wearable health trackers such as Fitbits, and provides them to underserved communities, encouraging them to increase their exercise and improve their health.
Hackathon winners: Diane Tran (MIB), Tzu Ning Chan (MIB), Charity Maddox (MIB), Precious Nwachukwu (MIB), and Michelle Maestre (MFin)
"We created a roadmap that aligned to the vision of the organization, and an implementation plan that would help RecycleHealth's organizational structure and improve sustainable funding," explained Precious.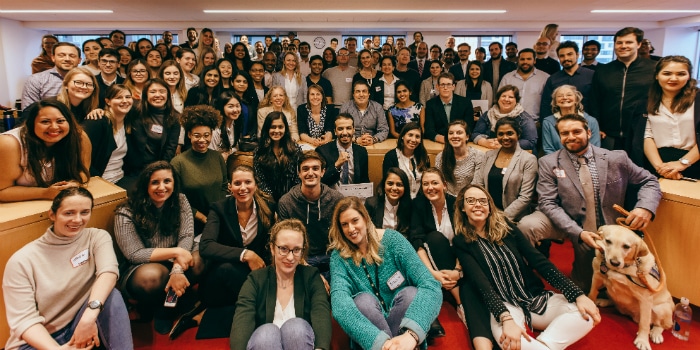 The winning student teams from each NGO challenge track won free tickets and accommodation to the world's first conscious tech summit, Vested, which will be held in Egypt later this month.
For more pictures, videos and news about the winning teams and non-profit challenge partners, have a look at the official Hackathon website: hack-for-humanity.com
Hult London – April 11, 2018
At the London postgraduate campus, the Day of Disruption was opened with a silent disco—an event where students were given headsets that played music they could dance to in the Atrium. The silent disco was paired with an amazing breakfast that gave students the energy they needed to continue through the day.
Alongside other activities, there were talks from Riaz Shah (partner at Ernst & Young), Prof. Olfa Meliani, Dr. Jonathan Wilson (Professor and Consultant), Nadimeh Mehra (Director, Legacy Expo 2020 Dubai), Dr. Adrian Furnham (Professor of Psychology at UCL), and Omid Ashtari (President and Head of Business at Citymapper). After the talks, students split into groups, discussed their newfound ideas, and had the chance to present to the rest in the room.
Alik Jebejian, Hult Global Ambassador and Masters in International Business student, discovered that disruption often comes from taking something that's already there and changing the process or the way a consumer interacts with it. "We often associate disruption with something extraordinary, beyond the realm of our imagination," said Alik. "This day was really an eye-opener for many of us in the room."
As masters students are currently in Module C and taking the Future Mindset course, this Day of Disruption was done in perfect timing and a great addition to what they have already been studying.
"This day was really an eye-opener for many of us in the room."

Alik Jebejian, Masters in International Business, Class of 2018
Meanwhile, on the London undergraduate campus, students participated in a Hackathon challenge set by Unilever as part of their own Day of Disruption.
Hult San Francisco – April 11, 2018
Hult San Francisco's Day of Disruption helped students gain a better understanding how, as future business leaders, their ideas can redefine the dynamics of the business world.
The event featured speakers from various industries, including Navi Radjou (Fellow at Cambridge Judge Business School) speaking on the topic of wise innovation, Ashwin Navin (CEO of Samba TV) on the future of TV, Greg La Blanc (Professor, UC Berkley Haas Business School and Founding Faculty of Hult San Francisco) on the impact of Blockchain, and Adeo Ressi (CEO of Founder Institute) on the pros and cons of disruptive innovation.
While there is a strong sense that disruption is good, Adeo Ressi—having helped create nearly $2 billion in shareholder value by founding or running businesses—helped Hultians realize that not everything new is successful. He implied that, as strong stakeholders in tomorrow's business world, we should take a step back and consider what really works and what doesn't.
His keynote address served as a perfect balance to the other speakers, as they touched on the potential of disruption in different industries.
This day gave Hult students a great opportunity to reflect on how to be the disrupters that the world needs. Although the concept of disruption is only young, it's already being taught through the Hult curriculum and shaping the mindset of Hult students who are thinking critically about the future.
"Although the concept of disruption is only young, it's already being taught through the Hult curriculum."
---
Curious to learn more about how disruptive innovation is built into the Hult curriculum? Download a brochure.
---
Like game changers? Break the mould in the business world with a Masters in Disruptive Innovation from Hult. To learn more, take a look at our blog Day of Disruption: Undergrads build a new lifestyle brand during Unilever Hackathon, or explore overall business challenges with a Masters in International Business instead. Download a brochure or get in touch today to find out how Hult can help you to find out everything about the business world, the future, and yourself.

Reina Adriano
Reina Adriano is a Filipina studying for a Masters in International Business at Hult in Boston. Being a stock-trader, she plans to enter the world of finance after graduation but also hopes that she can still do something else: to write and to write about people, like she has always done.
Related posts