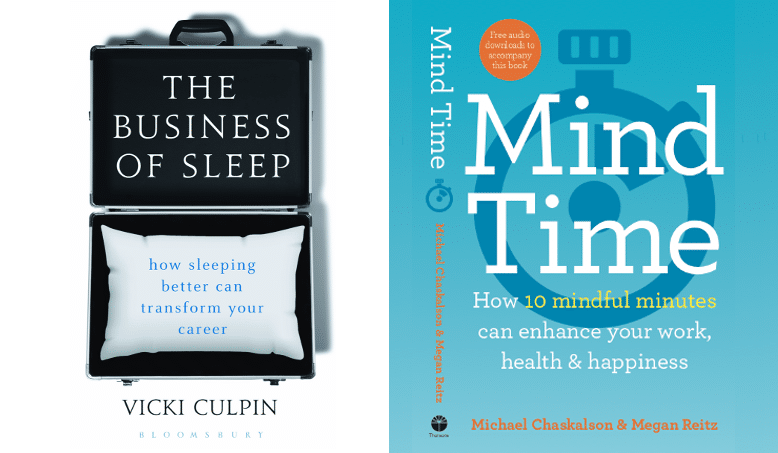 How can sleeping better transform your career? What difference would devoting 10 minutes a day to mindfulness practice make to your work, health, and happiness? These questions are answered in the latest books–The Business of Sleep and Mind Time–written by faculty authors from Ashridge Executive Education at Hult International Business School.
The Business of Sleep
In 'The Business of Sleep: How sleeping better can transform your career', Vicki Culpin looks at how lack of sleep is hampering organizational effectiveness and having a negative impact on us both personally and professionally.  The book explores how too little and poor quality sleep can stifle creativity and innovation and lead to poor communication and decision-making, as well as having a serious effect on our health and well-being.
Drawing on the latest cutting-edge research, Professor Culpin explains in accessible terms how sleep works, what we can do to improve it and why we should be regarding it as an organizational issue as well as a personal one.
To learn more about the importance of sleep, watch Vicki's TEDx talk
Pre-order The Business of Sleep: How sleeping better can transform your career on Amazon
Mind Time
In 'Mind time' Michael Chaskalson and Dr. Megan Reitz look at how regular mindfulness practice can change the way we interpret and respond to everyday events both at work and in life.
Nearly half of our waking hours are spent thinking about something other than what we are doing.  We are only aware of a tiny fraction of what we are thinking, feeling and sensing–so we are barely conscious of how and why we behave the way we do.
The book contains simple clear exercises designed to build the three core capacities of curiosity, self-awareness and acceptance.  Setting aside just 10 minutes a day to engage in these practices will lead to positive benefits in your relationships as well as your ability to deal with the unexpected and stay purposeful.

Erika Lucas
Erika Lucas is a staff blogger and communications specialist in the research team at Hult. A journalist and PR professional, she has written widely on subjects ranging from leadership and management to personal development and learning.
Related posts