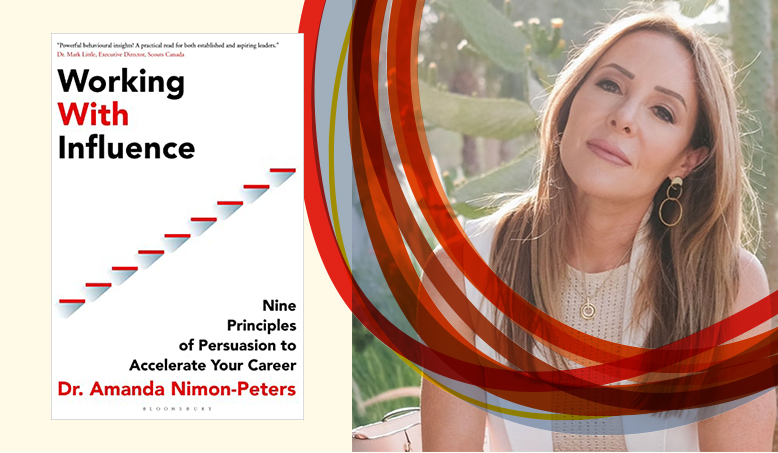 Working with Influence: Nine Principles of Persuasion to Accelerate Your Career was released by Bloomsbury on 9th June and is available for pre-order on Amazon. 
Written by Hult Professor of Leadership, Dr. Amanda Nimon-Peters, Working with Influence delivers nine easy-to-apply principles of persuasion for use in real and virtual workplace situations. Like all complex skills, influence can be learned. The nine principles explored in the book can be used alone or in combination. As such, this book can help you significantly increase your influencing power without the need to study the entire text.  
Each chapter includes a wide range of applied workplace examples, as well as tools to help readers build their own action plans. Packed with practical guidance and psychological research, Working with Influence is the 21st century guide for anyone seeking to improve their communication, networking, and overall success in today's highly competitive and unpredictable job market. 
Dr Amanda was kind enough to share her thoughts on the book, it's influences, and how it can help everyone become the best leader they can be.
Why is influence in the workplace an important topic right now?
Our workplaces have changed enormously but the human brain, not so much. Although new models such as WFH, remote, and hybrid have been added into the workplace mix, the underlying programmes that affect how our brains make decisions remain both predictable and universal.  
 The key to increasing your influence over people and outcomes at work is to understand how human brains make decisions. Armed with this understanding, you can take the right action at the right time to achieve a higher likelihood of achieving the outcome you seek.  Whether you work online or face to face, you can apply science-based principles to how you interact with others. 
Where does behavioural science fit in?
 Studies show that we are not very good at knowing what influences people's decisions. When we try to influence people in the workplace, the most common approach taken is rational persuasion—providing the influence target with logical reasons for taking action. This might seem sensible, but in fact it is only successful around 12% of the time. Even worse, we tend to believe that the more logical reasons we give, the more influential we will be.  
 Scientific research, however, demonstrates that the opposite is true. In general, humans believe themselves to be far more rational and far less emotional than our behaviour generally demonstrates. Our decisions are much more impacted by our emotional state than by our logical reasoning. By understanding simple principles such as these, we can improve our approaches and therefore our ability to influence people and outcomes at work.  
Who is the book for?
 Working with Influence is for both established and aspiring leaders. It provides ambitious professionals with a set of actionable principles which will help them kick-start, accelerate or transform their careers by increasing their personal influence in real and virtual workplace environments. It is suitable for use on postgraduate courses in leadership and influence, as well as advanced undergraduate courses. 
How can reading this book help senior managers?
Ironically, people are most at risk of missing out on excellence precisely when they are achieving mild to moderate success, rather than occasional outright failure. This is because failure is noticeable, it's obvious—and that gives us a chance to learn how to improve. In contrast, when we experience moderate success, when we're doing okay, there is little opportunity to recognize that it might have been possible to achieve a much better result. And that is where developing your ability to influence people can most help you – not when you are terrible at it; instead, when you believe you are good at it. 
What do you teach at Hult?
 I teach core courses at the postgraduate level, on the MIB, MBA, and Executive MBA programs.  The course titles are either leadership or data analysis—but in fact they are almost always a combination of both leadership development and data-based understanding. You need both capabilities to have maximum impact in a company: the ability to consider objective data when making decisions, as well as leadership skills to enable you to communicate and motivate your people to act on the analysis.  
I have been a full-time professor at Hult since January 2018. This year I will also teach Data Visualization and Communication on the DBA program, which is an exciting new addition to Hult's portfolio. 
What is different about a Hult Professor?
 Hult professors care about delivering an exceptional classroom experience. This is perhaps the single most important distinction because it is what happens in the classroom that is the biggest part of the experience of taking a degree. Hult professors work hard at making their classes engaging, fun, and highly memorable. It is one of the great pleasures of my job that my peers are exceptional at what they do—and really fun to talk to.  
Hult professors have other features that distinguish them also. In general, they are not only well qualified in an academic sense, but they also have significant experience in their respective industries, actually doing the things they are teaching you about. Finally, Hult professors genuinely care about increasing the capability of our students. We love receiving messages from former students who achieved success when they applied techniques from our classes in their own business world.  
About Amanda Nimon-Peters
Dr Amanda Nimon-Peters is Professor of Leadership at Hult International Business School. She started university at age 16 and holds a First-Class Honours Degree in Psychology from the University of Adelaide and a PhD in Behavioural Science from the University of Cambridge. Amanda's work addresses leadership challenges by combining a deep scientific understanding with her significant senior management experience: as a team leader at Procter & Gamble in Europe; a board-director for a UK housing charity; a successful start-up founder in Dubai; the dean of a business school; and (once upon a time) the science team leader at a field camp on the Antarctic Peninsula. 
About the book
Working With Influence: Nine Principles of Persuasion to Accelerate Your Career is available from Bloomsbury and Amazon.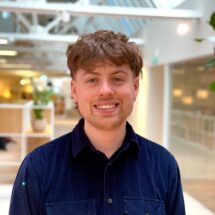 Noah Ackland
Noah Ackland is a copywriter and blog coordinator at Hult. Originally a freelance writer, his portfolio spans the full range of the thematic spectrum with articles on Fintech to Feng Shui. Working primarily in startups, Noah understands the importance of topical content when growing a brand. A keen hiker and swimmer, he's a big fan of being exhausted in his spare time.
Related posts