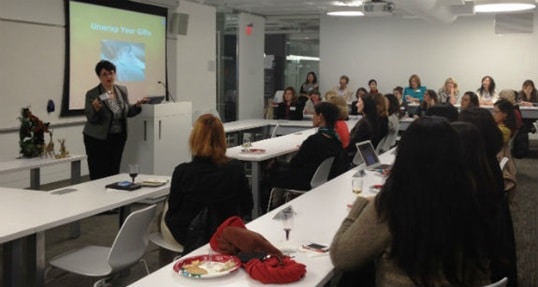 Women MBA Connect decked the Hult halls for their holiday party on December 6 and invited female Hult MBAs to join in the festive networking fun.
WMC is a connection of professional women with careers in business in the Bay Area. Co-founder Jennifer Contreras, an associate dean at Hult San Francisco, brought the group to the campus for a holiday event that not only celebrated local women MBAs, but also offered a unique opportunity for female students to feel inspired and empowered.
Hult SF Corporate Relations sponsored eight students to attend the party, which included valuable networking time with Bay Area women.
The centerpiece of the evening was a presentation with Denise Brosseau, CEO of Well-Connected Leader, who shared holiday-themed tips on being a great leader.
Among Brosseau's advice for successful women leaders: praise others around you, say thank you (even in writing), and don't be a Grinch – women should always be nice to and respect their female colleagues and supervisors and help each other get ahead.
In the spirit of giving, WMC accepted clothing donations for Dress for Success, an organization that provides professional clothing for disadvantaged women, and those who donated were entered into a raffle for Banana Republic gift cards
Photo: Barbara Domingo
Make the most of what your career has to offer with a Masters in International Business from Hult. To learn more, take a look at our blog My Hult journey: Reflections from an MBA grad, or give your employability a huge boost with an MBA in international business. Download a brochure or get in touch today to find out how Hult can help you to explore everything about the business world, the future, and yourself.
Related posts