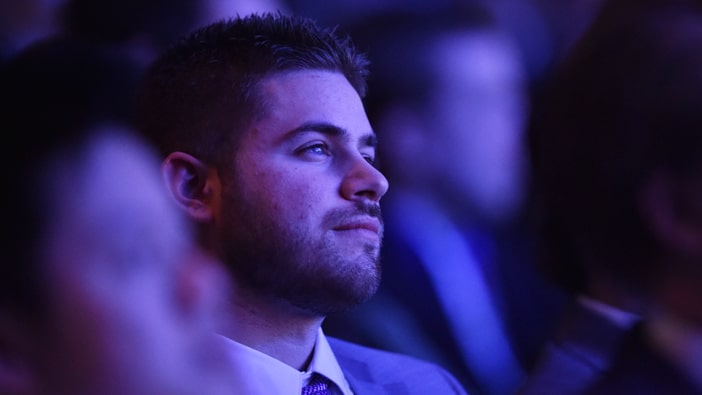 This article was originally published on BostInno.com 'A Day with World Leaders'.
While other graduate students may have attended class last Friday, Hult Boston students were rubbing elbows with some of the globe's most influential leaders. As part of the 50th anniversary celebration for EF Education First, Hult students were invited to join the festivities at a very special and top-secret event.
The Hult community poured into Hynes Convention Center with anxious anticipation as the speakers' names were not released ahead of time, instead Thomas Hall, Executive Director of the campus, relied on the "once in a lifetime" chant to rally students. He wasn't wrong.
After Massachusetts Governor Charlie Baker kicked off the event, students heard from the 42nd President of the United States, Bill Clinton, former UK Prime Minister, Gordon Brown, Indian actress and philanthropist, Priyanka Chopra, Apple co-founder, Steve Wozniak, former Australia Prime Minister, Julia Gillard and former Governor of Massachusetts, Deval Patrick. The festivities also included a special video message from former President of the Soviet Union, Mikhail Gorbachev.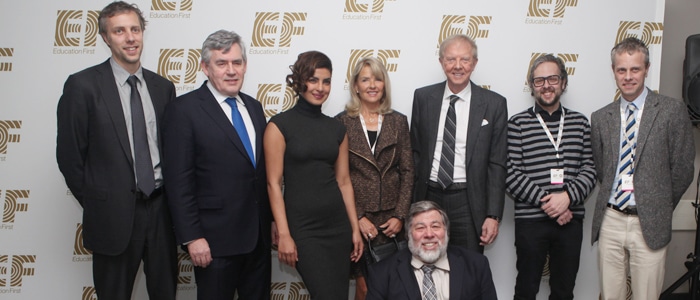 This was an extremely special occasion for the Hult Boston community, class schedules were cleared in order for the entire student body to attend the day-long event. For five very lucky students it was even more so, as they received the exclusive opportunity to meet with Bill Clinton, who inspired students with his talk on interdependence and globalization. He also spoke on the importance of nurturing cooperation over conflict, something that resonates with our international student population. "It was truly an honor to shake hands with the 42nd President of the United States," reflected Master of International Marketing student, Kathrin Schulbe from Germany. "All of the speakers made me realize once more how important education is and how privileged I am to be able to go to school and pursue my dream."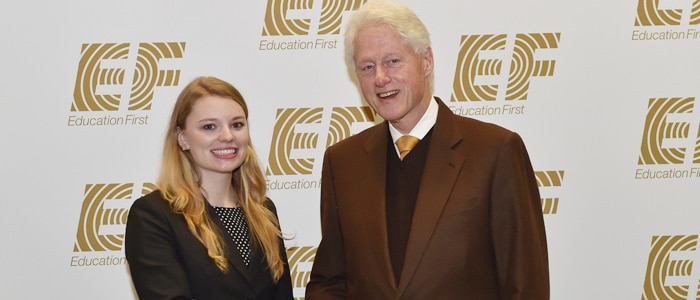 At Hult, our students experience new cultures each day as part of the academic journey with over 140 nationalities represented in the student population and renowned faculty from five continents. They challenge themselves and learn from one another both inside and outside the classroom. "Education has always been the first step to opportunity. Not just in knowledge, but human understanding," said former Governor of Massachusetts, Deval Patrick. "We must shape our own future rather than leaving it to chance."
"There is no problem in our world that can't be resolved or lessened by education," said Julia Gillard, Prime Minister of Australia, in her talk on the importance of education. "Never doubt the importance of what you do."
The campus is still buzzing with excitement. Hult Global Ambassador and Master of Business Administration candidate from China, Christina Chen, could hardly contain her gratitude for the experience, "I had one of the most amazing days of my whole life. When the sister organization of your school organizes a private event with secret speakers, and when you find out whom those speakers are, well, you cannot help but being totally speechless. Those people came to Boston to talk to us. I strongly doubt that, at least for next 50 years, I will experience a day as inspiring as today."
"I left the Hynes Convention Center with lingering goose bumps and an expanded mindset that anything was possible… anything at all. Surrounded by the presence of greatness, individuals from all over the globe that have literally changed the course of human history, is something I will draw upon for years to come", reflected Darby Jones from the United States, who is also pursuing his MBA and had the opportunity to meet Bill Clinton. "The entire well-orchestrated occasion was a celebration of courage, the desperate and often defiant need for collaboration in lieu of conflict, the ever-present need to think and dream without confinement, and most importantly – the steadfast hallmark of hope for a better world."
Kickstart your career in this education and innovation hotspot by studying at Hult's Boston business school. To find out more, take a look at our blog Trips to take around Boston. Download a brochure or get in touch today to find out how Hult can help you to learn about the business world, the future, and yourself.
Related posts