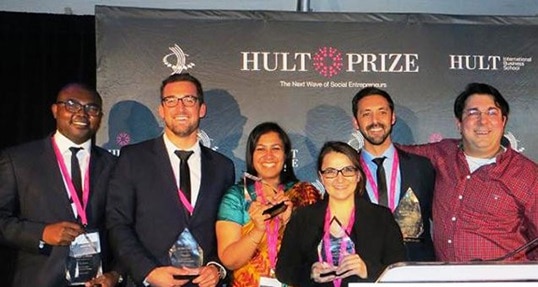 The Hult Prize has announced the regional winners of its 2013 challenge, which will award $1 million in funding to the winner.
The Hult Prize, awarded by Hult International Business School, is an annual competition for students that judges ideas for companies to solve social issues. The money for the prize comes from Swedish billionaire Bertil Hult.
This year's finalists are student groups from the Asian Institute of Management, ESADE Business School, McGill University, Hult International Business School in San Francisco and the University of Cape Town.
In June, the students will gather in Boston for a two-month intensive program to help incubate their start-up ideas, and the program will lead up to the awarding of the Hult Prize.
President Clinton and Muhammad Yunus, Nobel Peace Prize winner, are expected to attend and mentor the students, Hult said.
The winners of this round of the Hult Prize were selected from roughly 250 start-up pitches submitted by more than 1,000 students who made it that far in the process, according to Hult.
The competitions were hosted by Hult's international campuses in Boston, San Francisco, London, Dubai and Shanghai, where college and university students from all over the globe came together to find solutions to the global food crisis.
The challenge originally attracted 10,000 applications from more than 150 countries, according to a press release from Hult.
The global finals will be held at the 2013 Clinton Global Initiative annual meeting in New York in September. The Clinton Global Initiative was started in 2005 by President Bill Clinton and brings together global leaders to brainstorm and implement solutions to social issues.
Mary Moore – Reporter, Boston Business Journal. Read the article in full here. 
Make the most of what your career has to offer with a Masters in International Business from Hult. Give your employability a huge boost with an MBA in international business. Download a brochure or get in touch today to find out how Hult can help you to explore everything about the business world, the future, and yourself.
Related posts