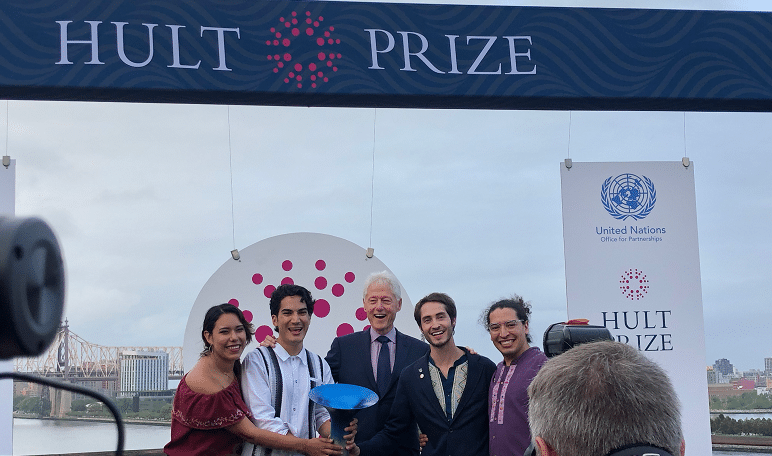 The date: Saturday evening, September 14th, 2019. The venue: United Nations HQ, New York City. The event: Hult Prize Finals, 2019.
Marking the start of the United Nations General Assembly, this weekend saw the tenth annual finals of the Hult Prize, the world's largest student competition and movement for social good. It's been a year of pitching, collaborating, researching, pitching some more, testing and retesting, prototyping, and running pilots. And now, the finalist teams have emerged from their Accelerator round at Hult's Ashridge campus to take to the stage in New York City and come face-to-face with the judges who'll decide which of them wins the 1Million USD prize check to set their big dreams into action.
"The Hult Prize in so many ways represents the way the world has to function in the 21st Century"

President Bill Clinton, 42nd President of the United States of America
The challenge: "For us, by us: Youth unemployment"
This year, student teams around the world were asked to lay the foundation of a venture that will provide meaningful work for 10,000 youth within the next decade. Over 250,000 students from more than 100 countries responded. By Saturday, those 250,000 hopefuls had become six finalist teams. They've dedicated the last year of their lives to addressing this issue alongside their studies.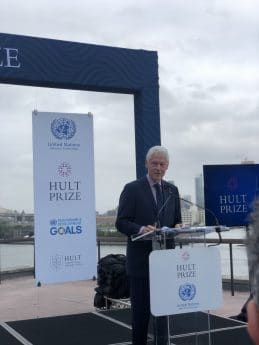 The teams
Team Phonic – University of Waterloo. A market research platform that employs a global youth workforce. "Powered by youth, enabled by AI" – Phonic offers clients meaningful customer insights while simultaneously enabling youth to have their voices heard in the boardroom.
Team ProTeen – HEC Paris. An organic waste-to-protein business repurposing idle warehouses and distributing kits to young farmers. ProTeen offers farmers in Africa a cheaper and higher quality protein. They use the black soldier fly to process unused waste into sustainable fertilizer and animal feed.

Team Rutopia – Tec de Monterrey. A network connecting indigenous youth in Mexico with international travelers. Rutopia supports indigenous communities to offer their own tourism projects for high quality, ecotouristic experiences on the global stage.
Team Safewheel – Bangladesh University of Professionals. An affordable emergency medical service for people in rural Bangladesh. By turning modified local rickshaws into ambulances and providing trained medical assistance, Safeweheel is making emergency healthcare available to isolated communities.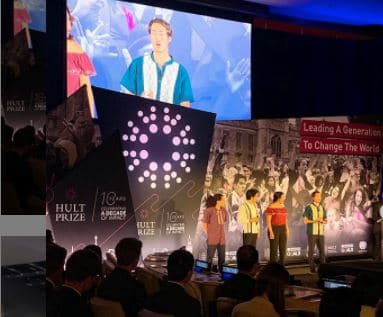 Team TollabCo – Birzeit University. Connecting Palestinian higher education students with internship opportunities. TollabCo is striving to increase the number of internships in the region from 1% so that the youth will have the confidence, experience, and connections to gain meaningful employment.
Team Tunart – University Francisco Marroquin. Enabling disconnected youth to become sustainable tuna fishermen across Latin America and Africa. Tunart's "eco-friendly" decentralized approach offers a fresh, healthy, and more environmentally friendly alternative to today's fishing industry.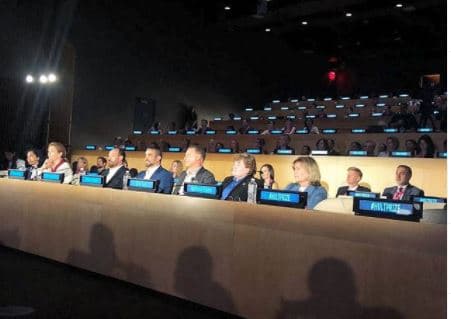 The judges
The ten judges and speakers this year formed a signature mix of highly esteemed businesspeople whose credentials as social entrepreneurs and philanthropists set them apart. Including former presidents and notable winners of past Hult Prize competitions, this year's panel included:
42nd President of the United States of America, William J. Clinton
President of Earth Day Network, Kathleen Rogers
Founder & CEO of impact investment firm Cornerstone Capital, Erika Karp
55th President of Mexico, Vicente Fox Quesada
CEO of the United Nations Global Compact, Lise Kingo
For more details and the full list of 2019 judges, click here.
These formidable individuals take their place in history alongside the likes of Nobel Peace Prize winner Muhammud Yunus, Huffington Post founder Arianna Huffington, former Australian Prime Minister Julia Gillard, and Unilever CEO Paul Polman who have all presided over past Hult Prize Finals.
The winners
Team Rutopia, from Tec de Monterrey, was crowned the worthy winner and recipient of the 1M USD prize fund, donated by businessman and educational philanthropist Bertil Hult and family. Rutopia's plans to support youth in indigenous communities to become eco-tourism aficionados won the hearts and minds of the experts present.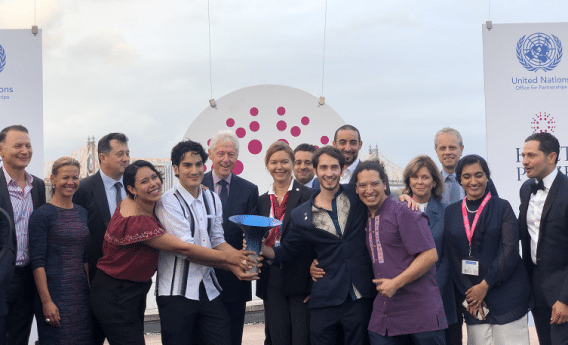 Congratulations Team Rutopia! We look forward to seeing how the journey unfolds.
See President Bill Clinton announce the 2020 challenge here.
Meet 2019 Hult student team Silver Legacy.
Stay tuned for our upcoming interview feature celebrating 10 years: A decade of impact for Hult Prize.
Interested in finding out more about the transformative experience that awaits you as a Hult student? Get a brochure.

Mel Cloney
Mel is a staff blogger working in London, and is passionate about the Hult journey. Her writing focuses on faculty, academics, and student and alumni experiences. She's a food, scuba, and running junkie with a penchant for all things French.
Related posts