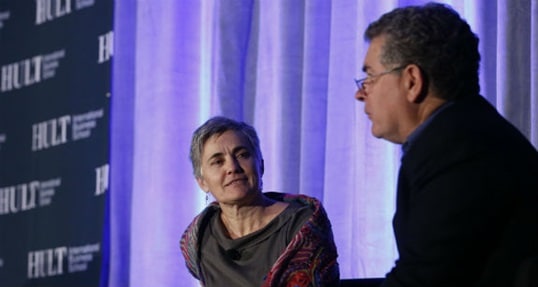 Zipcar co-founder and Buzzcar CEO Robin Chase talked cars, start-ups, and more with current and prospective Hult students, alumni, and guests at the San Francisco installment of the school's global Visionary Speaker Series.
Over 300 members of the Hult community came to the Westin San Francisco Market Street on January 20 to hear Chase's talk on reinventing the transportation industry. She opened the evening asking, "Who here wants to be part of a start-up?" Not surprisingly, the majority of the hands in the room went up, and Chase proceeded to share her inspiring story of taking Zipcar from a one-car, 22-member service to the world's largest carsharing company, and how she expanded her vision to create Buzzcar in France.
Chase's discussion was filled with personal stories – giving her elevator pitch inside of an elevator with an Enterprise exec – and photos – proud members with their cars, and the lime green Beetle that started it all. She also shared some staggering statistics, such as the fact that it costs around $9000 a year to own a car, yet most people only drive their cars 5 percent of the time. And she offered some valuable advice, based on her experience. Some of her top words of wisdom for the Hult community: "Luck is when preparation meets opportunity," and to the entrepreneurs-in-the-making: "What you lack in money, we make up for in brains and speed."
Following her speech, Chase sat down on stage with Hult San Francisco Executive Director Marty Manley for some casual conversation and a question and answer session, revealing that as an undergrad, she was a triple major in English, French and philosophy. She later studied at the MIT Sloan School of Management and credits her business education for giving her "confidence to solve business problems," which resonated with the Hult crowd.
Chase even stayed to meet and chat with students long after the event itself was over. 
Students expressed their excitement via Twitter, calling the talk "amazing and inspiring" and saying "I'm ready to change the world now!"
The Visionary Speaker Series is a revamp of Hult's Executive Speaker Series. Past speakers at Hult San Francisco include Twitter co-founder Biz Stone and Apple co-founder Steve Wozniak.
Kickstart your career right next door to Silicon Valley by studying at Hult's San Francisco business school. To find out more, take a look at our blog San Francisco to Shanghai: My undergrad rotation experience. Download a brochure or get in touch today to find out how Hult can help you to learn about the business world, the future, and yourself.
Related posts