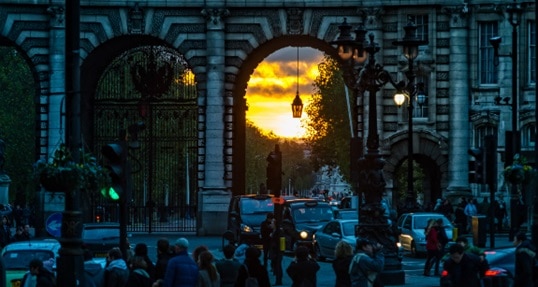 Within Two Magical Kingdoms

Hult News, 10 years ago
0
3 min

read
Being a business student is a captivating experience; you learn about the mechanisms that run the world, but also about yourself. But being a student at Hult in London has made this process more intricate and rich. Hult is the most international business school in the world, which is why being on campus is like jumping into a pool of diverse thoughts and backgrounds. Not to mention, the city itself is one of the most exciting places in the world in which to live and study.
There is magic in the air when I wake up to walk through the streets of London in the morning. The air is cold, but the atmosphere carries a delightful crispness that wakes up and shakes my spirit. In class, fellow students are not only amazed by where I come from, but why I have chosen to study in London, and what drove me—like them—to attend a global program.
What makes the Hult experience so unique is the student body; you can be in a class of only 25 students, but find yourself in a room with people of completely different backgrounds and cultures. Classes and projects link students together who have contrasting mindsets and backgrounds, but who strive to learn from each other while sharing the same goal: to build a future in which we can all thrive. This is what makes Hult a brilliant learning environment: the student community is composed of people from all over the world, and in our classes we learn how we can impact the world and redefine it completely.
When the day is done, the journey back to my new home is a beautiful one. Students put an end to their daily endeavors with a pint in a cozy pub, as the city lights up. It's at this moment of the day that London is nearly heavenly. And while my body may be cold navigating the streets of London, it holds a flaming heart inside. Hult, like London, is a magical kingdom. It is full of possibilities and people of all kinds. These two magical kingdoms are laced together on campus, and it is a privilege to be a part of that.
The people I have met on campus and in this great city have shaped my character and strengthened it. All of my experiences during my course of study are colorful "textiles" that I have woven together to make my Hult experience what it is: a practical, culturally diverse academic program in an exquisite city.
Alejandra Mendoza is a Hult Global Ambassador. She is currently studying for her Bachelor in Business Administration (BBA) at Hult, in London. She was born in El Salvador, in Central America.
Kickstart your career in Europe's biggest startup cluster by studying at Hult's London business school. To find out more, take a look at our blog Exploring London: My 3 favorite markets. Download a brochure or get in touch today to find out how Hult can help you to learn about the business world, the future, and yourself.
Related posts