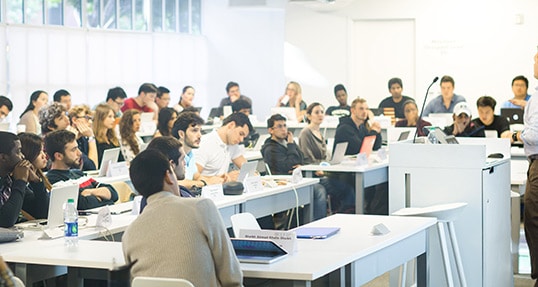 This article was originally published on June 8th, 2014 by the BusinessBecause.com, "Why MBA: Hult International Business School".
Baltasar Pena banked a finance job in Boston and credits his MBA program for making it happen. He studied at Hult International Business School in Boston, but the school's unique rotation meant he spent time studying in Shanghai, China, too.
In this interview, he explains why other prospective MBAs should consider Hult, and the benefits of completing international rotations.
You had a lengthy career at Santander – what motivated you to begin an MBA program and what made you pick Hult International Business School?
During my last five years at Santander I rotated among different divisions of the bank, but I was looking for a more international experience. I knew that studying an international MBA would leverage my skills and I wanted to do it full time, in the US and in one year.
The list of these types of MBAs was very small. But after talking to various alumni, I decided to do it. In addition, at Hult I would be able to work and study with people from more than 100 nationalities, and I had the opportunity to rotate to other campuses around the world.
You had the opportunity to study in up to three of the school's six global locations –  which did you pick?
There were five modules in the MBA program and I decided to rotate to Shanghai in the fourth one. I had always wanted to learn more about China, its culture, strengths, economic contradictions, politics, and people.
Being there opened my eyes to a completely new world. After meeting expats and local people I realized just how fascinating the country is.
What are the benefits of studying in different global locations – not just in Boston?
You can choose to go into the rotation program for different reasons. In my case, I wanted to be immersed in the Chinese culture and their way of business. I was able to do this  while meeting people from the other Hult campuses, from around the world.
I also completed the Action Project during my time in Shanghai, where we worked for six weeks at a Fortune 100 food company. We had the challenge of duplicating the company's sale of a certain product [over] three years. In order to find a solution, we conducted research about the Chinese people's preferences, demographics, economy and traditions. We were actually helping this company find solutions to real problems in the complex Chinese domestic market.
Why should other prospective MBAs consider Hult?
If somebody is thinking about studying and working with people from multiple nationalities and different backgrounds, there is no MBA like Hult's MBA. I highly recommend rotating – because it is a very intensive activity that combines leisure, classes and action-projects.
Hult's staff are very accessible, and all the professors have been teaching in top business schools already.
Every year Hult has important innovations, so once you graduate, your degree keeps increasing in value. Finally, given that Hult is part of Education First, the biggest language school in the world, it has great stability.
Your LinkedIn profile suggests you are currently looking for work. How confident are you that a Hult MBA will help you further your career?
I recently started to work again in Santander Bank in Boston, but most of the people that I know had a job, too, after six months, and very few didn't.
I guess that in the United States it is very difficult to get a job because of the VISA restrictions for foreigners. Despite that, the company [I work for] doesn't have to sponsor us because of the Optional Practical Training period.
Read about Hult's groundbreaking new MBA curriculum and Hult Labs' report findings on "What Top Employers Want".
Kickstart your career in this education and innovation hotspot by studying at Hult's Boston business school. To find out more, take a look at our blog Life in Boston: Introducing Hult House. Download a brochure or get in touch today to find out how Hult can help you to learn about the business world, the future, and yourself.
Related posts