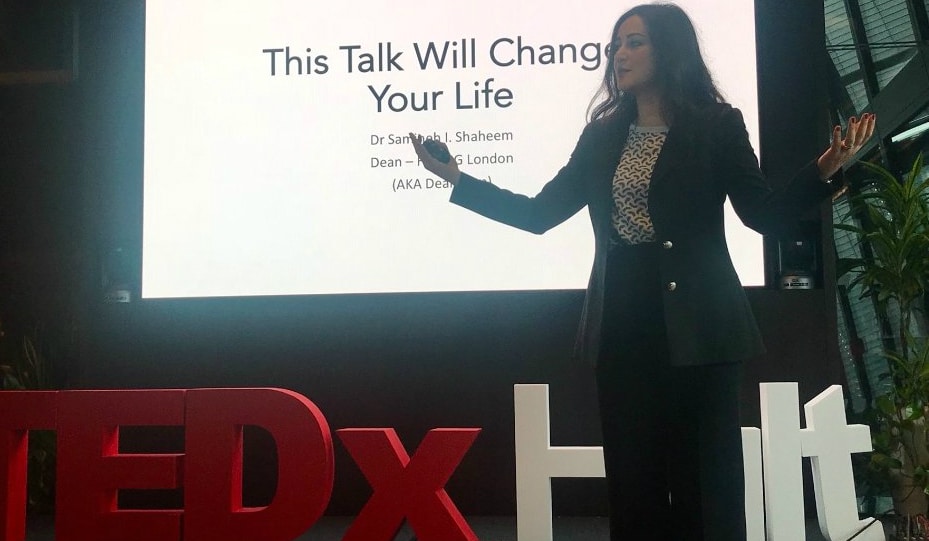 On International Women's Day and the day she was recognized by the Mayor of London for her extraordinary contribution to London, we ask the Dean of our London graduate campus, Dr. Samineh Shaheem, to share her tips on leadership. 
Strong leadership starts with you
An understanding of who you are and why you react in a certain way to external influences is crucial in a business setting.  You can have an IQ off the charts but if you don't have self-awareness then how can you respond effectively in a wide range of business contexts?
Leaders are made—not born
The good news is that this skill can be practiced and enhanced. We can all improve our self-awareness—if we put in the work. 
Recognizing that your skills are not fixed is the first step to achieving a growth mindset
Just as great leadership is learned—so our skillsets are not set in stone. Skills are learned, practiced, and sharpened over time. Social scientist Carol Dweck discovered that the brain is malleable. It responds to lifestyle and environment. When you understand this, you're more likely to invest time and effort into turning your weaknesses into strengths. And with this attitude, setbacks become learning tools and failures become stepping stones.
Setbacks become learning tools and failures become stepping stones.
Growth mindset vs fixed mindset: Achieve more and stress less
This mentality can be applied to the learning of finance or accounting, as well as to cognitive-behavioral challenges such as understanding how culture impacts work within a team. There is a wealth of research that shows that when someone has a growth mindset as opposed to a fixed mindset, he or she will achieve more over time, and feel less stress along the way.
Self-awareness—a superpower 
From day one, our students learn about the benefits of a growth mindset and are constantly challenged to recognize their bias towards a fixed mindset. We do this through carefully designed assignments in the Leadership courses—and through frequent check-ins with faculty, team members, and academic staff.
Hult's emphasis on putting theory into practice offers students ample opportunity to recognize their weaker points and work to improve them.
Reflect and recognize
Students arrive on campus with a variety of strengths and developmental areas. Some might struggle to connect with people from other cultures or to express themselves in a diplomatic and persuasive way. Some will wonder why classmates are responding to them in an unexpected manner, and place blame on others rather than self. We teach that it is always a two-way street. Which of your own actions contributed to that situation? What would you do differently next time? Hult's emphasis on putting theory into practice offers students ample opportunity to recognize their weaker points and work to improve them.
The Hult DNA—Learning to lead
Our research has repeatedly informed us that hiring managers find business school graduates lacking in leadership skills. For example, the ability to listen before acting, pivoting in the face of challenges, and presenting effectively. So we built this vital element into our curriculum.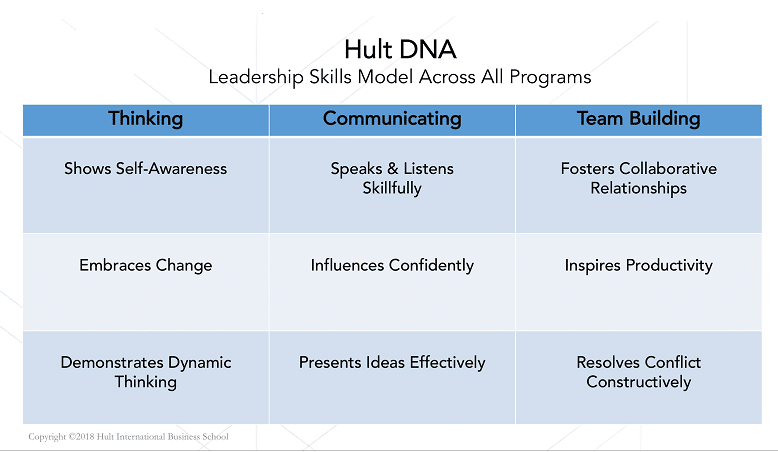 The Hult DNA is a set of cognitive-behavioral skills that we use to develop every student who walks through our doors. These skills fall into three categories: Thinking, Communicating, and Team Building.
The development of these skills at Hult starts with a survey that analyses each student's competencies in the above areas. The results form the basis of a leadership development plan. This is reinforced and tested through teamwork, which is required in every Hult course, and with targeted business simulations that challenge students to apply their learning.
I witness a huge upswing in the practice of diplomacy to deal with personal or professional challenges within the first few months.
---
Congratulations to Dr. Shaheem on her well-deserved recognition by the Mayor of London. Here's what her nominators had to say about her:
She's a mother and a Dean of a business school but she should be called Dean of Positivity! She impacts more than 600 students every year who come to study at her campus. She has regular personal development workshops and writes articles about ways of having a more fulfilling existence. She is firm but very fair and loved by her friends, family, and colleagues. 
More from Dr. Samineh Shaheem
Watch Professor Shaheem's TEDx talk from this year's TEDxHultLondon event—This talk will change your life!
Watch Dr. Shaheem's Hult Leadership Webinar
Find out about Dr. Shaheem's Bolt Down on Bullying campaign
Find Samineh on LinkedIn
---
Find out more about Hult's future-focused business degrees: Download a brochure
Grow your leadership capabilities with an MBA in international business at Hult. To learn more, take a look at our blog Leadership training: Are you learning fast enough? Or give your career a boost with our Masters in International Business. Download a brochure or get in touch today to find out how Hult can help you to learn about the business world, the future, and yourself.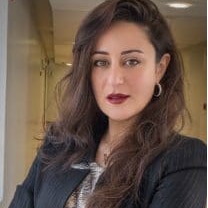 Dr. Samineh Shaheem
Samineh Shaheem is Dean of Hult Graduate Programs, London, and Professor of Organizational Behavior and Leadership. She has been a regular contributor to The Huffington Post as well as the Emirati Khaleej Times. She has studied and worked in the USA, Canada, the Netherlands, the United Arab Emirates, and the UK. Shaheem appreciates the importance of cultural relativity and tries to find both similarities as well as significant cultural variations in human cognition, emotions, and behavior.
Related posts