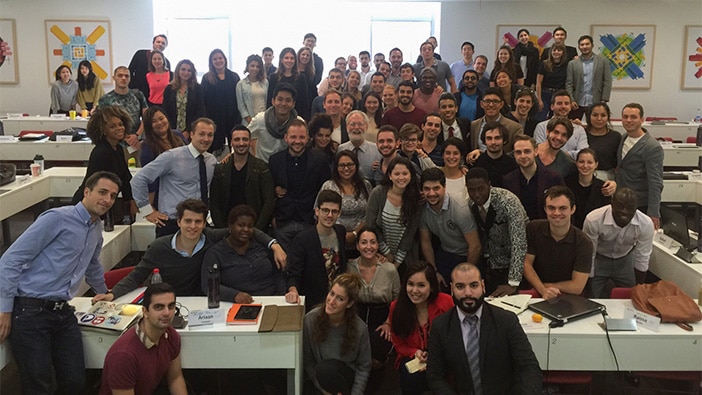 Where's the Value?

Hult News, 8 years ago
2
3 min

read
Written by Lee Whittington III, Master of International Business student, Shanghai campus, Class of 2016
If a year ago, someone had informed that I would be 7,000+ miles from home pursuing a Masters degree in Shanghai, I would have told them they were delusional. And yet, here I am.
A daunting feat to say the least, but after initially arriving in Shanghai in September 2015, I and my fellow 'Hultians' are five months into our program and have no interest in slowing down. What originally seemed a vast foreign land has proven to be my home away from home. The new smells, the dynamic architecture, and new language – has all become a part of our everyday lives.
Coming from Boone, North Carolina (population 18,000) and moving to a city with a population of over 24 million, is major shock in itself. Tack on a completely new language, new culture, and a cohort with over 40 different nationalities, and one will truly have a culture shock. Learning to interact and understand individuals with such different backgrounds, mindsets, and ideologies is one of the major assets Hult provides to its students.
On the first day of class, we wasted no time delving into material, getting the creative juices flowing, and bouncing ideas off each other. A tone was set with a class from one of Hult's great professors who imparted a key piece of advice: find the value.
"Where's the value," has become a recurring theme that we continue to ask with every new course, new event, and new connection we create a Hult. It challenges us to take hold of our own careers both academically and professionally. We are enticed to dig deeper and truly take in this experience abroad in its entirety. Hult assists us in this endeavor by providing countless networking events, simulations, career development seminars, and social immersion outings.
Studying business has its own challenges, but applying it to the Chinese market has provided a unique skill that truly adds to our international experience. We have learned to hand our business cards to potential employers with both hands, as a sign of respect. This is of course only implemented if an individual actually has a business card. WeChat serves as a major entity in China. Similar to Whats App, WeChat allows you to "scan" another person's ID to gain their information. WeChat also allows you to pay for food, call taxis, and connect with businesses on a personal level.
So it poses the question, have we at Hult Shanghai found the value? Has the past five months been enough time to truly take in the culture for all it is worth? I would argue that the value lies within each other. We are brilliant minds from countries across the globe. We all provide exclusive experiences from different disciplines and work environments that each of us bring to the table. Four months has quickly passed us, but there is much of Shanghai still left for us to explore. For those of us rotating to other campus come this May, we have three more months to find the value in Shanghai. We can do it!
Kickstart your career in the commercial center of Asia by studying at Hult's Shanghai business school. To find out more, take a look at our blog Student perspective: Adjusting to life abroad and how I knew Hult was right for me. Download a brochure or get in touch today to find out how Hult can help you to learn about the business world, the future, and yourself.
Related posts