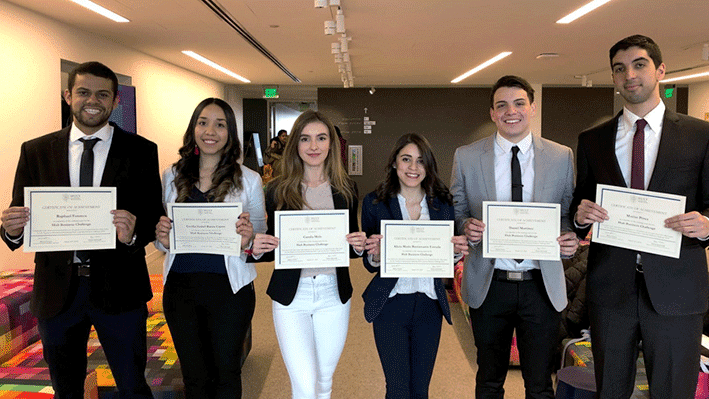 Before starting The Hult Business Challenge (HBC), I showed my group an interview video made by one of the winners from the HBC 2017. I'm not sure how it influenced our result, but after winning this year's competition, I was inspired to share my experience and maybe inspire future winners, too.
For those of you who arrived here and have no idea about what I'm talking about, let me explain…
"It gives you a unique opportunity to work together with different cultures and to learn from a real-life problem"
The Hult Business Challenge is a three-month-long project with the objective of finding a solution to a real corporation's problem (Corporate Track), or to develop your own startup idea (Entrepreneurial Track). We opted for the Corporate Track. Our challenger was Panera Bread, an American chain of bakery-cafes. The goal was to build a relationship between the brand and Generation Z (people born from the mid-1990s to the early 2000s).
The following tips are from my experience during the challenge, but they can be applied to teamwork and big projects in general. In the end, that's what The Hult Business Challenge is all about. It gives you a unique opportunity to work together with different cultures and to learn from a real-life problem.
Regardless of the company's decision, if you start this challenge with an open mind and you're willing to work hard, it will be worth it.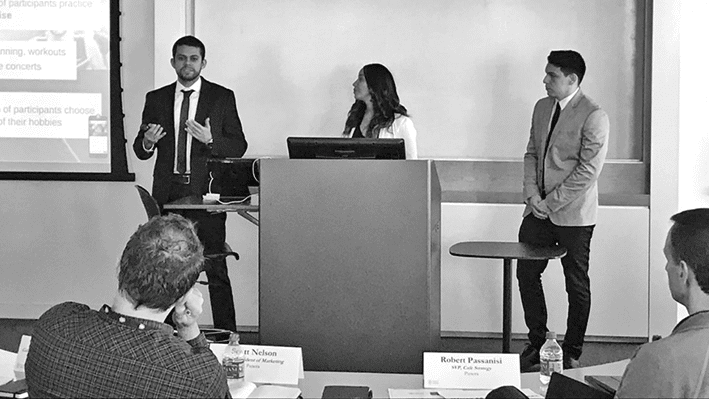 "If you want to be the best, you have to do things that other people aren't willing to do"

Michael Phelps, Olympic swimmer
1. Be prepared to change everything
In an ideal world, the first solution that your group thinks of would be the one you'd present at the end. The bad news is, the chances of that happening are very small.
Realizing this when you already have your work done and you're deciding to start again isn't easy. But, as entrepreneurs always say: fail fast. Don't stay attached to your first idea just because it seems to be the easy option. Listen to others' opinions and analyze what your research data says.
2. Find the best in people
This is a team effort, and you need to know how to take advantage of that. You're going to work with people from different cultures and backgrounds with varying opinions. While this diversity can contribute to the development of the project, it's also challenging to take on different viewpoints.
To better manage time and reach a better result, identify the skills of each member of the group and split the tasks accordingly. Maybe someone is better at presenting and someone else at preparing the slides. Some people keep the group motivated, and others have creative ideas.
Sometimes it happens naturally, sometimes not, but having this in mind from the beginning can save you a lot of energy over the three months.
3. It's more about how you tell it than what you tell
We can't forget that the whole challenge is also a competition. In the end, only one team will win.
Other groups are going to have ideas just as good as yours, but the difference will be based on the way that the idea is presented. You can have the best idea in the world, but if it's not presented clearly to the judges in your final speech it won't be sufficient.
The winner will be chosen based on the final presentation, so develop the project while thinking about how your idea will be presented. Tell a story of how you came up with the solution.
In the end, any detail can make the difference between winning or not, so anticipate possible questions and think as if you're part of the company. Before convincing the others that your idea is the best, you need to convince yourself. Even if you don't win, you'll want to finish The Hult Business Challenge knowing that you did your best.
Good luck with your challenge (whatever it is).
---
To learn more about Hult's practical curriculum and the real-world experience you can gain, download a brochure.
---
Hult offers a range of highly skills-focused and employability-driven business school programs including a range of MBA options and a comprehensive one year Masters in International Business. To find out more, take a look at our blog Webinar: Hult's Masters in International Business. Download a brochure or get in touch today to find out how Hult can help you to learn about the business world, the future, and yourself.

Raphael Fonseca
Raphael Fonseca is a Masters in International Marketing student at the Hult Boston campus. He is passionate about traveling and has a world map is his room with pins in the places he goes to. Not that many (yet). He is a photography enthusiast (still learning) and fan of reading. (He is also addicted to parentheses).
Related posts