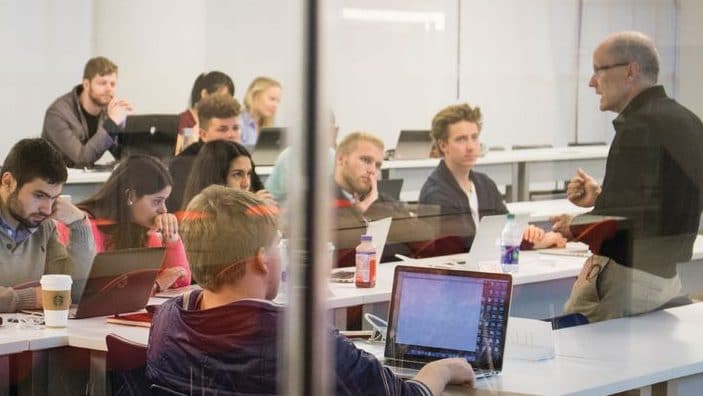 U.S. undergraduate education is different from the system in many other countries in terms of structure and content. These differences can often work to the advantage of international students hoping to study in the U.S. or at U.S.-accredited institutions overseas, such as in the U.K. But you need to understand the U.S. system in order to maximize the benefit.
So here are some tips on transferring from Hult Professor Alan Hertz. Alan is a Professor of Humanities and has been at Hult for over twenty years. He obtained his PhD from the University of Cambridge and has been teaching university students since 1975, working in American international education since 1978. Alan works closely with international students transferring to Hult helping them to bring over the correct amount of credits, and a seamless transition into academic life at Hult.
How can I be sure I am ready to transfer?  
Everyone should be 100% confident in knowing their motivation to transfer. Transferring is a big decision, and it is important to really understand the driving factors behind why you want to transfer. Once you know what you are looking for it will help you to narrow your search down, and to ask the right questions once you have your shortlist.
Should I talk to my current university?
Yes, talking to your university first about your concerns is a must. A lot of students make the mistake of not telling their current school until the last minute, but they can often offer advice and support for your unique circumstances. Advisors are also likely to go out of their way to show you how you can fulfil your ambitions where you are, so even if you aren't convinced, it is always useful to have the conversation.
OK, so I have a shortlist of new schools to transfer to. How can I be sure I make the right decision?
If you are changing schools, be it abroad or locally, do your best to see the campus and accommodation. Not only will you have a better idea of what your future holds, but you might be able to meet professors or students who can tell you more about your course. Most schools will be happy to arrange this, and will certainly talk you through it if you are too far away to visit.
How many credits can I transfer?
This will vary from every course and institution. But, if you transfer to a U.S.-accredited institution you can usually take many of your undergraduate credits with you when you move. Even without transfer credit, some requirements can be waived for international students, so talk to any institution you may be considering to understand what you can expect. A U.S. undergraduate education is modular, meaning that each subject studied is assessed independently, and results in one subject do not affect results in others. This flexibility can help non-standard students, including those transferring from outside the U.S. and international students. It could even mean you can accelerate your degree to finish quicker.
When should I apply to my new school?
Most universities will have specific transfer deadlines, so make sure you do your research in advance so you can meet the requirements. Being prepared will help you with visas, housing, and securing finances. There are often strict deadlines for the receipt of transfer credit documentation, so gathering detailed records before arrival is also key.
Any final words of advice for transfer students?
If you're transferring schools because you're not happy it can feel like a daunting time. Everyone's circumstances are different, so make sure you do your research and get good advice.
If you're interested in transferring to Hult, or learning more about your transferrable credits, visit our transfer page: hult.edu/transfer.
Kickstart your career with Hult's undergraduate business school. To find out more, take a look at our blog Tips for the next #GlobalGeneration from the Undergraduate Class of 2017. Download a brochure or get in touch today to find out how Hult can help you to learn about the business world, the future, and yourself.
Related posts