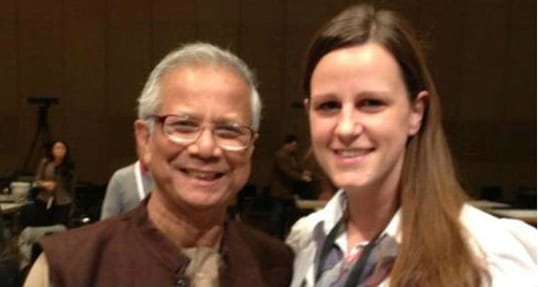 The Business of Making a Difference [The White House, Washington]

Hult News, 11 years ago
0
4 min

read
Hult MSE and AmeriCorps alumni Patti Kurtz blogs on For the Win, a guest blog series featuring the remarkable initiatives that young Americans are advancing to win the future for their communities.
What if business did more than just make a profit and also made the world a better place? For as long as I can remember, I've wanted to make a difference. Thanks to my experience with national service, I am realizing this dream in my journey to become a social entrepreneur.
Two key events from the fall of 2005 led me to join AmeriCorps – the devastation we saw from Hurricane Katrina and the closure of the Ford plant in my hometown of Walled Lake, Mich. Together these added up to a great need for community response in the Gulf coast and no jobs in Michigan. I graduated in 2006 into a local job market that was already headed into the recession. After a frustrating job hunt, I finally landed a job as a telemarketer – not my dream career and lacking in social impact. Shortly after, I learned about AmeriCorps and was immediately interested in joining. I gave up my job to give back to my community for a year, catapulting me into a lifetime of service.
I served as a Corps Member in 2007 with Class 13 – Sacramento Campus. I painted community centers, handed out donations at a food bank, tutored adults, worked on 20+ homes in Louisiana, set-up a volunteer center, and served as a team leader in the first Summer of Service program in New Orleans. The people I met, both colleagues and community members, were incredible, and doing direct service let me see first-hand the positive impact I could have on someone else's life. It was a truly defining experience.
After that year I moved to Chicago and found a position with an ad agency. For four years, I gained a wealth of incredible business knowledge, working on projects from websites and commercials to iPad applications, and I was good at my job. Though I became involved in CSR initiatives with my company, I didn't feel I was fulfilling my personal commitment to make a difference. So I turned to what I knew; AmeriCorps.
I helped re-launch the AmeriCorps Alums chapter in Chicago. We started it from nothing, hosting pizza parties in our living rooms, trying to gather a network of like-minded individuals to carry their commitment of service into the community. We planned fundraisers, happy hours, volunteer events. We set up booths at grad school fairs to connect with alums.
In 2010 we saw threats to cut the budget for the Corporation for National and Community Service (CNCS). I volunteered with an organization called ServeNext as the Field Corps Organizer for Chicago. With their support, I activated people in my community to campaign to Save Service, holding informational meetings, attending campaign events to speak to candidates and meeting with members of Congress. We hosted a city-wide book drive to raise awareness of our cause and fill a need in the community for Chicago public schools. We succeeded that year and into 2011 to prevent funding for the CNCS from being eliminated.
It was tough, juggling a full-time job and serving as a community organizer. I asked myself "Why can't I combine the two? Why can't I work in business and make a difference in the world?" This brought me to my current endeavor, getting a Masters in Social Entrepreneurship. The field of social entrepreneurship is gaining momentum, and it means different things to different people. For me, it's about improving the way we do business, shifting our decisions from a profit-only strategy to one that includes the community. Pushing ourselves to find innovative solutions and refuse ideas and practices that compromise our morals and ethics. It's educating ourselves on the implications of our decisions and challenging each other to always include an element of social betterment in our businesses.
People ask me why I'm not getting an MBA if I want to work in business, and my classmate said it best – we are looking forward to the day when a Masters in Social Entrepreneurship is more sought after than an MBA, because every businessperson should learn how to incorporate the community and find ways to develop business to make life better. We are in the business of making a difference.
Read the article in full on Winning the Future – President Barack Obama.
Hult offers a range of highly skills-focused and employability-driven business school programs including a range of MBA options and a comprehensive one year Masters in International Business. To find out more, take a look at our blog Masters of International Business: Connect locally, build internationally. Download a brochure or get in touch today to find out how Hult can help you to learn about the business world, the future, and yourself.
Related posts