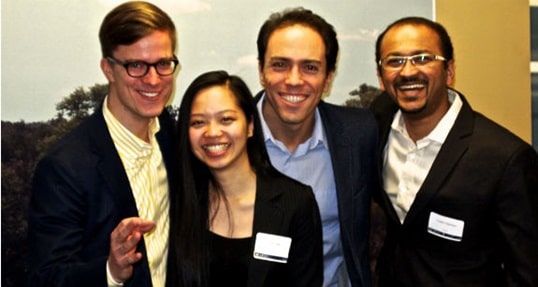 Could the answer to solving non-communicable diseases in urban slums be urine? Possibly, says Hult San Francisco's newly crowned Hult Prize team, Amrit, and their medical monitoring technology, P.wards.
The fifth annual social entrepreneurship challenge, developed by a former Hult student, is now underway. The global competition began this fall with an internal round at every Hult campus – Boston, London, San Francisco, Dubai and Shanghai. The focus of this year's challenge: solving non-communicable disease in the urban slum.
Hult San Francisco hosted two internal rounds this fall to narrow down and select one team to compete in the regional Hult Prize round this spring. Thirty-three teams – over 150 students – participated in the first semi-final round on November 23.
From there, six winning teams went on to the campus' final round on December 6, presenting their projects to a panel of local experts, including Michael Dalby, owner of Dalby & Dalby, LLC; Gina Collins, Senior Product Manager at Genentech; and Cornelius O'Boyle, Associate Dean and Professor at Hult London. Amrit came out on top and will represent the campus in the Hult Prize regionals in March.
"It was a confirmation that after all the time and work we put in, it led to something fruitful," said team leader and MBA student Florian Rutsch.
So what is P.wards? It's a prescribed medical monitoring system that is used daily to ensure a patient is taking his or her medication regularly. In many urban slums, Armit found, only 40 percent of people adhere to their prescription instructions.
How does it work? The user urinates on the P.wards strip, which reveals results in the form a color and code; it works similar to a pregnancy test. These results are sent via text through a response system. If the patient is taking their medication properly, they will be rewarded (with discounts on medication or lowered insurance premiums, for example), and they will receive warnings if they aren't. The goal is to give patients incentive for completing a medical cycle in an affordable way.
The team chose the name Amrit – or "nectar" – because it seemed appropriate, since the team is offering the nectar of life those who in need, Gajalekar expains.
Meet Team Amrit:
Florian Rutsch, Master of Social Entrepreneurship, Germany
Lianne Mai, Master of International Marketing, Taiwan
Charan Gajalekar, MBA, India
Rodrigo Costa, MBA, Brazil
Chris Baird, Master of Social Entrepreneurship, United Kingdom 
Rutsch and Baird were the start of the group. They combed through their classmates – even going through LinkedIn profiles – to form a well-rounded team. Together, the members come from three different programs at Hult, speak a total of 15 languages, have lived in 18 different countries, and have 31 years of work experience, with backgrounds that include social entrepreneurship, healthcare, and finance – all key fields for competing in the Hult Prize challenge.
In preparation for the campus finals, the group buckled down and spent all their spare time on P.wards. This meant meeting every Saturday and Sunday for eight to ten hours, sharing, discussing, debating, and evolving their product.
Amrit already has the support of several doctors in testing P.wards. They also have the benefit of being in contact with the members of last year's Hult San Francisco team, Pulse, which made it all the way to the final round of the Hult Prize competition. The Pulse team has already offered Amrit feedback on their project and presentation and will continue to be a valuable resource to the team going forward.
From the time Dean Larry Louie announced Amrit as the campus winner at the December 6 event, the members of Amrit started thinking about next steps. As Gajalekar pointed out, the team still has "a long way to go" in the competition.
Next up, they will work on fine-tuning the P.wards idea: connecting with doctors, professors and other resources for advice and guidance, developing a prototype, and polishing their presentation. In early March, they will go up against teams from around the region (who apply to participate online), where a winning team will be selected to participate in a startup accelerator and compete in the Hult Prize finals. They'll also perfect the art of time management as they balance Hult Prize with their intense academic schedules.
He also says that when the San Francisco campus competition began, more than 30 teams of students were competing against each other. Now, with one team left standing, Amrit feels all their peers are supporting them and that the campus "believes in us."
Photo credit: Hult Media and Entertainment Club
Make the most of what your career has to offer with a Masters in International Business from Hult. To learn more, take a look at our blog Finding your passion to succeed in business, or give your employability a huge boost with an MBA in international business. Download a brochure or get in touch today to find out how Hult can help you to explore everything about the business world, the future, and yourself.
Related posts