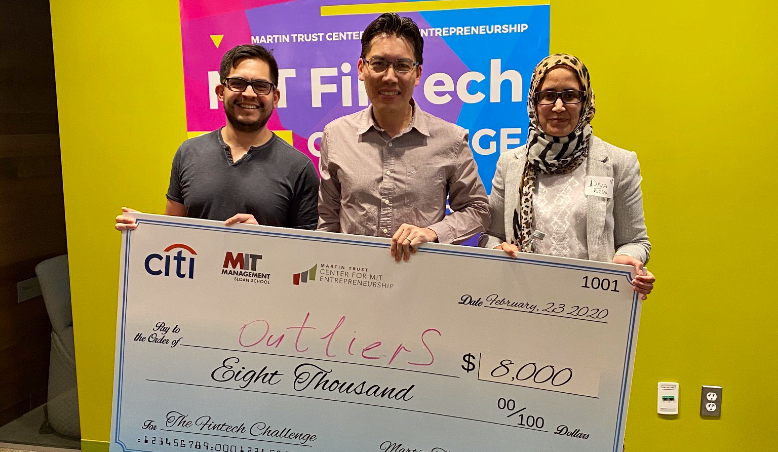 Last month, Hult students Diva Turial, Alonso Gallegos, and Julio Zavala Aguilar won first place in the MIT Fintech Challenge. They devised a way of detecting spoofing on share trades. We spoke to Julio—a Mexican national from the MBA Class of 2020—to find out more.
Hi Julio. Congratulations on your victory! Tell us how you got involved in the MIT Fintech Challenge?
Diva invited me to join the team. To be honest, my intention was just to participate and get some experience of this kind of competition. This was my first hackathon.
What would you say was your team's strength?
I think our strength was our diversity. We all have different professional backgrounds, nationalities, and native languages. So, we all brought something unique to the process.
Tell us more about the challenge itself?
In the stock market, "spoofing" is the activity of entering trading orders—with no intention of actually trading—to manipulate their market price. This is often done to benefit a trader's current position and increase their P&L. This is a major problem. It carries financial and reputational risk, and is strictly prohibited by all major financial regulators.
The goal was to build a model to identify spoofing, design a monitoring tool, and think in non-quantitative ways of identifying illegitimate trading (policies, procedures, e.g. leveraging psychology or behavioral economics) to reduce spoofing.
What was your solution?
A model using data & analytics techniques with a micro-website that applies the model and shows a dashboard in real-time, marking any trades displaying unusual behavior.
I might invest the winnings into the stock market, now that I know so much about how it works!
Any classes that came in handy?
Our Data & Decisions class was very useful in terms of both the technical skills we picked up and the general understanding of the topic. We'd learned about forecasting models, Python, and using data & analytics techniques to make decisions. This is crucial for the contest because we used all this knowledge when developing the solution.
Also our Accounting and Financial Management classes were instrumental in understanding the stock market issue. We needed to know concepts such as shares, profits, revenues, assets, and so on.
What do you plan to do with the winnings?
For the moment: save them. But I'm thinking I might invest in the stock market—this competition gave me a lot of knowledge about how it works!
What's next for you?
I just applied to a new competition—the Mark Challenge, hosted by the International University of Monaco. It's a new topic and a new Hult team. We've been tasked with developing a product or service for a global market with three rules: 1) targeting international HNWIs, 2) providing an innovative/technically-oriented solution, with 3) positive social/environmental impact. I've discovered how much I like these kinds of challenges and I want to prove to myself that I'm able to solve any kind of situation in an international context.
Thanks Julio. All the best and we look forward to hearing how you get on!



Mel Cloney
Mel is a staff blogger working in London, and is passionate about the Hult journey. Her writing focuses on faculty, academics, and student and alumni experiences. She's a food, scuba, and running junkie with a penchant for all things French.
Related posts