Can finance be harnessed and capital be mobilized to save the world and make it a better place? How does one make a career in sustainable finance within the asset management or investment banking industry?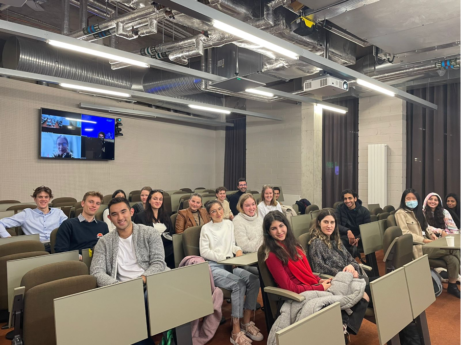 On November 11 2021, from 6pm to 7pm, the Inclusive Finance Society and Social Entrepreneurship Society worked together to provide students with an opportunity to gain valuable insights from an industry expert on sustainability within finance, and asset management in particular.
Who was the speaker?
Ozge Usta is the Head of Sustainability Delivery at HSBC Asset Management UK Ltd. She is a Financial services professional with over 20 years' experience across Asset Management and Retail Banking in both emerging and developed markets. She is currently the People Initiative Lead and a Co-Chair of HSBC Asset Management's Diversity, Equity, and Inclusion (DE&I) initiative. We discussed how clients' demands are increasing for sustainable products, investment solutions and asset managers who can help them transition to becoming a more sustainable, possibly net-zero, organization. We also touched on greenwashing, career advice and her experiences so far in her 20+ year career.
How can we stop greenwashing in the financial services industry?
It's undeniable that greenwashing exists, but what is actually being done about it? Buzzwords like ESG (environmental, social and governance) and impact investing can often be confusing and, sometimes unfortunately, misleading. However, as time goes on, new regulations will be adopted, and best practices will improve. For example, the Sustainable Finance Disclosure Regulation (SFDR) was enacted in March 2021 and was created to categorize and help investors understand, compare, and monitor investment funds' sustainability factors.

What's going on in the wider world?
The event I attended happened one day before the COP26, or as I like to call it– conferences where countries commit to challenge the climate change crisis,
ended.
The United Nations 26th Climate Change Conference of the Parties, or COP26 for short, is a global climate summit which was hosted in Glasgow in the UK. The parties are 197 nations who pledged the United Nations Framework Convention on Climate Change. HSBC Asset Management's CEO Nicolas Monreau participated as a speaker wherein he spoke about the firm's efforts to provide clients with new nature-based investment solutions including HSBC Pollination Climate Asset Management. HSBC Climate Asset Management will offer investors exposure to natural capital themed investment solutions including sustainable forestry, wildlife protection, and restoration amongst others. Zoe Knight, the managing director and Centre of Sustainable Finance Group Head at HSBC (the global group) also took part in the COP26, wherein she spoke about how HSBC as a bank is helping clients transition towards a net zero economy.
What advice is there to women who want to work in finance?
Another important question put to Ozge was about her experience as being a woman working in the financial services industry, and how she overcame any challenges to become successful in the industry. She spoke about how early on in her career before coming to London, she thought a woman being in senior positions was normal and how it was a culture shock to find that there were few women in senior positions in the city. Nevertheless, one thing that she found extremely important was to find mentors and sponsors. People who will not only give you advice but advocate for you when you are not in the room. The ones who will say "I think that person is an excellent candidate for the job/promotion/opportunity." She goes on to explain that it doesn't always have to be a woman, giving the example of Stuart White, who is the Lead for HSBC Asset Management's DE&I initiative and a prominent supporter of diversity, equity, inclusion and belonging.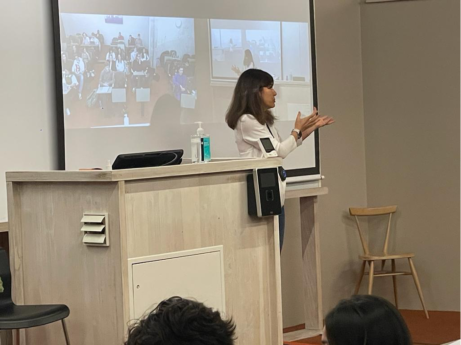 How to build a career in sustainable finance?
One of the most notable questions around the end of the event was how to build and develop one's credentials as they advance in a career in sustainability and finance. Some of the advice Ozge Usta gave included taking qualifications such as the CFA Certificate in ESG Investing. Another was taking part in internships in areas such as asset management or investment banking to gain more experience. This, she recommends, should be accumulated over time as you move forward in your career.
What can you do with a Masters degree in Finance?
So, can finance be used and capital be mobilized to save the world?
I guess the answer to that is that it depends. It depends on all of us.
Who are we?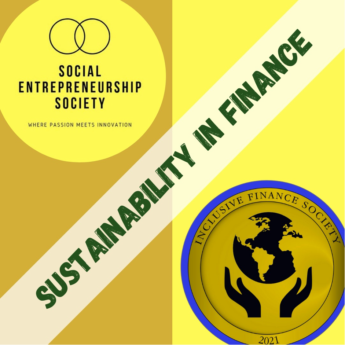 The Social Entrepreneurship Society is a society at Hult International Business School whose core belief is to help students realize and actualize the reality that we can do good by doing business. A society where passion meets innovation.
The Inclusive Finance Society is a finance society at Hult International Business School whose purpose is to make finance more inclusive. To support Hult students in getting a better understanding and appreciation for the world of finance, particularly asset management and investment banking.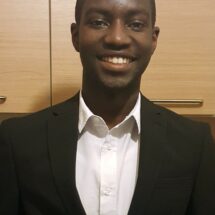 George Nying
George Arthur Nying is British Gambian and started Hult's Bachelor of Business Administration program in 2020. He's got a positive personality and eager to try new things. George is President of the Trading and Investing Club at Hult, a member of the African, Business, and Cultural Society, and one of our Blog Ambassadors. He's also proud to be awarded the Hult Scholar Grant. In his free time, he loves to read non-fiction books and biographies.
Related posts