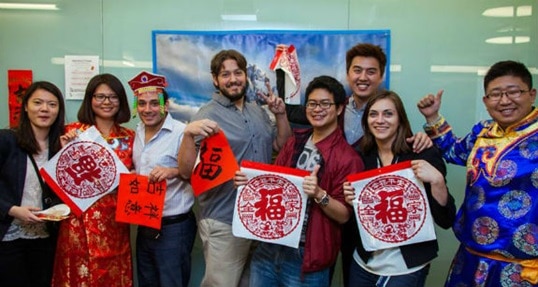 The Year of the Horse kicked off in style at Hult San Francisco with a colorful cultural celebration involving food, photos, games, and more.
In honor of Chinese New Year, the school's Chinese Culture Club and other students from China teamed up with the Student Services department to host the Chinese Culture Quest. These assemblies take place throughout the year, recognizing the culture, people, history, and cuisine of a specific country or region. The school staff hosts the events in conjunction with students hailing from the highlighted location.
The Hult San Francisco community celebrated the New Year on campus on January 31 with a Year of the Horse-themed photo booth, traditional Chinese games, dumpling making, lessons in Chinese writing, and a catered Chinese lunch. There was even a booth where guests could choose a postcard from China, write a message to a loved one, and have it mailed, courtesy of the Culture Quest hosts.
Hult's Chinese students dressed in traditional clothing, taking photos with their peers from elsewhere around the world and sharing gifts from China. They also made over the campus for the day with red lanterns and other festive decor.
Photo: Chinese Culture Quest Team
Kickstart your career right next door to Silicon Valley by studying at Hult's San Francisco business school. To find out more, take a look at our blog Hult scores in top 20 in The Economist's Which MBA? ranking for 2019. Download a brochure or get in touch today to find out how Hult can help you to learn about the business world, the future, and yourself.
Related posts