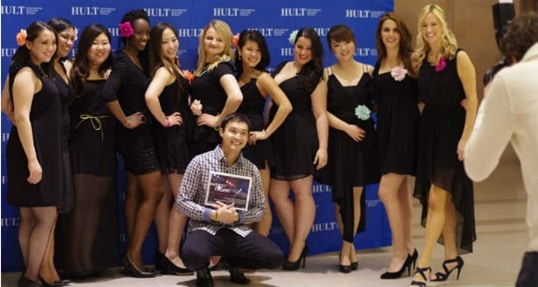 From powerhouse vocals to cultural displays, Hult San Francisco students proved that their talents expand beyond the business world in the campus' second annual Hult's Got Talent competition.
Eleven musical acts took the stage at San Francisco's beautiful and historic Herbst Theatre for the show, which is based on the TV show "America's Got Talent." Performances included stunning solo singers, cultural song and dance, folk and pop duos, a rock band, a piano solo, an a cappella choir, and DJ/guitar collaborations.
In the spirit of a true music competition, each act was critiqued by a panel of judges from the Hult community, including MBA student Tyler Wozny, Student Services Manager Linda Miles, and Bay Area entertainment professional Brandon Cruz. The judges offered both praise and constructive criticism of the performances, and the night's winners were as follows (as voted on by the crowd and the judges):
First place: The Voices a cappella group: Simona Ioannoni, Andrea Filgueiras, Dinara Zhaxynbek, Esther Friesen, Jessica Loman, Sophieie Hu, Erlene Chabi, Jun Liu, Bettina Varga, Cellifiya Yao, Niketa Malhotra, and Yudha Saleh, performing a pop medley
Second place: Andrea Michelle Espinosa de los Monteros (vocals) and Omar Ali (piano), performing "Skyfall"
Third place: Dhruva Rampelli, singing a traditional Indian song
The highly anticipated event was hosted by the Hult Student Association as a way to bring the students, staff, faculty and guests together for an evening of fun and entertainment. In addition to the lineup of talented performers, the crowd was treated to creative and comical banter and inside campus jokes, courtesy of student hosts Saul Minkoff, Veronica Calvi Musini, Rocco Sannelli, and Arti Krishnan, as well as a surprise finale of a Hult "Harlem Shake."
Photos: Jet Desmond
Kickstart your career right next door to Silicon Valley by studying at Hult's San Francisco business school. To find out more, take a look at our blog Immersed in San Francisco. Download a brochure or get in touch today to find out how Hult can help you to learn about the business world, the future, and yourself.
Related posts