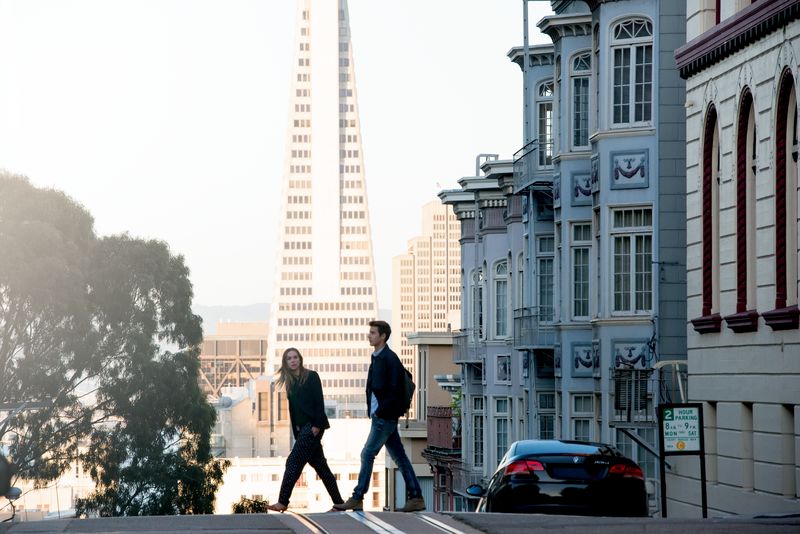 Written by Aaron Salamon, Global Ambassador and Hult MBA Class of 2018, and originally published here.
October 4th, 2017
I've now been in San Francisco for the grand total of one month. So what can I say about this city…other than I absolutely love it! The lifestyle, the people, the weather, the food (to name a few things) exceed expectations, and school hasn't been too bad either!
As I sit here writing this blog, procrastinating about finishing my accounting reading for later today, I'm contemplating what I have gleaned from my experience and more importantly how to articulate it. Definitely the most productive way to be spending my morning…anyways, I think that the name of my first course module, Immersion, describes my first month pretty well so I'll use the metaphor to shout out the highlights.
Immersed in the city
I feel like I've been thrown in at the deep-end in a completely new environment. Although London is huge and I lived pretty centrally, it has so many different areas, places, restaurants and cultural activities to visit, I've tended to get stuck in to what I know. Yes, I'd visit a few new places every month, but ultimately, we revert to what we know and love. Life in a new city is ALL new.  Every restaurant, bar, and neighborhood is inherently unfamiliar but so exciting at the same time. I can't wait to try new things (although have definitely rekindled my love of Mexican food since arriving and have probably over indexed on tacos), and I've set myself a target of visiting a new place/area of the city every weekend to make sure I'm not getting too stuck into any sort of routine. I'm sure that will keep me busy until the end of the academic year, no problem. So far, I've headed down to Pacifica for some surfing (more beach time for me than surfing), wandered through the mission and Dolores Park, explored Sausalito and heard the sights and sounds of Fisherman's Wharf to name a few. I really really can't complain! And for anyone visiting SF – I just went for brunch at Kitchen Story; absolutely delicious and well worth a trip!!
Immersed in content
I had honestly forgotten what it was like to do school work other than short spurts last year for GMAT and PMP exams. This last month has been a good re-introduction to study ethics, and ultimately why I am here. I spoke last blog about the art of active preparation, and I now fully appreciate how immersing yourself in the content benefits everyone – myself, and all my classmates too.
Immersed in Hult
This first month, I've gotten to know the school that we have all invested so much time and money in, and what it stands for.  And I'm very pleased (and relieved) to say it has been worth every penny so far. The culture that is being fostered here is one for learning, appreciation of different cultures, and self-development. I'm sure I'm going to be even more fully immersed into the 3rd and 4th floors soon as work steps up!
Immersed in new cultures
I have made friends from Mexico, Australia, Germany, Colombia, USA, Peru, Philippines, India, South Korea, Brazil, Poland, Japan, Spain, Canada, Italy, China, Azerbaijan, Bahrain, Ecuador, Russia, UAE, and the UK, to name a few! Being immersed in different cultures, working styles, and languages has been so new and special for me. Learning a Spanish word a day, eating far too many tacos (we are all "suffering" post another Taco Tuesday now) have been major highlights (although all I've learnt so far are useful swear-words!). I've also been lucky enough to celebrate Mexican independence style with more delicious tacos, drink steins at Oktoberfest at the bay, made fresh Italian pasta from scratch and had delicious Polish dinner…the next question is:
What I do for British night?? Suggestions welcome…
Immersed in myself
This month has been one of looking inwards, being curious and introspective. All of our lectures have been about developing our skills in the key Hult DNA areas forcing us to truly validate our own skillset and identify the ones that we want to improve this year. I have just handed in my first assignment, a Personal Development Plan, choosing to focus on 3 key skills for the year: 1) Persuasively sell a vision or idea (Interpersonal Influence), 2) Resolve conflicts that impact the team (Collaboration) and 3) Develop a growth mind-set (Adaptive Thinking). Although difficult to measure these, I'm up for the challenge of working on these and putting a strong emphasis on my personal/professional development. And heck, one of my actions is to do something I really dislike once a month…so you may even see me running by the bay!!
As you can see…I'm amped up! And hope to continue in the same positive vein from now through August 2018!
---

Aaron Salamon is an MBA student at the Hult San Francisco campus. He currently works for Accenture and has extensive experience of working in management consultancy. Outside of work, Aaron is a mentor to university students working on social enterprise projects. He's an avid traveler with 49 countries under his belt. Follow Aaron's Hult MBA experience in his blog.
To find out more about Hult's MBA, and other business programs, download a brochure here. 
Hult offers a range of highly skills-focused and employability-driven business school programs including a range of MBA options and a comprehensive one year Masters in International Business. To find out more, take a look at our blog A story about why I chose Hult San Francisco. Download a brochure or get in touch today to find out how Hult can help you to learn about the business world, the future, and yourself.
Related posts