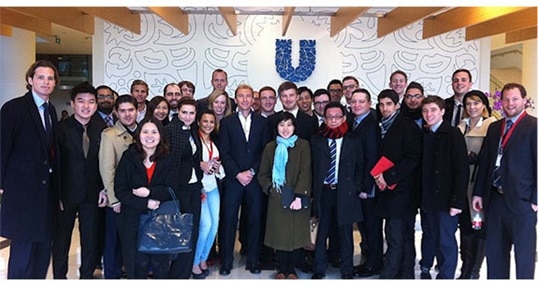 Hult Shanghai students visited Unilever's local Research and Development Center to learn about the company's operations and tour the facility.
Hult Shanghai students have taken a couple of valuable outings recently, thanks to the campus' Corporate Relations team and its trademark company visits. These trips offer students the chance to make connections and get a glimpse inside prominent local businesses.
First came a late-April trip to Unilever's Shanghai Research and Development Center. Students toured the state-of-the-art Customer Insight and Innovation Center, which the company uses to test merchandising, display, and packaging strategies with its retailers. At the Shanghai location, these companies include Dove, Knorr, Lipton, and Hellmann's. The visit was capped with a sweet ice cream treat.
Then on June 5, students went to the brand new Knowledge and Innovation Community, a residential, business and recreational area in Shanghai focused on education, culture, and technology – often referred to as the Silicon Valley of China. The students learned about innovation and entrepreneurship during speaker presentations and a question-and-answer session.
Kickstart your career in the commercial center of Asia by studying at Hult's Shanghai business school. To find out more, take a look at our blog Concepting: Hult Shanghai discusses new branding methodology. Download a brochure or get in touch today to find out how Hult can help you to learn about the business world, the future, and yourself.
Related posts