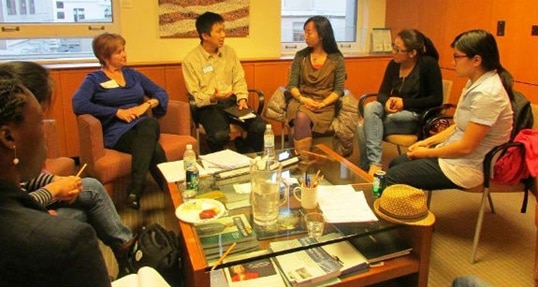 Graduation may still be a few months away, but a group of Hult students recently kicked-started their job searches by spending an evening with local professionals in various fields, getting advice on everything related to finding a job, from optimizing LinkedIn to reaching out to a new contact to speaking properly in an interview.
This unique experience proved to be extremely valuable to the students, who walked away feeling well-informed and inspired. And the opportunity didn't come by way of a class or campus event; it was courtesy of the Job Forum, a weekly job search gathering hosted by the San Francisco Chamber of Commerce.
Free and open to the public, the Job Forum offers anyone who's interested a chance to discuss searching for a job in a casual, comfortable setting. Held every Wednesday evening at the Chamber's Montgomery Street office, the Forum focuses on offering help that can't be found in an online search. Volunteer panelists, who come from a variety of professional backgrounds, share real-life stories, advice, and resources with job seekers. Some guests are actively looking for jobs, and others are just there to listen and learn.
Twenty-five master's and MBA candidates from Hult attended the Job Forum on April 10 to talk about their career directions, goals, and challenges in small group sessions, hosted by two panelists each. As they do with all guests, panelists reviewed the students' resumes (if they brought them) to get an idea of their backgrounds. Then, they asked questions to get an idea of what each individual was looking for in a job and gave feedback and guidance based on their situations. The students who attended were at various stages in their job searches, from looking to interviewing. Almost every student in attendance received advice specific to him or her – and some even walked away with names of potential connections.
Some key advice the students received: Be specific in your career goals, know what kind of environment is right for you, ask potential employers for an informational interview first, and follow your passion.
Each panelist, who volunteers at the Job Forum several times throughout the year, was knowledgeable and interested, as were the attendees; everyone was eager to listen to and even help each other out, based on their own personal experiences.
Hult's Career Services department and Job Forum Executive Director Janet Beach organized April 10's forum specifically for Hult students (although the public, as always, was still welcome). This is the second time the school and the Chamber have collaborated on this event, after Beach reached out to the Hult administration suggesting the Job Forum as a resource for the students, many of whom will be looking for positions in the Bay Area after they graduate in August.
And it was a great idea. Following the Forum, students eagerly expressed how helpful it was, calling it practical and worthwhile, and many said they'd be coming back for more – some on a regular basis.
Photo Credit: Rebecca Joyce
Kickstart your career right next door to Silicon Valley by studying at Hult's San Francisco business school. To find out more, take a look at our blog Top 10 questions to ask when looking at business schools. Download a brochure or get in touch today to find out how Hult can help you to learn about the business world, the future, and yourself.
Related posts