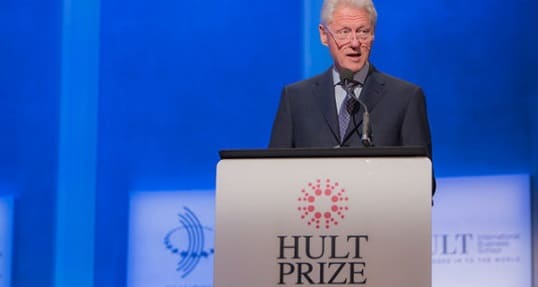 Social Scale [Times of India]

Hult News, 10 years ago
0
2 min

read
Students often compete for scholarships to realise their academic dreams, but as the global community looks at social responsibility as a priority area, an initiative by Hult International Business School offers students the backing to pursue social entrepreneurship.
Talking about the initiative, the CEO, Hult Prize says, "We launched the prize in 2009 with a vision to form an organisation committed to identify and launch a new breed of entrepreneurs who had the tool-set to solve the world's toughest challenges. Two months later we struck a partnership with the Clinton Global Initiative and President Clinton."
Says Akanksha Hazari, winner of the 2011 Hult Prize competition, "This was the only competition I participated in while pursuing an MBA from Cambridge. The competition challenges young people across the world to find solutions to global challenges."
Winning the Hult Prize was the first step towards launching Hazari's social venture, m.Paani, an initiative that empowers deprived communities in areas such as safe drinking water, education, healthcare, nutrition and mobility.
To be a part of this initiative students have to undergo a truly global and most competitive selection process. "Over 10,000 applicants start and only 300 teams advance to one of five regional finals held across the world. Start-up weekends are held simultaneously in Boston, San Francisco, London, Dubai and Shanghai. Here, college student teams of five pitch their social venture that seeks to solve the challenge set forth by President Clinton," informs the Hult Prize CEO adding that all college students are welcome to apply.
"Annually, the competition receives more applications from Mumbai than any other city in the world," says Stephen Hodges, president, Hult International Business School. Add to that the fact that being the commercial capital of India, many of Hult's corporate clients like Abbott ,Deloitte, IBM, KPMG, Microsoft, Oracle and Standard Chartered have substantial operations in the city. It's no doubt then that Hult is likely to open a local presence in Mumbai sometime this year. "The purpose will be to better serve both potential students as well as local corporates with their talent hiring and executive education needs. We're also looking at offering our students an opportunity to spend some time in India — as part of our global campus rotation programme . This will enable them to learn better about the realities of doing business in India," informs Hodges.
Fact file
The school now offers degree programme with a focus on social business Candidates interested in pursuing the programme should be 21 years or older, have a Bachelor's degree or equivalent and must be proficient in English.
Written by Gauri Rane for Times of India. See the original article here. 
Related posts