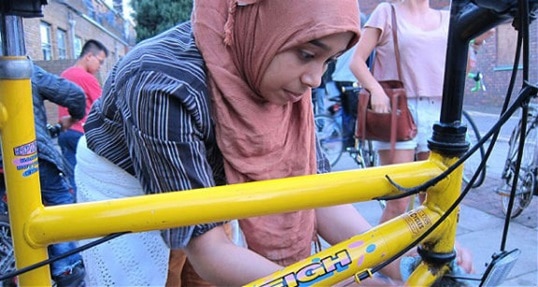 Written by Helena Pozniak for The Daily Telegraph.
Jem Stein restores bicycles. Since starting his business The Bike Project, six months ago, he has patched up more than 150 with the help of young refugees, given 40 to children in destitute asylum-seeker families and trained many people in the rudiments of bike mechanics.
"Bikes, for refugees who have nothing, are literally a means of social mobility — getting out and about to get a job," says Stein, who is based in Hackney but would like eventually to expand his project nationwide.
A social entrepreneur and graduate in politics from the London School of Economics, Stein is one of 250 people currently taking part in an annual fellowship with the School for Social Entrepreneurs (SSE). While learning the nuts and bolts of raising finance and starting a company, he is being mentored by corporate partners, including law firm Linklaters. He has also received the SSE's £4,000 grant to kick-start his business.
What the SSE offers is a largely practical, supportive and non-accredited course spread over a year, cost free. Around three applicants chase every place, and two thirds of the participants are graduates; some are business postgraduates seeking practical help and advice beyond the theory.
But what is social enterprise? According to Hult International Business School, one of the few institutions in the UK that offers a dedicated masters in the field, the most important difference between traditional business and a social enterprise is that profit is not the main motivation — the business is animated by a social or environmental purpose.
Continue reading the article in full here.
Make the most of what your career has to offer with a Masters in International Business from Hult. To learn more, take a look at our blog My Masters in International Business: Looking back on a life-changing year, or give your employability a huge boost with an MBA in international business. Download a brochure or get in touch today to find out how Hult can help you to explore everything about the business world, the future, and yourself.
Related posts