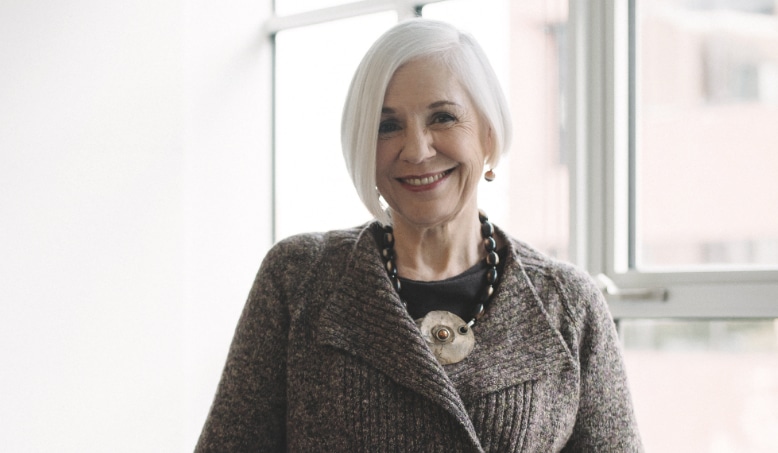 Sheryle Bolton: Breaking barriers for female-led companies
Selam Ibrahim, 6 years ago
0
4 min

read
In honor of International Women's Day, we're celebrating inspirational women in our community and sharing their stories to promote the importance of diversity in business. Discussing the challenges that still exist for women, we'll learn from the journeys and industry expertise of our #fearlessfemales to share tips on how this generation can be a catalyst for change.
A call for more women-led ventures
Transforming both consumer lifestyles and the rules of business, tech-based firms and start-ups produce a wave of innovative products that are breaking barriers around the world. Yet despite this, a significant lack of diversity in the entrepreneurship sector remains.
Hult International Business School Professor Sheryle Bolton is an experienced executive and entrepreneur and has worked in several fields including finance, media, healthcare and educational technology.  In 2014, Sheryle was recognized as one of the most influential female Harvard Business School graduates in Silicon Valley and, in 2011 as a "Woman Who Made Her Mark," from Watermark–Silicon Valley's largest professional women's organization.
Having broken down barriers and been one of a handful of women to lead public companies herself, we hear from Sheryle on how aspiring female entrepreneurs can make it to the top.
In the past 5-10 years, what key changes have you seen for females wanting to enter the tech startup scene?
Sheryle: I've noticed that it's not getting easier to get to the top. There are many more experienced women in the pipeline and that's a very good trend. However, today very few make it up into the upper ranks of corporate management or have success finding funding from Venture Capitalists as entrepreneurs.
And if they make it, even fewer women last through the Initial Public Offering process to lead public companies. In fact, the percentage of women leading IPOs or public companies has grown only slightly from one percent a few years ago to only three percent today (over the last three decades).
What advice do you have for aspiring female entrepreneurs wanting to make their mark in Silicon Valley?
Sheryle: Female entrepreneurs need to be far more resilient than their male counterparts. They are even more highly likely to fail at finding funding for their companies than male CEOs and so need to be prepared with not only plans B, C, and D, but also ready to pick themselves up and go at it again. And again!
What does being a #FearlessFemale mean to you? 
Sheryle: Everyone experiences fear, especially fear of rejection. Women especially need to look deep within themselves to find the courage to move through this fear to reach their goals as entrepreneurs and leaders.
Can you tell us a female figure who inspires you and why?
Sheryle: Many women in business today inspire me and among them, many are my friends. One woman that I especially respect and think about frequently is Katherine Graham, who became the CEO of the Washington Post after her husband died unexpectedly.
She came close to failing numerous times but managed to find the grit and grace to learn what she needed to know about business and to make really tough decisions that impacted everyone. She was courageous in spite of all the naysayers around her. As women, we are fighting an uphill battle in business and we need every bit of courage and competence we can muster.
Given these challenges for women, do you feel optimistic about change?
Sheryle: I'm an entrepreneur who led a venture-backed company from start-up through the IPO process and continued leading it when it was a growing public company. I'm a rarity and I know that. I have always said that change is more likely when we begin to see women-led venture companies.
We are now seeing momentum here—it's still a small percentage but it's happening at a higher rate. Partly as a result, we are also seeing more female CEOs working with female leaders of investor groups, including Angels, incubators, and venture companies. Hopefully, the investors in these venture funds—pension funds, endowments, etc.—will demand that higher and higher percentages of VCs will be either women-led or have a high percentage of female partners.
---
To learn more about Hult's global programs and courses in entrepreneurship, download a brochure
---
Kickstart your career right next door to Silicon Valley by studying at Hult's San Francisco business school. To find out more, take a look at our blog Hult San Francisco: a place to experience the world, and call home. Download a brochure or get in touch today to find out how Hult can help you to learn about the business world, the future, and yourself.
Selam Ibrahim
Lami is a global marketing and project management professional with experience across the Education, Music, FinTech and International Development sectors. Currently working for payments and tech giant PayPal, Lami works within the Growth Marketing division. She's committed to social impact and also leads several non-profits initiatives here in the UK and overseas: Together For Her x Femme International, PayPal GIVES and Amplify, Black Employees @ PayPal.
Related posts