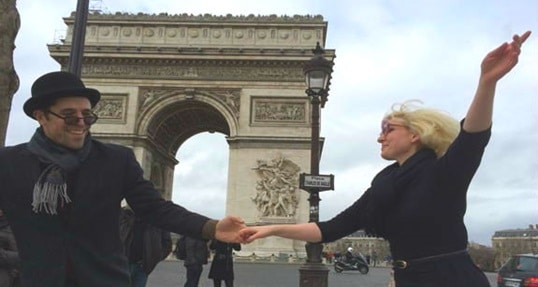 On the first day of orientation, across all Hult campuses, an alumnus or alumna stands in front of all the newly-arrived students to explain that the school year will go by outrageously fast. But you don't listen. You are too busy reading the syllabus for your Module A courses or exchanging Facebook chat notes with your newfound friends.
Should you find yourself in a similar situation very soon, I have news for you: the alumni are right. This adventure goes so quickly. But when I think of the people, experiences and places I've seen, it feels full, fast – and a bit like a beginning.
On the eve of graduating, I thought it might be meaningful to reflect on the last year and my own Hult journey. I could tell you about the academics, but to my mind that really isn't the magic of Hult. It's the people. It's the opportunity to interact with people you would otherwise never have met, and it means the opportunity to collaborate with business minds from all over the world. It means struggling to be understood, listening to your peers and finding common ground. It's a life lesson in patience, tolerance, consideration and generosity. And we all have one (at least) thing in common: we're all pioneers who chose to leave our homes in the pursuit of knowledge and a global understanding of how the world works.
In London, my home campus, I found a stronger (and interestingly, more relaxed) sense of self. I spent more time alone than I have in my entire adult life. I felt a kind of loneliness and personal strength I've never felt before. What did that yield? It gave me a profound sense of gratitude for friends, family, peers and fellow wanderers. I feel more confident in my skills as a leader and more aware of prioritizing self-care.
But that's not all. My main takeaways from my time at Hult International Business School can help you if you're about to embark on your own journey. Here's what I learned:
Structures and stuff isn't home, people are home.
Listen carefully and thoughtfully.
Don't be afraid to ask for help, and give/receive feedback (providing it's constructive).
London presented me with opportunities I had never dreamed up for myself; it proved to be a big culture shock and lesson in patience (the nuance of English in the UK is totally different!).
Say 'yes' to all parts of the adventure – rarely will you ever have this kind of time and budget to experience great cities of the world.
If you study in London, and if at all possible, live near the Victoria line!
Hult gave me the opportunity to pursue more expansive, global dreams and to take a risk. And to be honest, I'm so glad I did. I wish my colleagues the best of luck in their job search and I look forward to hearing all about their to-be triumphs. To prospective students, they aren't lying – savour the coming year. Welcome to the start of the rest of your life.
Kickstart your career in Europe's biggest startup cluster by studying at Hult's London business school. To find out more, take a look at our blog From a tourist to a local in London. Download a brochure or get in touch today to find out how Hult can help you to learn about the business world, the future, and yourself.
Related posts