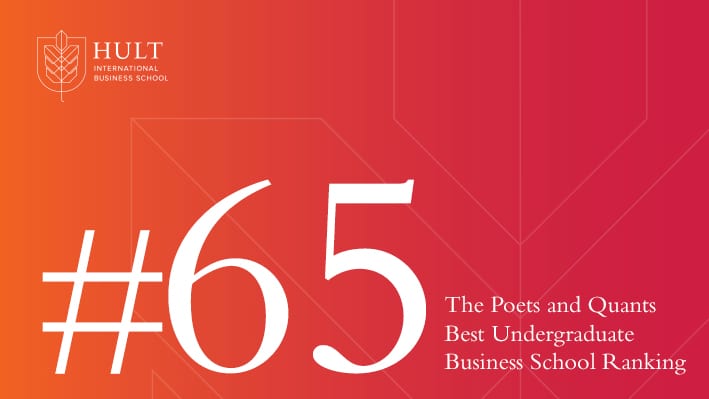 For the first time, Hult International Business School has been placed in the annual Poets & Quants Best Undergraduate Business School ranking. Debuting at number 65, Hult was among the top schools in the U.S. to be recognized. Read Hult's featured profile here.
According to Poets & Quants, over 20% of all undergraduate students in America enroll in a business degree making it the most popular major in the U.S. Using a new ranking methodology that relied heavily on student feedback, Poets and Quants deep dived into undergraduate business education and gathered extensive data insights to rank schools on admissions, student experience, and employment statistics.
Though Hult's roots trace back to 1964, it was only in 2009 that the school launched an undergraduate business program. Initially hosted out of Hult London, the undergraduate program has grown rapidly and students can now study one seamless curriculum in London, Boston, San Francisco, Dubai, and Shanghai.

In October, Hult continued this growth with the groundbreaking of a new campus in Boston. The school will begin welcoming Hult undergraduate students in 2018, and the 300,000-square-foot, 12-story, state-of-the-art building is due to open its doors the following year.
Others have also taken notice. In 2016, the undergraduate school ranked #1 for new grads starting a business and #7 in recent grads who join a startup in Bloomberg Businessweek's Best Undergraduate Business Schools list.
This latest ranking adds to a growing list of publications who have reviewed Hult's programs and ranked them among the best in the world, including:
About Hult International Business School
Hult is a new kind of business school for the global generation. With campuses in Boston, San Francisco, London, Dubai, Shanghai, and New York, Hult brings together people, cultures, and innovative ideas from around the world. The school's student body is made up of more than 150 nationalities with students speaking over 100 languages between them. Hult's alumni network of more than 19,000 graduates work in 170+ countries across the globe and there are 70 clubs and chapters active in over 60 countries worldwide. Employers value Hult graduates' international outlook and entrepreneurial flair which has yielded impressive employment statistics for the Class of 2016.
---
To find out more about Hult's business programs download a brochure or contact the school directly.
Kickstart your career with Hult's undergraduate business school. To find out more, take a look at our blog 5 top tips for a standout undergraduate application. Download a brochure or get in touch today to find out how Hult can help you to learn about the business world, the future, and yourself.
---
Related posts