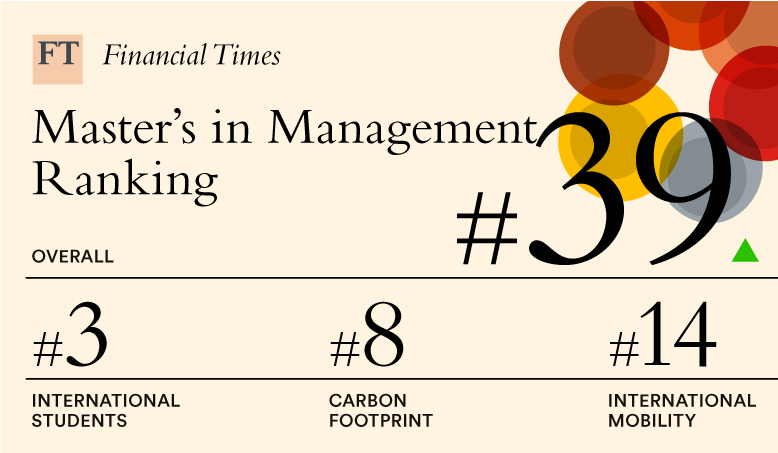 Going up in the world? So are we! Hult is proud to have placed #39 in the Financial Times Master's in Management 2023 rankings. That puts us in the top 50 business schools worldwide according to these prestigious rankings. We also ranked highly in several important subcategories:
#3 for International Students
The school's cohort brings together students of 150+ nationalities speaking over 122 languages, situated across five campuses worldwide. It's no wonder we rank so highly in this category.
Learn more about Global Campus Rotation below:
#8 for Carbon Footprint
We have adopted a target for Hult to reach NetZero carbon emissions for Scopes 1 and 2 by 2030, and Scope 3 by 2050. We've got a long way to go, but across our campuses, we're focused on managing our environmental and social impact. Our initiatives include distributing free reusable water bottles, implementing waste-free recycling programs, prioritizing energy-efficient design and engineering, and having on-site composting. We're also using sustainability-focused operations managers and reducing single-use plastics.
#11 for ESG and NetZero Teaching
We're committed to making sure environmental, social, and governance (ESG) topics are part of every course we offer. We also provide core courses that have a dedicated 100% focus specifically on ESG and its impact on society. These courses include subjects like Ethics in Business, Exploring Self & Society, Design Thinking for Social Impact, Socially Responsible Business, Business & Global Society, Social Innovation, and Future Mindset.
#12 for International Faculty
Having a diverse faculty means a variety of perspectives are included in classes. Learn about how each professor brings their own experience into the classroom with Hult Professors Mark Esposito, Dean Samineh, and David James.
#14 for International Mobility
Learning business and learning business globally are two different things. With five campus locations around the world, Hult students can experience international business firsthand in influential cities during their studies.
About Hult International Business School
Hult International Business School is a dynamic multicultural community that inspires, challenges, and connects some of the world's most forward-thinking business talent. Hult flips the traditional approach to education by using learning-by-doing experiences so our graduates can add value from their first day on the job. We exist to create a better future for all by inspiring and challenging each individual in our community to make an impact that matters—and lead others to do the same
With a program offering from undergraduate through to doctorate level and a global campus network that spans five cities across three continents, Hult gives students the knowledge and skills to become thriving business leaders and entrepreneurs. Top-ranked by the Financial Times, the Economist, Forbes, and Bloomberg Businessweek, Hult is the business school for those made to do. 
---
To learn more about Hult's top-ranked master's programs, download a brochure today.
Related posts