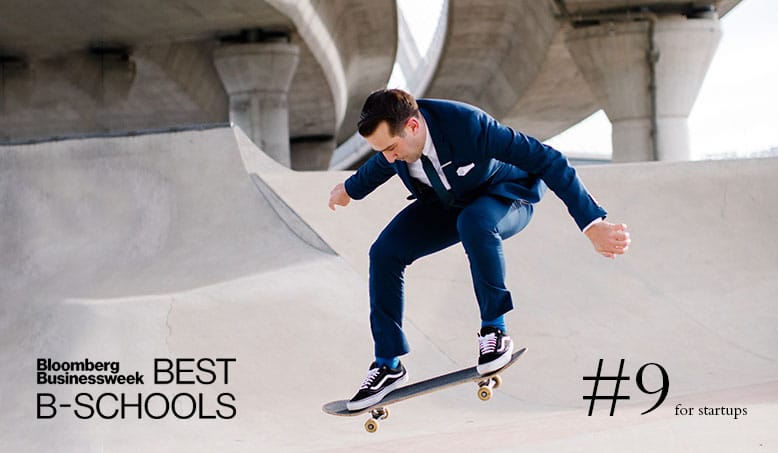 Bloomberg Businessweek has released its alumni insights ranking report. And Hult has the ninth highest number of graduate entrepreneurs. Bloomberg surveyed alumni from all schools featured on their Businessweek Best B-Schools MBA ranking to determine the number of alumni who founded a company after graduation. And they found that Hult grads are 9th most likely to start their own business after graduation.
Ranking 9th for startups
Hult placed joint #9 on alumni startups, tied with INSEAD. Over 30% of the Hult MBA alumni surveyed started their own business venture after graduation. Globally, 9% of Hult graduates across all programs launch their own business on graduation.

Hult's President, Dr. Stephen Hodges, explains why Hult strives to instill an entrepreneurial mindset in all students:
"An entrepreneurial attitude is a huge asset – whatever your chosen career path. As a non-profit business school run by business people and founded by one of Europe's most successful entrepreneurs, entrepreneurship is at the heart of everything we do. Through practical experience, real-world challenges, and growth mindset, Hult students learn firsthand that every failure is a stepping stone to success."

Dr. Stephen Hodges, President, Hult International Business School
Hult Global MBA Sabrina Palme founded a "smart garden" hydroponics startup with classmate Andre Quintanilha after graduating in 2015. She is currently Entrepreneur in Residence at SaturnF1, leading several startup projects from ideation stage, to prototype stage, and on to product launch. Sabrina credits Hult's practical curriculum for setting her up for success as an entrepreneur:
"The learnings we took from our practical challenges were invaluable in understanding our concept. We'd already honed our decision-making and team skills. We'd even pitched business concepts to real-life investors—we were already halfway there thanks to our MBA."

Sabrina Palme, Entrepreneur, MBA Class of 2015
Stay tuned for an entrepreneurship special.
---
Find out more about how Hult's future-focused business degrees will unleash your inner entrepreneur: See the latest Hult brochure.

Mel Cloney
Mel is a staff blogger working in London, and is passionate about the Hult journey. Her writing focuses on faculty, academics, and student and alumni experiences. She's a food, scuba, and running junkie with a penchant for all things French.
Related posts