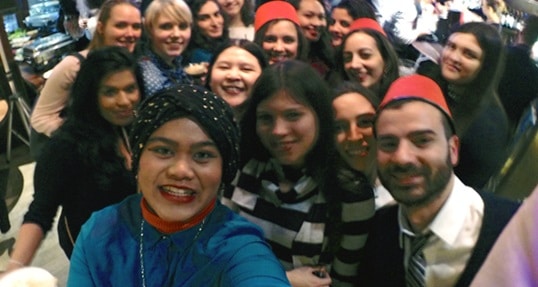 I have always had a keen interest in traveling, meeting new people, and experiencing different cultures, languages and food from all over the world. The driving force in my decision to choose Hult International Business School is that it offers all of the above.
I first heard of Hult in Taipei, where I attended the Harvard Model United Nations (WorldMUN) in 2010. During the conference I received a booklet of the school's courses. My first impression was one of amazement; it offered five global campuses in Shanghai, Dubai, Boston, San Francisco, and London—as well as the chance to rotate to three of them. This international aspect of the school was beyond anything I ever imagined. I knew at that moment that I wanted to attend the world's most international business school.
Today, I am pursuing my Masters in International Marketing at the London campus, and will be rotating to the Dubai and San Francisco campuses all in one academic year! I am proud to be a Malaysian student, one of the 140 nationalities at the London campus. I have always enjoyed learning from other people, and in my program there are many opportunities for "hands on" teamwork. Through classes and projects, we've learned to appreciate the uniqueness of all the cultures represented on campus, while embracing the common goal to be globally connected by one Hult network. 
We've also had many opportunities to experience speakers, societies and clubs, as well as multicultural events, which have included a Diwali night, a Winter Ball, a paintball excursion, and a Hult Visionary Speaker event, spotlighting the CEO of Unilever. And then there are cohort activities: traveling together, spending afternoons at Hyde Park picnicking and playing football, indulging in a wide-range of cuisines outside of school, including Chinese, Venezuelan, Russian, Columbian, Lebanese, and many others. These activities have given us valuable opportunities to increase our understanding of one another, and our respect for each another.
My home campus city, London, constantly surprises me with how international it is: so many different nationalities in one cultural hub. There's always something new to see; there are various cultural celebrations in Tralfagar Square, theatres, museums, and green spaces.
The last six months here in London have been one of the best learning experiences I have ever had. It has made me more motivated to continue pursuing my life aspiration to continue meeting people from all over the world. I want to continue learning, and engaging people from the Hult network I have created. Yes, I will benefit from my Hult experience in my international business encounters, but I will benefit more from the valuable, friendships I have made here. I am looking forward to many more Hult experiences in the next six months, at the Dubai and San Francisco campuses!
Nurkhalisa Afendi is a Masters of International Marketing candidate at the London campus, who really loves to travel. She is a proud Malaysian from Kuala Lumpur, with professional experiences in Public Relations, Events and Digital Marketing. She documents her "food hunting" on Instagram; follow her at @msorangelisa. 
Kickstart your career in Europe's biggest startup cluster by studying at Hult's London business school. To find out more, take a look at our blog The Entrepreneurial Spirit is alive and well in London. Download a brochure or get in touch today to find out how Hult can help you to learn about the business world, the future, and yourself.
Related posts