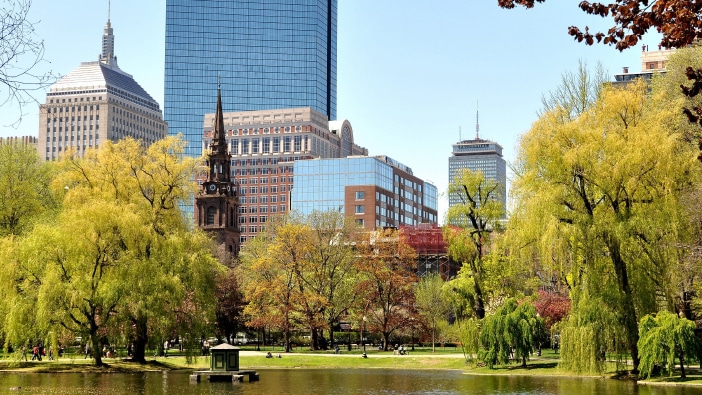 Boston opens its doors to Hult undergraduates.
In an exciting new development, Hult is thrilled to announce that we will be expanding our undergraduate program to the east coast of the United States. Undergraduate students will now have a choice of not two, but three home campuses in London, San Francisco, and from 2018, Boston.
From 2017 our Boston campus, currently only open to postgraduate students, will be available as a new undergraduate Summer Program location, meaning all current students will have the opportunity to study there. Opening as a new home campus in September 2018, Boston promises to be a very special addition to our undergraduate family.
Now that Boston is on your radar—what should you know about this historic East Coast city? Here are just five of the reasons we think you should get excited about Hult Undergraduate's expansion to Boston:
A truly historic city
Boston has long been an important player on the world stage. Birthplace of the American Revolution, and four U.S. presidents, it has always been politically and commercially important—and has a number of technological breakthroughs to its name. Still a mecca for innovators and thought leaders, the city attracts an unusually young and diverse population looking to make their mark on the world.
The intellectual capital of the U.S.
More than 50 colleges and universities call the greater Boston metropolitan area home–including Harvard and MIT. That means that some of the world's brightest brains come together in the city, and Hult undergrads will be joining more than 250,000 students in studying, exploring and enjoying the hustle and bustle of 'Beantown'.
The perfect fit for entrepreneurs
Boston may have a long educational history—but its approach to business is far from antiquated. Just this year the U.S. Chamber of Commerce released a report that ranked Boston as the #1 city in the United States for fostering entrepreneurial growth and innovation. In fact, Boston is currently one of the most exciting and up-and-coming cities for business in the United States. With Hult Undergraduate recently named #1 for New Grads Starting a Business in Bloomberg's 2016 Best Undergraduate Business Schools, Boston is the perfect match for our trailblazing student body.
A distinctive business culture
Every city that hosts a Hult home campus has a unique way of doing business—and Boston is no different. While London may be the capital of international finance, and the San Francisco Bay Area is the home of the start-up, Boston is a world leader in management consultancy. Boston is home to some of the world's most successful companies, including 12 of the Fortune 500 and a number of household names. It was in Boston that Arthur D. Little formed the world's first management consulting firm, and in Boston that the Arthur D Little School of Management became Hult International Business School in 2002—so we can't wait to take our undergraduate students back to where it all started.
A student experience we know you'll love
While we are planning to open a new campus exclusive to undergraduates, the first of our students will be welcomed to the postgraduate campus, in a fantastic location at the foot of the Zakim Bridge and on the banks of the Charles River. With immediate access to downtown Boston and its unique blend of past, present and future, this is a setting to rival any of our other locations around the world. Consistently named one of America's most student friendly cities by reviewers, Boston also provides that great mix of diversity, culture, outdoor activities and recreation we know our students love.
Will you be applying to study in Boston in 2018? Comment below to tell us your thoughts.
Kickstart your career in this education and innovation hotspot by studying at Hult's Boston business school. To find out more, take a look at our blog Student living: Boston on a budget. Download a brochure or get in touch today to find out how Hult can help you to learn about the business world, the future, and yourself.
Related posts