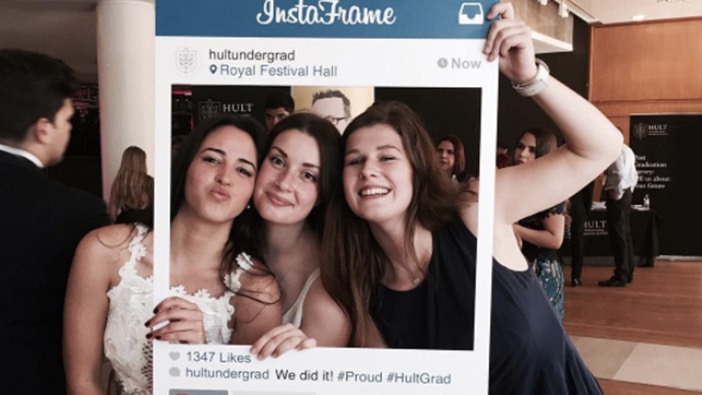 Written by Undergraduate Global Ambassador, Caroline Voigt
As I was boarding my flight back to London after Christmas break, I suddenly wondered whether this airplane was taking me home, or away from home. I couldn't find an answer immediately, and after a while it dawned on me: It's doing both. I'm going both ways at the same time.
Considering I've lived in my hometown of Hamburg for the first 19 years of my life, I was quite surprised that I didn't immediately take a stronger stance about where my home was.
After all, my friends and family in my hometown are absolutely irreplaceable—I've grown up with most of my best friends and we'll share memories for a lifetime. The bond we have is momentous, and distance has and will not change that fact. However, the people I met here at Hult have impacted me and the way I think greatly. Even though we are from every corner of the world, we share at least one interest (arguably either business or getting a bachelor's degree), and we have another thing in common— we left our home countries for university, and that's pretty much all we knew when we arrived here in London.
This initial uncertainty most definitely connected us, and as we develop, it is still part of our lives. In hindsight, I am deeply connected to my friends back home through the things we know—and deeply connected to my friends in London through the things we don't know.
Embracing uncertainty and growing with it is one way to see it. On the other hand, there are moments both here and in my home country that can be disillusioning. You cannot always be involved in both of your lives all the time—there are things back home you are no longer a part of, and things here in London that you will not become a part of. Feeling like you don't belong to important things or people in either of your lives is the risk you take when leaving, and it has happened to me and everyone I know.
And this uncertainty, no matter whether you enjoy it or fear it, will continue throughout many of our lives. Personally, I am only slowly able to grasp the privilege I have of studying abroad, the sky (and my student loan) being pretty much the only limit as to where in this world I can live and work. And I want to make most out of it. The thought of not knowing where I might end up after graduating excites and frightens me at the same time. The question of which country I'll call home does, too. I believe that many of us feel this way. Sure, eventually I want to go back to Hamburg, but I know neither when nor how— and what will be until then.
I'm halfway done with my degree as I write this. At this point, I have learned so many things from the people I've met, and I've gained new perspectives on almost every aspect of who I am and where I want to go. If that has taught me anything, it is that we should not fear change. Everything is temporary, but don't stay in your comfort zone because of the risk of getting hurt. People change, things change, perspectives change, but I now believe that learning from mistakes and uncertainty just brings you closer to calling more than one place home. This is not as easy as it sounds when I think of my friends graduating this summer who are about to live in every corner of this world—but it certainly helps to think that I made the most of our friendship because I was not afraid of parting ways and doing our own thing.
Going back to the initial question of coming or leaving, I believe that as part of the global generation, narrowing your home down to just one is quite difficult. Homes can be in countries, cities, or with people. What often stops us from creating these homes is the fear of uncertainty and of the inevitable perishability of all things. And even though it's tough to let go of these fears (trust me, I speak from experience), in the end it's worth it. Because we will become the best versions of ourselves when we open up, learn from, and celebrate our differences.
If you'd like to know more about student life at Hult, get in touch with a student ambassador.
---
To find out more about our undergraduate program, download a brochure here
---
Kickstart your career in Europe's biggest startup cluster by studying at Hult's London business school. To find out more, take a look at our blog From a tourist to a local in London. Download a brochure or get in touch today to find out how Hult can help you to learn about the business world, the future, and yourself.
Related posts