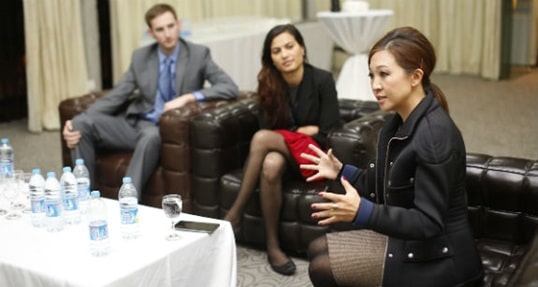 By Nuno Albarran, President of the Hult Sustainability Club, MBA – Shanghai.
The Hult Visionary Speaker Series got off to an electrifying start with Chairperson of JUCCCE (Joint US-China Collaboration in Clean Energy), Peggy Liu. Standing before an audience of Hult students, faculty, alumni, and corporate guests, she challenged listeners to reimagine and reframe the sustainability debate by talking to people's hearts, not to their heads. Peggy's influential intelligence, engagement, and sympathy did just that.
From self-confessed MIT robot "geek", to software programmer, to internet entrepreneur; Peggy has now become one of the world's visionaries – empowered by a dream to catalyze collaboration for a greener and more livable China. Humbly describing herself as a "housekeeper trying to clean the air", she inspires us with an optimistic view of a China that can do better.
The China we live in today has 80% of its rivers polluted, food insecurity as the norm, and hazardous levels of air pollution. The China Dream described by Peggy is a China where rivers have drinkable water, the air and food are actually safe, and the environment is not something people have to protect themselves from, but something they can enjoy.
The China Dream is achievable by reimagining and rebuilding values and social norms, as well as changing the way we live and consume in our communities. Peggy's organization, JUCCCE, is dedicated to reaching these goals through one key concept: collaboration.
The organization offers government training on sustainable initiatives, smart consumption and energy efficiency projects, as well as sustainable urbanization. Peggy highlighted several of these initiatives during her talk and emphasized that yes, China IS going green. However the question is whether the country is going green fast enough.
After presenting some of JUCCCE's activities, Peggy left the Hult audience with one central idea: the need for cross-sector and cross-border professionals to address the challenges of our time; professionals who are both versatile and competent enough to communicate between different sectors and cultures; and professionals who build bridges between these spaces to promote practical change.
Kickstart your career in the commercial center of Asia by studying at Hult's Shanghai business school. To find out more, take a look at our blog San Francisco to Shanghai: My undergrad rotation experience. Download a brochure or get in touch today to find out how Hult can help you to learn about the business world, the future, and yourself.
Related posts