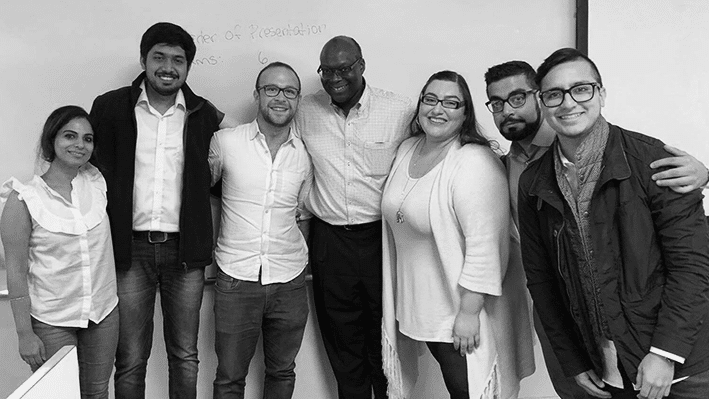 Written by Aaron Salamon, Hult Global Ambassador and MBA Class of 2018 student. Original post on his blog. 
"Don't forget, you are the hero of your own story."

Greg Boyle
Story 1: Gabriella, the entrepreneur
Gabriella, a fellow MBA student, and I were eating an awesome brunch at a favorite restaurant of ours called Stacks when she told me a story that I'd like to share with you all:
"When I was doing my thesis in college in Mexico, my boyfriend at the time and I decided to start a food truck. I love food, especially burgers, but I would have to drive 45 minutes to get a good one," Gabriella says, taking a bite out of an amazing Stacks burger.
"My brother-in-law had a spare truck, so we decided to make it a burger van. I found a place to park for free because a kind local resident was happy to help an entrepreneur. I used to wake up every morning and rush to buy bread buns from the local store. I remember fighting with one lady as we both grabbed the last pack at the same time. We nearly got into a full-on fistfight! It wasn't long before I made friends with the shop assistant, and she began to hide the buns away so that no-one else could buy them", she says with a smile.
What an awesome entrepreneurial spirit…
"I would do all the preparation in the morning: cut the vegetables, prepare the meat, get the van ready, then my boyfriend would work in the truck after he finished work. I'd work on my thesis while juggling the orders that were coming in at the same time. We hired a friend to be our deliveryman, and he kept all of his tips. I'd make sure to ask all the people who ordered food to tip him. That was really important to me. I loved my food truck, but we closed it down after college as I wanted to chase my dream."
Hearing Gabriella's story made me smile.  It was truly inspirational.  I wanted to hear more about what her life was about, and what made her choose to do an MBA at Hult International Business School. Interestingly, she didn't think her story was that inspiring, and yet I was completely blown away by how brave and entrepreneurial she is. Having worked for a big corporation myself for the last five years, where it's been hard to implement change, it made me want to go out and make something happen. Heck, it really made me want to start a business…it made me think about what the first step would need to be to start something real.
This was just one of the stories I have heard from the amazing group of people I have met so far on my MBA. It was so impactful that it occurred to me that I might be on to a good thing! What better way to really get to know my colleagues on the programme, and be inspired at the same time, than by telling their stories alongside mine. So, I will come back to Gabriella shortly, but first, let me talk about Mario.
Story 2: Mario, the communicator
Mario BVG, 39 from Italy, has enthused me through his stories, his energy, and his insights. From day 1, I knew he was going to be an important person on my MBA journey. Mario is a hotel manager, investor, chef extraordinaire, and an unbelievably nice guy.  Before Hult, he was General Manager of a luxury California-owned hotel where he spent four years managing 800+ staff at a Barbados resort. He worked his way up through the ranks of hotel management, starting out as a waiter. Before that, he'd qualified as a lawyer and had trained as a chef. Neither of those career paths felt right to him, although he said the training was invaluable. He is now an investor in the American Juice Company –  check them out! If you are a bar owner, or just like to make good cocktails, the product is fantastic and you'd be helping a great start-up to grow.
Mario probably won't appreciate me telling you this, but I'm going to anyway…
He once told me a story about how he was brought into a hotel chain which was closing down to deal with all the redundancies. Whilst he was speaking and telling his tale, his voice was low and calm and I could feel his compassion. It definitely was not an easy thing to do, but that was the task at hand and he got on with it knowing that he wasn't the bad guy.
Mario builds immediate connections with people and does everything with a smile on his face. No-one on the course has a bad word to say about him. I really admire his thirst for learning and quest to find what he is searching for. In the process, he is inspiring us all with his stories and his nature.
Story 3: Myles, the voice of reason
Myles, 32 from Australia, worked in Executive Search in Dubai for the last 8 years. Travelling often, placing people in various glamorous Middle Eastern, African and Asian locations, Myles has a desire to enact real change in organizations, which I believe is part of the reason he has joined Hult. One particular moment which comes to mind is when we were studying for our Organizational Behavior mid-term. He probably won't even remember this, but I certainly do… Sitting in 414 (our favorite study room), discussing "motivational theories", we had come to answer the same question from various different angles. We were really challenging each other, to the point of disagreement. Then, in a flash, he summarised an answer which encapsulated what we were both raising so perfectly. It's that astute ability to understand, focus and encompass key points in our studies that I am trying to emulate and learn from him. Myles has tonnes of stories to tell, about ex-pat life, or about the interesting Executives that he has placed around the world. It is those stories that make me want to hear more.
These are just three people I've met on the MBA. Everyone I have built connections with here and over the years have had an impact on me in so many different ways. I realize that I have not always taken the time, and for whatever reason, to really deeply get to know my colleagues and sometimes my friends. This experience has made me truly curious to get to know more about my fellow colleagues at Hult, with their many and diverse backgrounds. And I know it's up to me to build deeper connections, and hopefully to contribute to their stories going forward.
I wanted to leave you with one last story that Gabriella told me yesterday.
"When I travel, I love to read. I go on most trips on my own and I stay in the cheapest place possible for the majority of the trip–a hostel or a cheap motel if I can. I then treat myself on the last night to 5* service, always making sure to eat in the best restaurants along the way…" [I do the same!]. "Whenever I leave a hostel, I leave a book behind that I have finished with a note in it. That way, people can be in touch with me in the future if we have connected through the book. I left one of my favorite books, 'Dancing with Reality', in a hostel in Thailand. It made a difference to my life and I wanted to share it with others. One year later, a girl from Argentina called me and said that the book changed her life. I knew then that what I was doing was the right thing".
We all have the opportunity to learn from others and to let others impact on our lives, but we often hold back. I hope these reflections will help me (and you) to be more open and inquisitive, and if I'm not, please remind me! Perhaps I will one day write lots more of these stories… all I need is one person to inspire me every day of the rest of my life.
"You don't just have a story – you're a story in the making, and you never know what the next chapter's going to be. That's what makes it exciting."

Dan Millman
---
To find out more about Hult's Global One-Year MBA, or other business programs, download a brochure here. 
---

Aaron Salamon is an MBA student at the Hult San Francisco campus. He currently works for Accenture and has extensive experience of working in management consultancy. Outside of work, Aaron is a mentor to university students working on social enterprise projects. He's an avid traveler with 49 countries under his belt. Follow Aaron's Hult MBA experience in his blog.
Hult offers a range of highly skills-focused and employability-driven business school programs including a range of MBA options and a comprehensive one year Masters in International Business. To find out more, take a look at our blog Masters of International Business: Connect locally, build internationally [InternsMe]. Download a brochure or get in touch today to find out how Hult can help you to learn about the business world, the future, and yourself.
Related posts