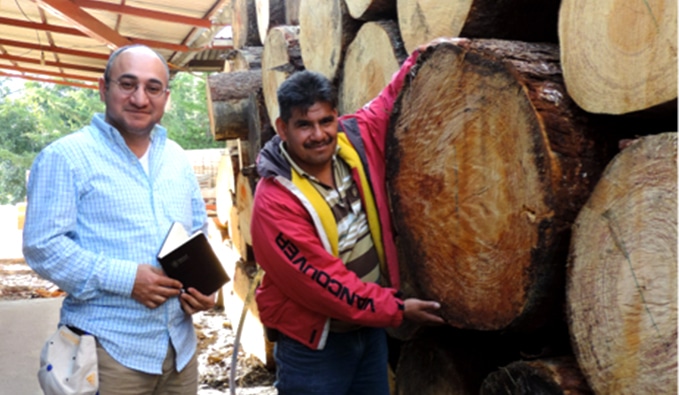 At Hult, we are incredibly proud of our professors. They are not only wonderful teachers with a passion for education but they are out there, using their knowledge and skills to make a real difference in the world outside the classroom.
Prof. Omar Romero-Hernandez, who teaches Operations Management and Sustainability in the Global One-Year MBA and Master of International Business programs at Hult's San Francisco campus, as well as at the Haas School of Business, is on a mission to help his home country of Mexico. On why he uses his time this way, Omar says:
"I believe it's the right thing to do. I come from a developing country, and I am very conscious of the inequality that prevails in society. Through education – we can give a chance to everyone."
The projects Omar is involved with touch many areas including improving access to clean water and education in isolated communities, advising the government on renewable energy, and promoting sustainability in farming – and education is a common theme throughout; empowering communities through knowledge.
Mission 1: Provide tens-of-thousands low-income communities with access to drinkable water
In his role as member of the Board of Directors of Cantaro Azul, Prof. Romero-Hernandez supports this NGO in its mission to improve the health and wellbeing of people that live in marginalized communities by developing sustainable solutions.
One of the flagship products of the NGO is "The Mesita Azul", a technology for improving water quality that was designed directly by its founders with the participation of community members, particularly the women. This allowed for greater emphasis on its aesthetic and user-friendly qualities.
By sharing projects like these in his classes at Hult, Omar is able to bring students closer to real challenges and solutions in developing countries. Whether used in open conversations or directly integrated in to his sustainability course, using his experience to teach is a high-impact approach that inspires students and sparks their dreams and ambitions to engage in social impact initiatives.
Mission 2: Help 5million+ Mexican adults finish their elementary and high school education
Throughout the marginalized communities of Mexico, there are millions who are illiterate and millions more who haven't completed their basic education. The Mexican government, through the National Institute for Adult Education, supplies books and materials to those wanting to finish their elementary and secondary education.
The institute must stick to a tight budget. When they reach this budget, they can't produce any more materials so many participants – including those in isolated communities or prisons – are left without books or means of learning the curriculum. Discouraged, they often drop out and their attempts to complete their education and improve their literacy are abandoned.
Professor Romero-Hernandez and his colleagues worked with the institute to develop an entirely new forecasting model, based on Bayesian methods, to better estimate how many books and course materials are needed. Analyzing over 5million sets of data, the project team developed an advanced model that improved the service levels significantly and above 90% in some cases. The model improved operations, reduced wastage, and significantly decreased dropout rates.
Omar says of the project:
"This project was very special for me as it required applying strong academics to solve social need. I am an academic, and I believe in the benefits of research and education so it is incredibly satisfying and inspiring to create something new that can be used in the real world." 
Mission 3: Help Mexico transition to a low carbon economy
The world is facing a climate change crisis caused by the effects of industrialization and the extensive use of fossil fuels. There is an appetite and an urgency amongst policymakers worldwide to seek alternative sources of energy. Mexico is a nation dominated by the hydrocarbon industry and yet has huge potential in renewable energy sources, which have been largely ignored by policy makers, academics, and the media alike.
In research and the resulting book Renewable Energy in Mexico: Policy and Technologies for a Sustainable Future (2013) Omar Romero-Hernandez and his co-authors analyze the real potential that exists in Mexico for the renewable energy sector and aims to inspire greater social and economic investment in the sector.
To date, Omar has presented the findings and recommendations at the Mexican Congress for its members, as well as the President of the Energy Commission. He has attended several seminars and events, including the North American Carbon Price Roundtable, which brought together a select group of government officials, corporate executives, and policy experts from Canada, Mexico, and the United States to discuss how the three countries can integrate climate change policy and move toward a common carbon price for the North American continent.
If Mexico can transition to a low-carbon economy, it will have substantial impact on the environmental conditions not only of the citizens of Mexico, but globally.
Mission 4: Eradicate poverty and promote sustainable development in Oaxaca, Mexico
Omar's most recent project with Ecosystems Services aims to understand how indigenous communities in the Oaxaca region of Mexico have adapted to climate change, and to estimate the social and environmental impact of their initiatives. He is currently plannning to collaborate with former students and current professors from ITAM, UNAM, and the University of California, Berkeley. The project is also looking at the supply chain of coffee practices in the region, with an emphasis on its carbon footprint. The goals of the project are to understand how communities perceive and adapt to climate change and the role that social entrepreneurship may have in protecting the environment while creating social welfare initiatives.
This project is in a similar vein to a 2011 research report Omar and his colleagues produced, funded by the European Union as part of the project 'Bioenergy, sustainability and trade-offs: Can we avoid deforestation while promoting bioenergy?' The objective of the project was to contribute to sustainable bioenergy development that benefits local people in developing countries, minimizes negative impacts on local environments and rural livelihoods, and contributes to global climate change mitigation.
Omar – you are an inspiration and we look forward to hearing about your future initiatives.
---
If you would like to find out more about Hult's global business programs, download a brochure here.
---
Hult offers a range of highly skills-focused and employability-driven business school programs including a range of MBA options and a comprehensive one year Masters in International Business. To find out more, take a look at our blog Ikigai, or how to find your purpose. Download a brochure or get in touch today to find out how Hult can help you to learn about the business world, the future, and yourself.
Related posts