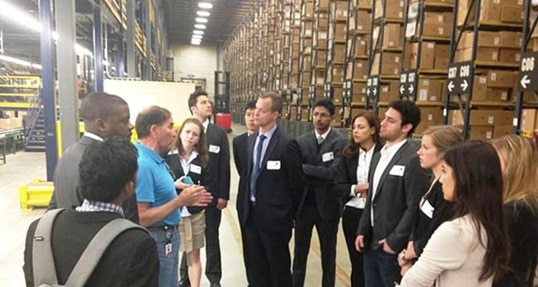 Hult Boston students got an up close and personal look at supply chain and operations management during a recent visit to the New Balance manufacturing and distribution plant, located in Lawrence, Mass.
About 25 students attended the May 22 event, touring the plant and learning about the company and its supply chain process from the staff, including the director of operations. The group was amazed and impressed by the integration and system management at New Balance – which they learned is the only sport shoe manufacturer with operations still in the United States.
The trip was one of several company visits this year facilitated by the Corporate Relations department. Other visits include the Boston-area offices of Microsoft and Google.
Kickstart your career in this education and innovation hotspot by studying at Hult's Boston business school. To find out more, take a look at our blog Top 10 questions to ask when looking at business schools. Download a brochure or get in touch today to find out how Hult can help you to learn about the business world, the future, and yourself.
Related posts