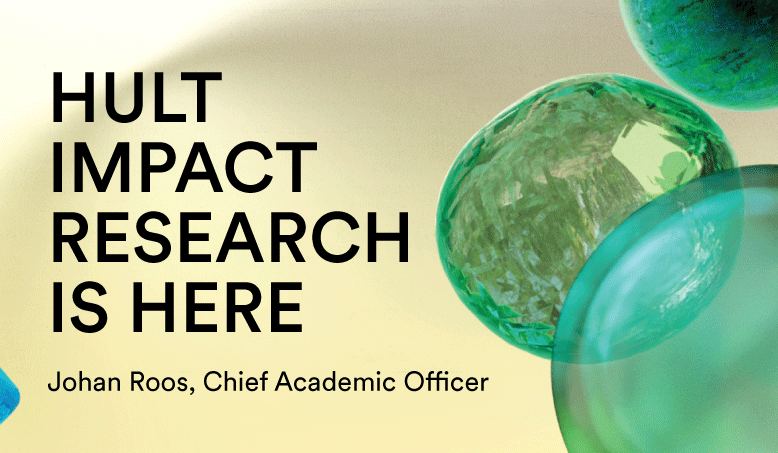 Hult's Renewed Research Strategy is Designed to Maximize Impact

Johan Roos, 6 months ago
4 min

read
"We exist to create a better future for all by inspiring and challenging our community to make an impact that matters."  
Our school's purpose places positive societal impact at the forefront of what we aim to achieve. Research is a major driver in creating such meaningful impact. Our renewed research strategy—Hult Impact Research—is designed to maximize this impact through dedicated Impact Labs, each specializing in the core areas that really matter to business and education. 
Introducing Hult Impact Labs
Hult Impact Labs are research-driven intellectual communities, "ecosystems", led by passionate Hult faculty members who regularly generate impactful contributions within each research topic area. It is our intention that output from each lab will help further understanding and collaboration between business and education while contributing to the sustainable growth and wellbeing of society.  
As the term "lab" suggests, there is a bias towards empirical data, experimental methods, client-engagement, and theorizing practice in our research strategy. Hult Impact Labs are designed as burgeoning communities for interdisciplinary scholarship and outreach about the forces shaping management, leadership, organizations, and business from a variety of theoretical perspectives and practical situations. External partnerships with experts and institutions will work to accelerate engagement and output. 
Initial Research Areas
The three core research areas of the labs are where we will focus our attention to start. We expect Hult's research footprint to grow in the coming months and years. Our decision to focus first on futures, sustainability, and coaching is prompted by the essential needs of the global business community and by what we see as critical areas with regard to global transitions.  
These topics also align with Hult's commitment to our students: not only to teach them the skills to become active and valuable participants in the global workforce, but also to relay an understanding of the responsibility that comes with leading change as technologies and societal shifts impact the global marketplace.  
The three initial Impact Labs will prototype our research approach with early signature projects within each lab's area of focus kicking off research activities: 
Lab Director: Mark Esposito, PhD 
Technology within the premise of the Fourth Industrial Revolution

 

Behavioral Data and Neuroscience

 

Foresights, Strategy, and Disruptive Business Models

 

New Organizational Models and Theories

 
Lab Director: Matt Gitsham, PhD 
Leading Sustainability Transitions

 

The Sustainability Challenge: Implications for senior executive leadership roles and management education

 

Innovation and Social Entrepreneurship for the SDGs

 

Business and Human Rights

 

Diversity, Equity, Inclusion and Belonging (DEIB)

 
 Lab Director: Erik de Haan, PhD 
Executive Coaching Impact Research

 

Executive Coaching Process Research

 

Supervision

 

Leadership In Crisis: Coaching on the Leadership Shadow

 

OD Consulting, Action Learning, Team Coaching

 
Fellows, Fellowships, and Doctoral Alignment 
As part of Hult's Impact Lab program, we will be establishing and bringing in new Research Fellows who specialize in our core topic areas and who can support and drive research within each Lab. We have also launched a Post-Doc Fellowship program in business and general management disciplines to inspire, energize, and contribute to research within the Labs communities.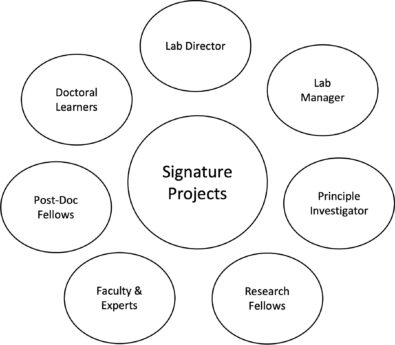 We have aligned our two doctoral programs directly with the Impact Labs. Hult offers two distinct doctoral programs, with the next intake to the DBA program in September 2023 and intake for the Doctorate in Organization Change in January 2024. The latter is designed for deep and longitudinal self-reflection and learning about a practical problem using action research. In contrast, the accelerated DBA is designed to help managers solve business problems using statistical methods, visualizing, and presenting the findings in both a consulting and teaching context.  
Bringing the doctoral programs to bear on business problems that fall within the scope of the Impact Labs will strengthen intellectual communities and accelerate the research and potential impact of their global contributions. 
How to Get Involved 
If you're interested in joining the Hult Impact Research community, we currently have open Research Fellow positions: 
Would you or your organization like to collaborate with one of our Impact Labs? Visit Hult Impact Research to get in touch.
Johan Roos
Johan Roos is the Chief Academic Officer & Professor at HULT International Business School. He was previously Managing Director & Dean of Jönköping International Business School, President of Copenhagen Business School, Dean of MBA Programs & the Bo Rydin Professor at Stockholm School of Economics, Founding Director of Imagination Lab Foundation, and Professor at IMD. His research contributions concern mostly how to increase readiness for change, innovate strategy processes, and measuring intellectual capital. He is the co-inventor of the LEGO® Serious Play® method and the Mosaic® board game for gender diversity.
Related posts