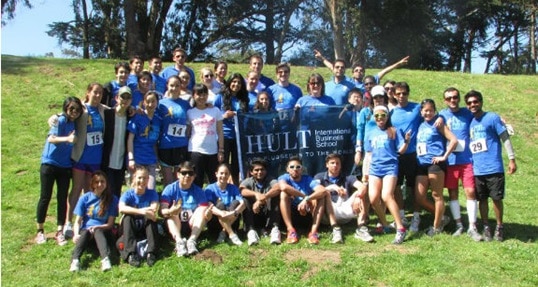 A steak of bright blue swept through Golden Gate Park on a recent summer-like afternoon in the form of 5K participants running in the name of education.
Hult San Francisco presented its third annual Run in Blue, hosted by the Hult Marketing Club and the Student Services department. The Run in Blue is held each spring on all five Hult campuses – San Francisco, Boston, London, Dubai, and Shanghai – as a fun, active and charitable community event.
In San Francisco, thirty-eight runners – including 37 students and one friendly local who signed up to support the cause – met in the iconic park's Lindley Field on Sunday, April 21 and completed the scenic run. The event raised $565, which will be donated to the United Way's educational services.
Most runners were feeling competitive and serious as they prepared for the race, said MBA student Salleha Chaudhry, who helped out with the event as the president of the school's philanthropic Bridge Club. The winner of the Run in Blue was MBA student Antonio Bustamante with a time of 19 minutes. All runners completed the race in about a half an hour. Then, everyone stuck around to enjoy the day in the park, picnicking, playing Frisbee, and soaking up the sun.
Before the start of the race, all participants had a moment of silence in honor of the Boston Marathon victims.
The sea of blue shirts in Lindley Field intrigued other park-goers; Chaudhry says people to come up to the Hult crew and ask who they were and what they were running for.
The Marketing Club spent the weeks prior to the race promoting the run not only to their classmates, but on local fitness blogs and in gyms to spread the word off campus. And ultimately, the fact that the race was almost all Hult students was a great thing. Chaudhry called the day a great success, noting that the event brought students from all programs together, and there was a strong community bond between the runners and volunteers who were there.
Kickstart your career right next door to Silicon Valley by studying at Hult's San Francisco business school. To find out more, take a look at our blog 24 Hours at the Hult San Francisco campus. Download a brochure or get in touch today to find out how Hult can help you to learn about the business world, the future, and yourself.
Related posts