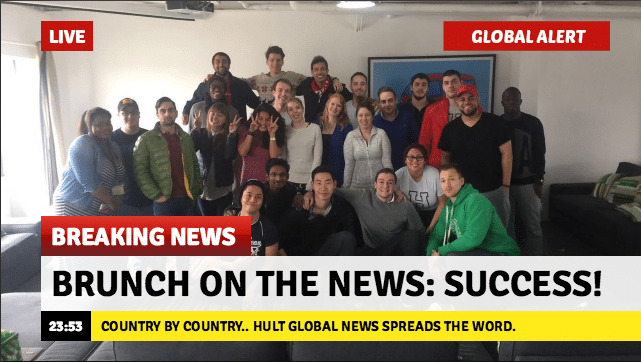 Written by Lee Whittington III, Master of International Business student, Shanghai campus, class of 2016
This just in! Module B held the official launch of Hult Shanghai's first ever Hult Global News website! Featuring several of Hult's finest students, Hult Global News showcases eight magazines boasting the latest trends in Business, Art, Sports, Politics, Fashion, Culture and much more.
The website serves as a growing community created and developed by the Hult Global News Club in Shanghai. The members of the club update the site with timely articles to adapt to the ever-changing world around us. With students representing over 40 different nationalities, it is important to know what is happening in the news on a global scale. The site also features a Members section to showcase all the incredible writers and editors that contribute to the success of the site. Our site has expanded beyond just Shanghai with contributions from Hult's London campus as well.
As the External Relations Representative for the Hult Global News Club, I and the rest of the E-Board wanted to capitalize on the positive response and interest that our website had garnered. To keep the engagement strong and the news prevalent, Brunch On The News was born.
To kick off the event, we gave each attendee a slip of paper with a current news topic. Their task was to share this piece of news with a different student, thus creating a conversation about said topic. Students were then guided to indulge in the refreshments that we provided for them. The Global News Club also implemented a "LinkedIn Station" in which students brought their laptops and endorsed fellow students on their respective skills on LinkedIn. This was a great way to get those who were not as active on their LinkedIn pages to grow their network as well as learn what skills their fellow classmates saw in them.
After some great food and conversation, we transitioned into a more intimate setting, where we invited students to share news from their home countries to the entire group. We wanted to make sure each person had their voice and their time to share a part of their culture with us. For me, this was such an impactful moment. Beyond just sharing the classroom, this event was facilitated from start to finish by the students. It took both the Hult Global News Club as well as potential members to be active participators for this event to truly thrive. We heard news from Columbia, to Thailand, to America, to France.. you name it! It was a safe environment to promote a positive dialogue and speak about legitimate causes going on in the world.
On behalf of Hult Global News, I would like to thank all of our supporters and active contributors for adding such bodacious value to our site and making our Brunch On The News a success. I left this brunch with newfound knowledge and perspectives that I would not have been able to obtain just reading an article online. Without all of you, we wouldn't be Global nor would we be complete. If you would like to contribute your content or find out more, please reach out here #HultGlobalNewsShaghai
Kickstart your career in the commercial center of Asia by studying at Hult's Shanghai business school. To find out more, take a look at our blog Hult scores in top 20 in The Economist's Which MBA? ranking for 2019. Download a brochure or get in touch today to find out how Hult can help you to learn about the business world, the future, and yourself.
Related posts