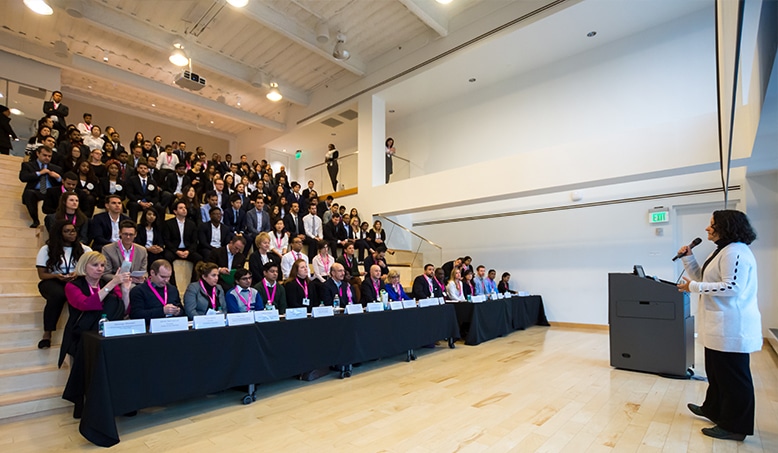 Hult Prize 2018: Campus round

Hult News, 6 years ago
1
7 min

read
Written by Reina Adriano, Master of International Business, Hult Boston 
Founded by a Hult MBA Alumnus, the Hult Prize is the world's largest social entrepreneurship competition for students, offering a $1 million USD seed-capital prize for the winning team. The Hult Prize takes on global humanitarian challenges and simultaneously pursues large, untapped markets of opportunity–brings together motivations and themes of profitability for sustainability.
This year students are challenged to efficiently harness the power of energy to transform the lives of 10 million people. With rounds of elimination taking place–from the internal campus rounds to the regional competition–teams from around the world will be competing to make it to the finals and deliver their pitches in front of an esteemed international audience in New York. Pieced together through our own student experiences of watching, here's a global summary of the 2018 Hult campus rounds and the Hult teams who've made it through to the regionals.
Boston Campus
Written by Reina Adriano
The Hult Prize at the Boston Campus saw 4 out of 19 teams made it to the semi-finals: Humane Energy, Ecolution, Aasha, and Amal-Ray of Hope. Going where no one has before, Amal-Ray of Hope believe there is a way to bring together seawater electrolyte and a Galvanic battery to light up peoples lives. Ecolution, on the other hand, focused their attention on the aftermath of Nepal earthquake in 2013 and specifically, examined food loss during natural disasters. Results on a global scale were alarming and so the team devised a refrigeration unit, called the Ecobox. Running on off-grid electricity, the Ecobox would preserve food–serving to benefit not only farmers now, but also in a time of need. Humane Energy bagged the runner-up position as they pitched urine as a new source for power generation and. Judges applauded the team and with the creativity of their concept.
Winning team: Aasha
Aasha, meaning 'hope', are this year's Hult Boston finalist. Dedicated to building a better world, Aasha is using virtual reality to address everyday problems farmers face. Utilizing both OffGridBox and solar power, Aasha aims to eradicate some these challenges through increasing access to water as the key solution.
Judges of the Boston campus were fascinated with the different pitches by the students. One judge encouraged all the student teams to keep hold of the passions and ambitions they showed and emphasized this was only the beginning of the journey to making an impact. Another judge exclaimed:
"Every adversity presents an opportunity"

-Hult Prize Judge, Boston
London Campus
Written by Bea Yabut, Master of International Business
Across the pond, the London Campus proved to be a true showcase of innovation and global thinking. 23 student teams participated this year, with three shortlisted for the semifinals: Teams ENPOV, NEBULA, and 3NERGIA. All three expressed how what had helped them most was their classes at Hult.  Trevor Bauder of Team 3NERGIA said that "it was actually about probably three weeks ago when we actually came up with the idea, however with the first idea we realized the further we went along with it, the more complications we found." Applying problem-solving lessons and models learned in class, teams referenced how they leaned on strategic theories to guide them from idea formulation to execution.
Team NEBULA, on the other hand, was bent on using fog catchers to produce water for rural areas struggling to access water. Nitin Gaba, one of the team members, believes they can turn dry lands into flourishing farmlands just by squeezing out a bit of the sky to provide water for crops to grow. "This is just the start of the beginning of what can be achieved with our product," said Nitin.
The London panel of judges included Yoav Gross, Jonathan Crook, Marc Ortmans, Sabrina Palme, Andre Quintanilha, Eleonora Ferrero, Gareth Walsh, William Annandale, Rosemary Harper, Jonathan Munday, Nitin Sukh, Ajit Kumar, and Elena Mariotti. Before the winner was announced, Ortmans praised students for their commitment and stated, "it's worth noting that while the motivation is initially for the prize, you'll see people not just follow up with the online version but also just take the idea forward anyway of their own volition so they come on out and find funding."
Winning: Team ENPOV
The winning team was Team ENPOV who pitched a two-part product and service solution to increase rural mobility. They designed a hybrid electric tricycle that uses both pedal and solar power to run. Aiding the product, the team also presented their plans to roll out pedal powered milling stations that double as bicycle repair hubs. The team shared how they actively sought out feedback from their Hult mentors–Evangelos Markopoulos, Daniel Rukare, Eli Bohemond, Nikhilesh Sinha, and Ronan Gruenbaum–to help mold their idea. Hanny Semere from Team ENPOV said that team plans to take on planning to test launch their product in Ethiopia.
San Francisco campus
Written by Ivana Sinibaldi and Nga Ying Alberta Mok
The 2018 Hult San Francisco campus round did not disappoint. From the 21 teams that participated, the finalists were The Multiverse, H2All, Infinaqua, Shield, and Conexus. H2All and Infinaqua proposed a user-friendly solution to purify contaminated water into drinking water. Whereas Shield and Conexus tackled India's sanitary situation by proposing eco-friendly toilet cubicles.
The judges were Carlos Baradello, Federico Baradello, Sheryle Bolton, Prince Ghuman, Kati Kallins, Ted Ladd, David Lehr, Isabelle Lescent-Giles, Avery Lyford, Annalisa Belliss, Ben Cooper, Gert Christen, Dave Epstein, Jorge Zavala, David Stephens, Muhammad Yunus, Ileana Facchini, Mitch Shapiro, Shahand Esmaeili, Olivier Kaeser, and AC Ross.
"There is a lot of mixed feelings, when it comes to the presentations and seen everyone prepared and nervous," exclaimed Anna Carolina, one of the finalists with their team Conexus. After deliberation, Team H2All were awarded the winners. Their pitch showcased a compact and user-friendly device that generates chlorine to kills bacteria and purify water. To ensure safety for all users, H2All also developed a toolkit and indicator to monitor any harmful levels of chlorine. The team now plans to contact relevant governmental agencies in Algeria, Colombia, India, Madagascar, and Senegal.
Dubai campus
Written by Eesha Fantu and Brenda Raez Solari
Amazing ideas striving to change the world were presented from 45 students Hult Dubai students. Represented by a mixture of Master, MBA, and Executive MBA students, Genr8, Piezo, Sundrop, Phoenix Solar Case Charger, and LightWay made the cut into the semifinals. The panel of judges had a vast diversity of experience and included Andrea Skerritt, Deepak Rajgopaul, Derek Carlson, Hans Henrik Christensen, Jose Jimenez, Karl W. Feilder, Michael Nates, Ross Daines, and Tena Pick.
The winning team was Genr8, a team formed by Executive MBA students with entrepreneurial, engineering, marketing and IT backgrounds. The team is formed by Abdullah Al Mansoob, Aitor Agirregabiria, Olivier Ruff, and Mathapelo Mzizi. Genr8, a P2P energy exchange, involves a prosumer who owns solar panels and sells energy to within their community. Genr8 are already working on launching the business idea to the market in the upcoming months and networking with interested parties that may be able to support their vision.
"We have been very fortunate to get this opportunity, especially because we get the chance to meet people with knowledge on very relevant topics like blockchain and we find the right expertise to help us move us forward."

– Genr8, Hult Dubai
---
To see highlights from the Hult Prize 2017 finals, click here.
---

Hult offers a range of highly skills-focused and employability-driven business school programs including a range of MBA options and a comprehensive one year Masters in International Business. To find out more, take a look at our blog Hult scores in top 20 in The Economist's Which MBA? ranking for 2019. Download a brochure or get in touch today to find out how Hult can help you to learn about the business world, the future, and yourself.
Related posts