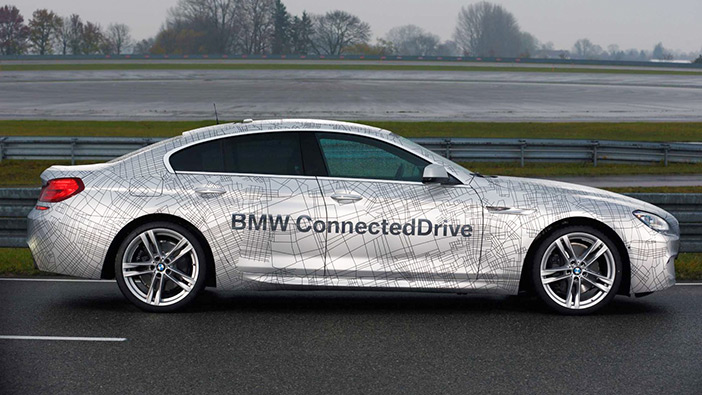 Hult San Francisco saw 200 MBA students go head-to-head in the campus's second large-scale business strategy competition, Hult Heat. 35 teams of students responded to a case challenge on autonomous automobiles (driverless cars), presenting their analytical findings and strategic recommendations to 17 top executives, former CEOs of Fortune 500+ firms, venture capitalists, and entrepreneurs.
What is Hult Heat?
Hult Heat is a one-day strategy case competition held as a part of the Global Strategy course in San Francisco Campus. This event is a collaborative initiative between Olaf Groth, Hult's Professor for Global Management, Strategy & Innovation, and the academic and operational staff at Hult San Francisco, as part of the effort to continuously improve Hult courses and make them more experiential. During Hult Heat, students are faced with real-life business challenges and receive feedback from experienced professionals that act as members of an Executive Board.
What was the 2015 challenge?
This year, the competition was based on a Hult Case co-authored by Prof. Groth and two Hult MBA 2014 alumni, with input from other alumni, about the future of the autonomous automobile. The case asks: 'Who will win the autonomous automobile race' and 'How will a prominent global car company position in this race?' This is a very engaging case about strategic disruptive innovation that touches on both automobile and technology industries. It has also been written as a global case, specifically with our globally diverse student community in mind. Students worked for a week on the case, conducting research, analysis, and designing an innovative solution with execution moves, before presenting to the judges.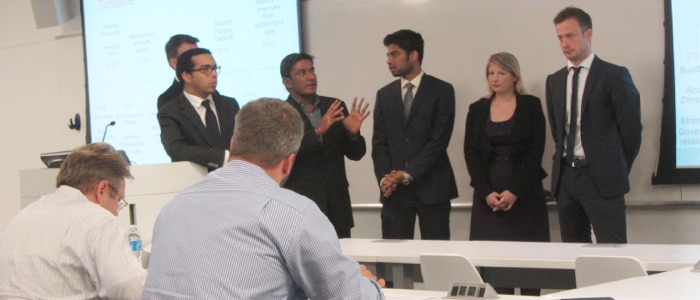 Who was there?
More than 200 MBA students were organized in 35 teams that competed in 7 "Competition Courts" in front of 17 judges that included Chris Galvin, former CEO of Motorola, and Tim Koogle, former CEO of Yahoo, both now leading venture capitalists as well as Gerhard Blendstrup, Former VP of IBM and 14 other top-level execs from leading telecoms and tech firms (see full list at the bottom of the page).
The business leaders attending also got a lot out of the day with Brad Davis, VP at Forensic Logic, saying: "I had a blast, and these things always help clarify my own thinking within our company as well." Boris Schubert, ET Capital USA CEO added: "It was truly amazing and thought provoking to spend the day with these high energy students – and judges."
In addition to the competition itself, students heard from keynote speakers, Navi Radjou, renowned Silicon Valley innovation and leadership strategist, and author of 'Frugal Innovation', and Chris Galvin, Former CEO of Motorola. Navi set the tone for the event with his welcome keynote, explaining how important is to 'think out of the box' and how frugal innovation, doing more with less, is changing the way firms innovate nowadays. In his award keynote, Chris gave students advice on building a winning corporate culture and pointers on disruptive innovation, as well as providing fascinating insights into strategy and career development.
Carmen Cardila, a current student on Hult's One-Year MBA program, said of the event: "This was one of the best days at Hult so far! This external opinion about our work, especially by executives with this high level of quality, has given us a lot of energy and motivation to keep working hard."
Judges: Chris Galvin, Former CEO of Motorola; Tim Koogle, Former CEO of Yahoo; Gerhard Blendstrup, Former VP of IBM; Edgar Auslander, VP of Audience and Former VP of Qualcomm; Michael Gonella, SVP Applications of Salesforce; Boris Schubert, CEO of ET Capital Inc. and former CEO of Q.Cells North America; Colin Ritchie, VP at Advantest; Mike Fitzgerald, EVP at Cepheid; Ted Verani, EVP at Trilibis; Karen Coppock, VP at TechSoup; Tristen Langley, Director of Amalfi Capital; Jeff Clark, Founder of 4G Partners and former CEO of mBlox; Sebastian Steinbach, serial entrepreneur and executive at CleanTech Open; George Baeder, Founder of China.Global Insight; Brad Davis, VP Forensic Logic and former consultant Kissinger Associations and Monitor 360.
The author, Neus Esteve, is an MBA graduate from the Class of 2014 and is a Teaching Assistant and former consultant to Professor Olaf Groth.
Kickstart your career right next door to Silicon Valley by studying at Hult's San Francisco business school. To find out more, take a look at our blog A story about why I chose Hult San Francisco. Download a brochure or get in touch today to find out how Hult can help you to learn about the business world, the future, and yourself.
Related posts