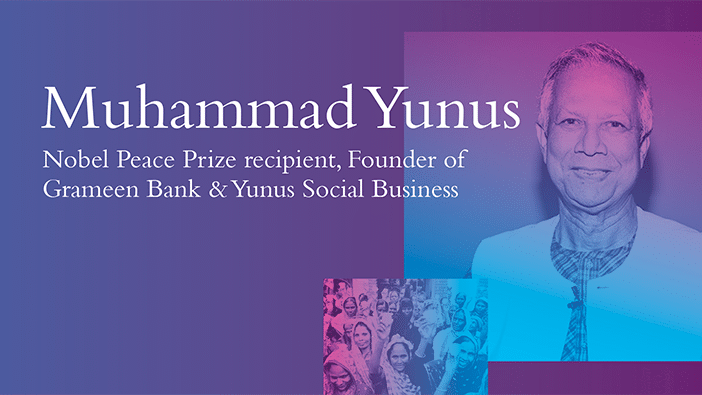 Hult International Business School will work with much-accomplished social entrepreneur, economist, civil society leader, and Nobel Prize winner Muhammad Yunus to create the social business track for the school's MBA and Masters programs.
Professor Yunus was awarded the Nobel Prize in 2006 for his work establishing the Grameen Bank in Bangladesh, which aimed to help some of the world's poorest escape poverty through providing loans on suitable terms, and through teaching basic financial principles to the recipients.
In addition to this work, Professor Yunus has been the recipient of numerous international awards recognizing his contributions to the fields of social entrepreneurship, technology, economics, and politics, including the U.S. Congressional Gold Medal, the Presidential Medal of Freedom, the World Food Prize, the International Simon Bolivar Prize, the Prince of Asturias Award for Concord, the Sydney Peace Prize, and the Seoul Peace Prize. Yunus is also a member of the board of directors of the United Nations Foundation.
"I am delighted to see Hult take forward social business as a way to tackle society's most pressing problems," offered Professor Yunus on the partnership.
"We're honored to have Professor Yunus join us," said Dr. Stephen Hodges, President of Hult. "We empower students to turn their game changing ideas into reality, and Professor Yunus is an example of somebody who has done exactly this in the micro financing and social business space. We don't just teach entrepreneurs how to challenge the status quo, we proactively bring professionals who have done this themselves into the classroom. We look forward to Professor Yunus sharing his knowledge and experience with our future business leaders."
---
Learn more about Hult's business programs.
---
Hult offers a range of highly skills-focused and employability-driven business school programs including a range of MBA options and a comprehensive one year Masters in Business Analytics. To find out more, take a look at our blog How Hult helped me land a Data Analytics job with Google. Download a brochure or get in touch today to find out how Hult can help you to learn about the business world, the future, and yourself.
Related posts