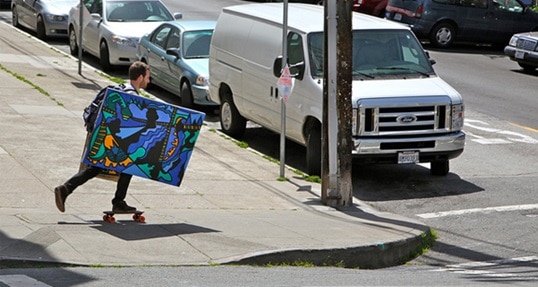 One year ago, I was busy preparing for the GMAT and assessing my options for the future, just like anyone else flirting with the idea of a full-time Master. Quitting a good job and organizing yet another international relocation was not the easiest choice to make, but the potential rewards were set to outweigh any doubt.
Today, five months into my MBA at Hult International Business School, my only concerns are that time is flying and that this amazing experience may be coming to an end too soon. There is nowhere else I'd rather be.
Such an intensive and international program is about so much more than just studying hard. Imagine your adult life as a canvas, where every personal and professional experience has drawn irregular shapes to create a unique, colorful painting. Now place that canvas in a large room, full of the most diverse group of people you have ever seen. All of them will be contributing to your painting, and sooner or later you will need to make enough room by doing something possibly unprecedented: turn the canvas around and share with them the inner side, where your previous self is just a reflection through the cloth.
Sounds dramatic? Maybe. But the energy of Hult students can truly "blow your socks off," to borrow an expression from my Strategy professor. In the room, there is a guy who couldn't speak any English two years ago, and now boasts a 100+ TOEFL score and gives compelling presentations in front of the entire class. Next to him sits the woman who left a well-paid job at a large corporation to become a social entrepreneur. Then there's the classmate who lost 50 pounds because he wanted to feel proud of himself, and who plays guitar with the enthusiasm of a teenager. And hey, that's the girl who used to be shy and has now organized events for the school involving hundreds of students!
Every day I keep learning from my classmates. I continue to be amazed by their motivation and potential, while also sharing more details of my own story. Here is one that many in my cohort have already heard about: one year ago – yes, while preparing for the GMAT – I was also giving the final touch to months of physical preparation for my first full-distance Ironman triathlon, one of the most demanding endurance events in the world. The pain and the pride that I felt on race day were among the triggers that led me to the Hult MBA: I got addicted to challenging myself!
And so today some people know me, among other things, as the Italian student who cycles to campus even when it's pouring rain, and keeps striving to find a balance between the demands of the MBA and maintaining an active lifestyle.
It's all part of my own canvas.
Stefano Picker is a Hult Global Ambassador. He is a creative product manager, passionate MBA student @HultSF, a triathlete, and addicted to swimming. He has lived in Italy, London and finally San Francisco!
Picture courtesy of Torbakhopper.
Kickstart your career right next door to Silicon Valley by studying at Hult's San Francisco business school. To find out more, take a look at our blog A story about why I chose Hult San Francisco. Download a brochure or get in touch today to find out how Hult can help you to learn about the business world, the future, and yourself.
Related posts